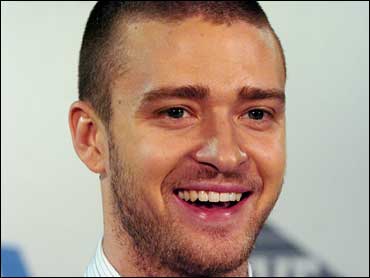 Timberlake's Back With A Sexy Future
He's ba-ack! After a break to focus on his movie career, former NSYNC hottie Justin Timberlake is making music again.
Timberlake released his new track, "SexyBack," on Friday. It's the first single from his upcoming sophomore solo album "FutureSex/LoveSounds" due out Sept. 12.
"SexyBack" was co-written and co-produced by Timberlake, Timbaland and Nate Hills. Producers Rick Rubin and JAWBreakers also worked on the album.
A sneak peak of "SexyBack" is available at Timberlake's MySpace page.
After the phenomenal success of his multi-platinum debut album, "Justified," Timberlake decided to take his sound in a new direction. He said in a Paris news conference Friday that he was adding more rock and roll to the mix, naming David Bowie and Prince as influences.
"I think it's important that on your sophomore album, to broaden your sound, to try something new," he said. "Because if you do the same thing, then your third album has to be the same thing, and your fourth album has to be the same thing, and you don't grow."
Timberlake said that he did his own grassroots market-testing of the song and was pleased with the results.
"If (I was) driving out in L.A. and my friends would get in the car, I would just put it on to see what would happen, and every time 'Sexy Back' came on ..." he said, while demonstrating how friends would nod their head to the beat of the song. "I think the proof was in the head nod, I think that is where the proof comes from and that is why I thought it was perfect for the first single."
As for the title of the album, "FutureSex/LoveSounds" Timberlake offered this explanation: "It is more of a broad album title, but there is no real specific like 'you are going to have sex in the future to my songs,' there is no real meaning behind it, I just felt that it described a sound and I think once you hear the album you'll be like, 'ok.' It becomes more obvious to you."
Journalists at the news conference were told not to ask questions about Timberlake's current girlfriend, actress Cameron Diaz, who reportedly has joined him on the first stage of the tour.
As previously reported on TheShowbuzz.com, Timberlake is on a tour of Europe and Japan this month.
He'll be back in August to embark on a U.S. club tour previewing the new album.
Timberlake has several films due for release, including "Alpha Dog", directed by Nick Cassevetes, "Black Snake Moan" co-starring Christina Ricci and Richard Kelly's "Southland Tales".
By Judy Faber
Thanks for reading CBS NEWS.
Create your free account or log in
for more features.