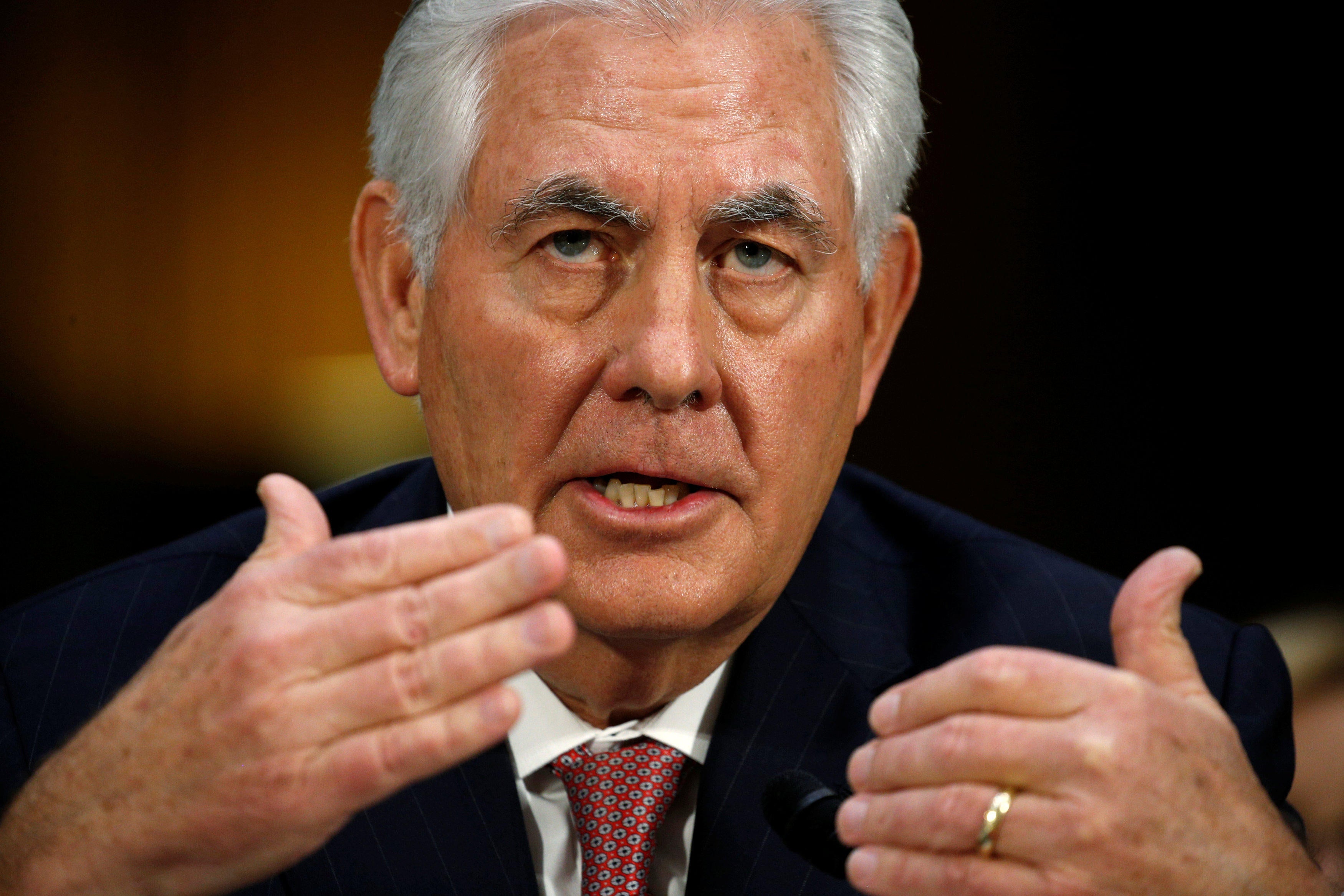 Tillerson says change is coming in first speech to State Department staff
In his first speech to State Department employees, Secretary of State Rex Tillerson made a pitch for unity on Thursday, praising employees at every level of the department.
"I know this was a hotly contested election and we do not all feel the same way about the outcome. Each of us is entitled to the expression of our political beliefs but we cannot let our personal convictions overwhelm our ability to work as one team," Tillerson said.
Tillerson, a former Exxon Mobil CEO, specifically showered State Department employees with adulation for carrying out their duties "regardless of who was in charge." He also made a point to thank both civil and foreign service officers for the work they contribute to the State Department on a daily basis. And the self-proscribed "new guy" explained that he will be "proud" to draw on their expertise.
"The individuals who comprise this department are among the finest public servants in the world," Tillerson said. "State Department staffers in the field are not just conduits for policies and plans. You are our emissaries of our nation and the ideals we stand for. When people see you they see America."
Still, Tillerson signaled that change is likely. He committed to a review of processes that need reform and promised efficiency of "talent and resources." He also stood up against implementing any knee-jerk adjustments.
"Change for the sake of the sake of change can be counterproductive and that will never be my approach. But we cannot sustain ineffective traditions over optimal outcomes," he said.
Tillerson walks into a tense environment as just this week State Department employees submitted a dissent memo in opposition to Trump's Executive order on immigration. Perhaps alluding to that memo, Tillerson committed to developing an atmosphere of respect.
"No one will tolerate disrespect of anyone,'' he said.
Tillerson, who rose up the ranks throughout his career at Exxon, gave the speech a personal touch in explaining that he had been ready to run off into retirement when he got the call from Trump. In that moment his wife told him "you are supposed to do this."
Mixing in dashes of humor, Tillerson also got the crowd laughing. At the top he joked that the prayer breakfast had gone longer than expected because people felt they had to pray longer this year -- which is why he was late. He also jokingly assured the room that Congress is as thorough as ever in regards to the confirmation process, which he had just completed.
Without much formal foreign policy experience, gauging Tillerson's views can be difficult. Yet after today Tillerson has signaled that he won't dive into this job alone -- he will closely rely on his new colleagues.
"I remind you that our undertakings are larger than ourselves or our personal careers. Our duty is to faithfully represent our nation in the arena of foreign affairs," Tillerson said.
Thanks for reading CBS NEWS.
Create your free account or log in
for more features.