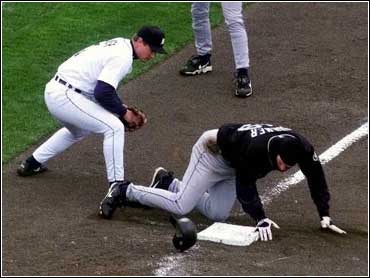 Tigers Win In New Stadium

Coming home is what baseball is all about, even when it's a new house.

Gregg Jefferies and Bobby Higginson each drove in two runs as Detroit beat the Seattle Mariners 5-2 Tuesday at Comerica Park, the Tigers' first home game in 104 years that wasn't at the corner of Michigan and Trumbull.

"That was nice," said first baseman Tony Clark, who made the game's key defensive play in the sixth. "Now it's all over and they can't change anything. This is home. It feels good to break in with a win at our new home."

Opening a ballpark with a win has become a Detroit tradition. The Tigers, then in the Western League, routed Columbus 17-2 in the Bennett Park opener on April 28, 1896. When Navin Field, later called Tiger Stadium, opened on the same site on April 20, 1912, Detroit beat Cleveland 6-5.

Related Links

Baseball features:

Comerica Park, built at a cost of $300 million in downtown Detroit, has all the amenities, from statues of Ty Cobb and Al Kaline, to luxury suites and a carousel, yet it also seemed to satisfy the baseball purists.

"It's a beautiful stadium," said Seattle's John Olerud, whose first-inning double was Comerica's first hit. "And it's big. I thought there were some balls today that definitely would have been home runs in the old Tiger Stadium."

Before a capacity crowd of 39,168 on a cold afternoon that featured a steady drizzle, players wore parkas with hoods up under their uniforms. Their breath was visible in vapors like football players on a November day.

Brian Moehler (1-1), who started and won the final game at Tiger Stadium, gave up 10 hits and one walk, but allowed just two runs one earned in six innings.

"It's was an honor to be able to pitch this game," Moehler said. "I guess I'll go down in the record books. I would have wanted this, win or lose."

Freddy Garcia (1-1) gave up five runs and six hits in six innings. The Tigers only scored five runs off Garcia all season in 1999.

"I got two strikes on a lot of guys early, but I couldn't find my strikeout pitch," Garcia said. "They hit a few dribblers on me, and then I made a big mistake to Higginson. I left a pitch out and up, and he killed it. That was two runs right there."

While the ballpark was full when the game began, a 40-degree temperature and the rain caused more than half the fans to leave after an inning or two.

Despite the new surroundings, once plate umpire Rick Reed yelled "Play ball!" at 1:18 p.m., the game was about as it has been for over a century.

Luis Polonia tripled to start the two-run first and scored Comerica's first run when Jefferies, starting in place of injured Damion Easley, singled to right.

Garcia, who beat the Tigers three times last year in three different parks the Kingdome and Safeco Field in Seattle, and Tiger Stadium walked the bases loaded, then balked on a 1-2 count to Karim Garcia forcing Jefferies across.

Karim Garcia took a called third strike ending the first inning moments later, triggering a minor exodus of fans who either had seen enough or couldn't take much more of the weather. Only about 15,000 remained by the ninth inning.

Detroit made it 4-0 in the second when Juan Encarnacion singled, Polonia walked and Bobby Higginson, the subject of trade rumors all spring, tripled them home.

"It wasn't just hitting," Seattle manager Lou Piniella said. "Today was a tough day to field and a tough day to pitch. It was really miserable out there. But, it was miserable for both teams. That's not an excuse."

Moehler gave successive doubles to Dan Wilson and Carlos Guillen as the Mariers made it 4-1 in the fourth.

Seattle closed to 4-2 with an unearned run in the fifth when John Olerud was able to score from first after after Encarnacion let Jay Buhner's single to center skip under his glove and roll to the warning track for an error.

Jefferies had an RBI single in the sixth.

"I tell you, it was great," Jefferies said. "All the fans were freezing, and they were out there. We said, If they can be out there, we can be out there, too."
Notes
John Ralph, a representative from the Hall of Fame, said four items from the game will end up in Cooperstown. They are: Olerud's bat, a ball used in the game (but not the one used for the first pitch), Moehler's cap and Detroit manager Phil Garner's lineup card.
This marked the 100th opener in Detroit since the American League received major league status in 1901, with the Tigers a charter member.
Todd Jones pitched the ninth for his second save.
Buhner, leading off the second with a grounder to first, stepped on the back of Moehler's right foot as the pitcher was covering the bag. It looked serious at first, but Moehler remained in the game.
Jefferies had not played more than three innings at second base since 1991.
Clark made a good defensive play in the sixth, diving to snag Mark McLemore's liner, then beating Guillen back to the bag for a double play.

©2000 The Associated Press. All Rights Reserved. This material may not be published, broadcast, rewritten, or redistributed
Thanks for reading CBS NEWS.
Create your free account or log in
for more features.