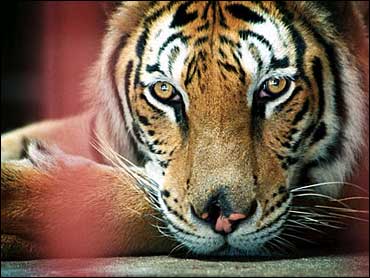 Tiger Kills Teenage Girl In Kansas
A Siberian tiger attacked and killed a teenage girl who was posing for a picture at an animal sanctuary Thursday morning, authorities said.
The Labette County Sheriff's office identified the victim as Haley R. Hilderbrand, 17, of Altamont. A release said Hilderbrand was at the Lost Creek Animal Sanctuary posing for a photo with the 7-year-old tiger, which was being restrained by its handler, when the animal turned and attacked her.
Officers and handlers killed the animal. Emergency personnel were not able to revive Hilderbrand, who was later pronounced dead at the scene.
Investigators have sent the tiger's body to Kansas State University for dissection.
"This animal had been around people across the country and there's never been a problem," Sheriff William Blundell said in a telephone interview.
Keith Hilderbrand, Haley's uncle, said the family wasn't making any statements at this time.
Doug Billingsly and his family opened the 80-acre sanctuary in 1994. According to the sanctuary's Web site, the sanctuary has lions, leopards, bears, white tigers and even a liger, a rare cross between a lion and a tiger.
The Web site also says the sanctuary has an affiliated Animal Entertainment Productions, which trains animals for stage performances, movies, television shows and magic shows.
Billingsly didn't immediately return a phone call for comment.
Thanks for reading CBS NEWS.
Create your free account or log in
for more features.