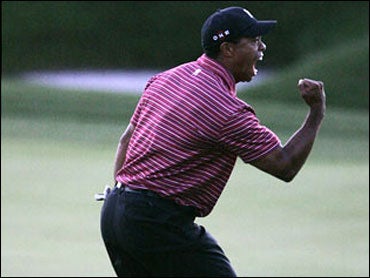 Tiger, Elin Trying to Patch Things Up?
A new report claims Tiger Woods' wife may be trying to save their marriage, starting with a visit to the treatment facility where he is said to be receiving treatment for sex addiction.
RadarOnline.com says it's learned Elin Nordegren visited Woods at Pine Grove Behavioral Health and Addiction Services in Hattiesburg, Miss.
Chris Myers, senior executive editor of RadarOnline.com, says she was there for roughly five days and actually took part in the program.
RadarOnline's source says Nordegren traveled alone on a private jet last week to see her husband, and that she was very happy when she left Mississippi on Sunday.
"When she returned, she was in an upbeat mood and seemed to be in a better light than she had been in the past few weeks," Myers said.
Elin was seen on Monday in Orlandom Fla. with her son Charlie -- and without her wedding ring.
She hadn't been seen in public all last week, but her kids were recently spotted at Sea World with Nordegren's sister.
However, Woods has more work to do in Mississsipi. Typically, says CBS News correspondent Michelle Gielan, the sex addiction program in Hattiesburg lasts about six weeks, and spouses frequently return for more therapy.
RadarOnline points out that, even though Nordegren may be participating in Woods' therapy, it doesn't necessarily mean the two are reconciling.
Myers said, "We have sources that say Elin and Tiger do want to work things out, and that they are talking and there is hope that the marriage will be saved."
Sexual addiction treatment specialist and therapist Robert Weiss, the founder and executive director of The Sexual Recovery Institute, a sex addiction treatment center in Los Angeles, says Nordegren, if taking part in the recovery process, will learn all about the secrets and information Woods may have kept from her.
Weiss said on "The Early Show" Tuesday, "She gets that disclosed to her. That's part of the process."
When asked if that would be difficult, Weiss said it's an important part of staying in a relationship.
He said, "I don't know any spouse that can stay in a relationship, and not know what has happened during the course of their marriage, so it's really important to clear the boards. ... It is a disclosure."
Weiss said 80 to 85 percent of people treated for sex addiction in a relationship stay together.
"It kind of bothers me when people say, 'I can't believe they stayed together,' because couples have a lot in common," Weiss said. "They have their kids. They have their families. They have their church. They have their community. They have a rich life, and even though there has been betrayal, that doesn't mean a couple can't work through that."
Weiss said it's a good sign that Woods is getting treatment -- especially because he's such a public figure.
He said, "I think it will be very hard for someone like that to walk into a bar and hit on someone or create a situation, because the whole world knows, 'Hey Tiger, you got this problem.'"
Thanks for reading CBS NEWS.
Create your free account or log in
for more features.