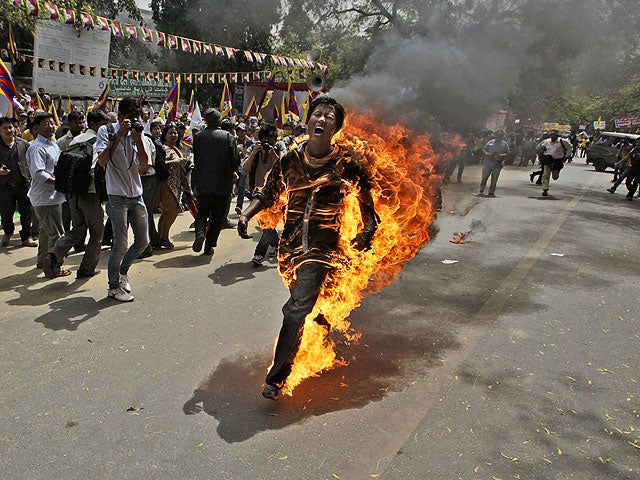 Tibet self-immolations: Why people set themselves on fire to protest China
BEIJING "Tenzin," now in his 20s, grew up in a part of China called Rebkong. At least, that is what he calls it, as a Tibetan. The majority of China's 1.3 billion residents, the ethnic Han Chinese, call it Tongren. The county sits on the Tibetan plateau -- a vast, elevated stretch of land which links Central Asia to western China.
The picturesque landscape has been roiled by increasingly violent pro-Tibetan protests for the last few years.
"If the Chinese know I am doing this interview with you, I would never be able to come out from prison (sic), or I would be killed, or I would disappear," Tenzin tells CBS News. We are not using his real name, to protect him from government retribution.
He has not participated in the protests that have consumed his hometown, for fear of losing his job, but he says he believes in the cause. The protesters speak out against discrimination that Tenzin says he and other Tibetans face every day in China.
"The Chinese people always look at us in a strange way," says the young man. "They don't believe we are normal, or human."
Buddhist temples punctuate the long stretches of highway to Rebkong, and the barren, desolate beauty of the plateau conceals an intellectual and cultural epicenter of Tibetan culture.
"Rebkong is like the Cambridge or Boston of Tibet," Tenzin says. "Many Tibetan intellectuals, lamas, writers and monks were born in Rebkong. This is a place where many important things occurred in Tibetan history."
But intensive economic development and an influx of Han Chinese immigrants have brought sweeping changes to Tenzin's home.
"There are many skyscrapers in Rebkong now, and also you can see many Chinese." Beneath the surface, however, Tenzin says the region remains culturally distinct, likening it even to the Tibetan capital of Lhasa in importance.
In Rebkong, and across the Tibetan plateau, the number of self-immolations has increased sharply in recent months. Two Tibetan men set themselves on fire over the weekend, bringing the total number of self-immolations to more than 90, according to activists. The Free Tibet organization says 27 Tibetans self-immolated during the month of November alone.
Nuns, monks, students, herdsmen, farmers, taxi drivers and mothers have walked into the streets of Rebkong and other Tibetan communities, swallowed and poured gasoline over their clothes, and lit a match. Most have died from their injuries.
In early November, thousands of students in Rebkong demonstrated against what they claim is cultural genocide at the hands of the Chinese government.
Phone access to the region was cut shortly afterwards, and internet access remains down.
Robert Barnett heads the Modern Tibet Studies Program at Columbia University in New York. He says the protests in the Tibetan plateau have changed in recent months.
"It's now involving significant numbers of people," Barnett tells CBS News. "It's spreading gradually from a core area to a slightly wider area of the Tibetan plateau, and it's spreading among social classes. It is no longer just monks and nuns. It's now spreading to villagers, to older people, to students who are protesting."
Tenzin says resentment has built up in Tibetan communities as reforms implemented by the government in Beijing encourage Tibetans to forget their language, history and culture. He says the ethnic Han Chinese newcomers fail to understand or respect the Tibetans' connection to the land.
Instead of lessons about Rebkong's rich local history, he says students are taught "propaganda" about the Communist Party. "As a result we have become brainwashed. We are becoming less brave and less willing to tell the truth."
Classes in the local school system are taught in Mandarin Chinese, and Tenzin has watched younger people in Rebkong lose the ability to speak their native Tibetan language.
"Even if people try to not speak Chinese, it just comes out automatically, because they are more used to speaking Chinese than their own language," he says.
Signs of China's unbridled economic development are everywhere across the sprawling nation, but Tenzin says living standards for Tibetans have declined.
Thirty-storey buildings have replaced the small village homes of Tenzin's youth. He says the real estate boom, led by Han Chinese developers, has raised property prices so high that it is impossible for him and his friends to buy apartments close to home.
"China has been trying very hard to develop the Tibetan areas, but the Tibetan people themselves cannot afford to buy homes as a result of this economic development. The rich are becoming richer, and the poor are becoming poorer."
While people across China are battling similar challenges of high real estate prices and environmental degradation, Tenzin says the discrimination that Tibetans face compounds the misery of life in Rebkong.
"The government always says, 'you are part of China,' but they treat me like a foreigner," says Tenzin.
Han Chinese are favored over local Tibetans for the higher-paying jobs. Tenzin's friends with graduate degrees have resorted to manual labor to make ends meet. He says even when service sector jobs are offered to Tibetans, they come with lower wages than Han employees would get.
When he travels to other Chinese cities, he says some hotels turn him away.
"Sometimes there is a sign on the door that says no Tibetans or minorities. The racism is so explicit."
Tenzin believes a mounting sense of despair is behind the increase in Tibetan protests.
Public protests, which had been extremely rare in China, are increasing across the country as a rapidly growing middle class embraces the tools of the internet and tries to find its voice. But in Rebkong, the government responds to even small protests with full-scale military crackdowns.
The protests in other areas, which can be large and raucous, are generally over localized economic conditions, and they are easier to resolve.
Barnett says the Tibetan protests, on the other hand, "are about ideas."
"They're about a nation or a national identity that people perceive as being under threat -- not from local officials, but from the nature of the Chinese state or the Chinese Communist Party," he explains. "That means all of the Tibetan protests are linked by a single idea, and they have the capacity to spread very fast."
Nighttime curfews have been imposed in Rebkong, and heavily armed police patrols have become commonplace.
"You realize how much courage people have to have in order to speak up nowadays," says Tenzin. "There are so many people on the streets with guns in their hands watching your every action. I don't know what they are afraid of, because we have no guns, and we are not trying to kill people."
In this increasingly tense climate, self-immolation has become one of the few ways people feel they can express their dissent.
"Rebelling against the strict government repression is like punching a concrete wall. If we talk, we go to prison," says Tenzin. "The only thing we can do is take this extreme action of self-immolation to make a change. We are taking our lives to bring happiness, awareness and dignity for other people."
The self-immolations have brought shock and confusion to Tenzin's home village.
"When I heard of a self immolation the first time, I had tears in my eyes. I had a very emotional reaction. Even I do not understand the depth to which these people value our culture. The immolations have a huge emotional impact on our communities."
Tenzin was able to visit one of the people who self-immolated this year in Qinghai, the province where Rebkong is located. It took several days for Jamyang Palden to pass away from his injuries after setting himself on fire on March 14.
"I'm sure he regretted that he was not dead. That is what I saw from his face," says Tenzin. "He was wrapped in a blanket on a bed. He couldn't move his hands, and people had to feed him. He couldn't talk, and his face was burnt, and we were only able to see his eyes. There were constant tears coming from his eyes."
Tenzin says his visit with Palden gave him "courage," and that the immolations are bringing Tibetans together to speak out for their common cause.
"The immolators are taking this extreme action to wake people up. We can see the protests people are making for freedom, and it inspires and moves us. Neighboring villages that were squabbling before are now united."
But he also says the immolations are being turned against the Tibetans as a propaganda tool by the Chinese government, and that even outside advocates of a free Tibet are abusing the protests as a "political tool."
"Many Tibetans in exile have never been to Rebkong," Tenzin says. "They don't understand what is going on with us. Every time someone self-immolates, they put them in the news, or they call them heroes and patriots, shout in the sky and make inspirational speeches in a way that encourages more people to immolate. They don't think of the family they may have left behind in Tibet and the real pain we are going through."
Asked whether the Chinese government has failed to respond to the concerns of Tibetans in Rebkong, Chinese Foreign Ministry spokesperson Hong Lei dismissed the immolations as few in number, and blamed them entirely on the Tibetans' exiled spiritual leader, the Dalai Lama.
"The few immolations that happened in the Tibetan areas are masterminded by the Dalai group. They are using this news at the expense of human lives," Hong said. "It goes against the country's law and against the Buddhist education, morality and consciousness. Such despicable acts by the Dalai Lama group should be severely condemned by all. I'll tell you that the recent development of the society and economy in Tibet has made people enjoy a happy life."
Told of the government's response, Tenzin sighs in frustration. "It's always the same. They just don't listen to the people."
Though they maintain a firm line when speaking publicly, Barnett says there is considerable debate within the Chinese government on how to curb the growing unrest in Tibetan regions.
"We know think-tanks have been set up by certain Chinese leaders in the new leadership to look at new possibilities," he says. He adds, however, that it remains a complete mystery "what they have decided or what ideas they came up with."
The debate is clearly gathering steam at the top levels. Communist Party chief Wang Dongming of Sichuan Province said in a recent speech the crackdown on Tibetan areas should be intensified, but government critics argue that might only spur more immolations.
Chinese state media reported in the last several days that anyone found guilty of aiding or inciting immolations will be charged with murder. Putting the law quickly into practice, state media reported Sunday that a monk and his nephew in Sichuan province had been arrested and accused of instigating the self-immolations of eight Tibetans on the instructions of the Dalai Lama and his followers. The report did not say what evidence police had of the Dalai Lama's involvement, and his government in exile denied any involvement.
Tenzin says he wants freedom of speech and religion, the rule of law, and for the Dalai Lama to come back.
"If we are citizens of China, then treat us like Chinese citizens," he says. "We are not asking for money. What we ask for is inside, and taking that away -- our spiritual essence -- is the same as killing us."
Thanks for reading CBS NEWS.
Create your free account or log in
for more features.