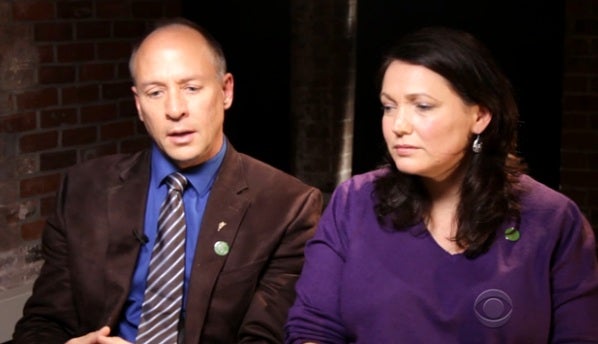 Sandy Hook parents assess victories, defeats in gun control mission
NEWTOWN, Conn. -- Three years ago on Monday, a gunman opened fire in Sandy Hook Elementary school in Newtown, Connecticut, killing 20 first graders and six adults.
Marking the anniversary, Vice President Joe Biden tweeted: "Since that nightmare, an estimated 555 children have been killed by guns in America. It is shameful that Congress hasn't acted."
As the nation debates gun laws and access to mental healthcare, Newtown parents remind us of the urgency.
When the numbers became names, and the names became faces, suddenly, they were America's children.
Twenty first graders gunned down in their classrooms, along with their teachers.
"It's always 12/14. It's always the last day that they went to school. And that's never gonna change," said Nicole Hockley, who lost her 6-year-old son Dylan.
For Nicole, something had to change.
"This is about not accepting this," Nicole said. "We can't passively sit back and say, 'These shootings happen.'"
Together, with other Newtown parents, she helped found "Sandy Hook Promise" -- a group working to prevent gun violence.
"I can still hear him. I can still smell him, I can hear his little voice," said Mark Barden.
Barden lost his 6-year-old son, Daniel.
"In almost every one of these mass shootings, there are signs and signals," he said. "There are opportunities to intervene. To stop the continuum before it leads to tragedy."
Together, they travel the country teaching others how to respond to those signs. They call it the "Say Something" campaign: If you see someone at risk, say something. That training worked recently in Cincinnati when a student reported someone plotting an attack.
"The whole thing was stopped and diffused," said Barden.
"I burst into tears. To actually know that we potentially saved lives -- that means something," said Nicole through tears.
And so does sweeping gun legislation they helped pass in Connecticut two years ago. It expands the ban on assault weapons, and limits the number of rounds per magazine.
But the campaign has had it setbacks -- especially with the defeat of a bill two years ago that would have closed loopholes in background checks for gun buyers.
And often, people will say, "If it didn't happen with Newtown, when will it happen?"
"It is happening," said Barden.
"Sandy Hook was the start. It was a catalyst for change," said Nicole. "It's too late for us. But there's a lot of positive change for this country that will come."
Change that will keep a promise for the children of Sandy Hook.
Thanks for reading CBS NEWS.
Create your free account or log in
for more features.