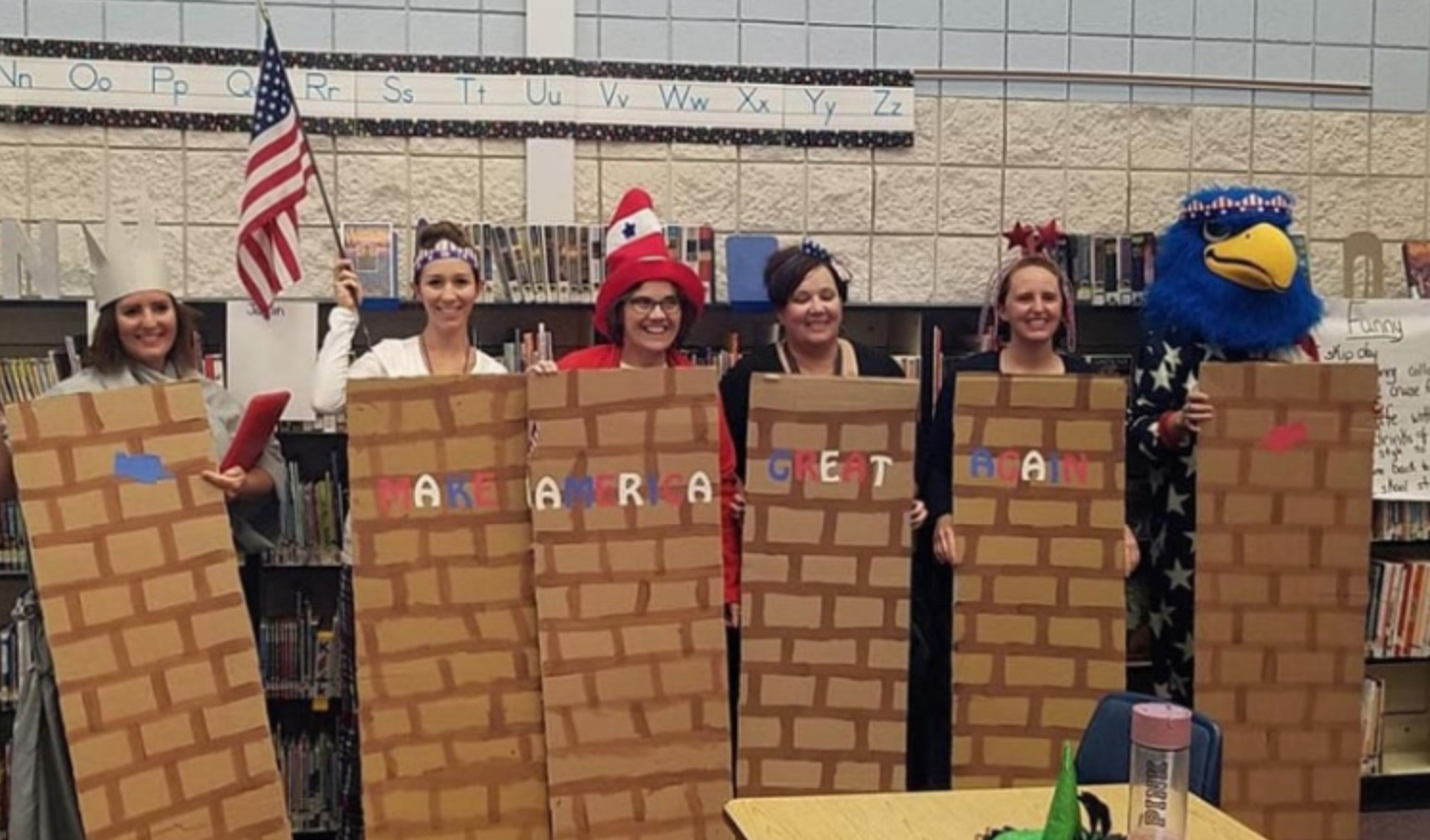 Thousands sign competing petitions over teachers who wore border wall costumes
Two opposing petitions have emerged after elementary school teachers in Idaho caused uproar with their Halloween costumes. One group of Middleton School District teachers dressed up like the border wall, with President Trump's slogan "Make America Great Again" written across their fake brick costumes. Another group of teachers in the district dressed as Mexican stereotypes.
Several parents took offense to the photos of the costumes, which were posted on the school district's Facebook page. The photos were removed and Superintendent Josh Middleton announced the district was investigating the teachers' "insensitive and inappropriate" costumes. Fourteen staff members involved in the costumes were placed on paid administrative leave for the duration of the investigation, CBS affiliate KBOI reports.
As of Tuesday afternoon, 15,000 people have signed a petition supporting those staff members. The Change.org petition titled "Save our Middleton Staff, Teachers and Principal!!" was created three days ago.
"Unfortunately, the photos were very controversial. However, we believe its been blown out of proportion," the petition states. "These men and women are a huge part of our children's lives and the love and support they give them should not be overshadowed by what happened."
Some supporters wrote their reasons for signing the petition on the Chage.org page. "I support our teachers 100% and know they did not do this as racial hatred! They are amazing individuals and I'm proud to have them teaching my children!" one person wrote.
A counter-petition supporting a "no racism effort" in the Middleton School District was created on MoveOn.org, with the goal of being delivered to the superintendent. The "No Racism in Middleton School District" petition has garnered over 12,000 signatures as of Tuesday afternoon.
The petition's creators suggest implementing a school-wide initiative to provide "awareness and consciousness of systemic racism through culturally relevant curriculum, policy change, review of hiring practices, and district wide training."
"With the disturbing images of teachers from the Middleton School District donning bigoted messages and racist stereotypes being highlighted on the districts' social media pages we invite the Middleton School District to reconnect with why they became educators in the first place," the petition reads. "We hope you will sign this petition to demand for a proactive approach to ensuring that the students of the Middleton School District get the education they deserve and can once again trust the teachers and administration that are responsible for their growth and learning."
School will be dismissed early Wednesday for staff training, including culture awareness and sensitivity, according to the Idaho Press. This training will continue into the future, Middleton told the local publication.
During this tense time in the district, the Middleton Police Department said they will keep extra patrols around the schools this week to ensure safety and keep the peace, KBOI reports.
Thanks for reading CBS NEWS.
Create your free account or log in
for more features.