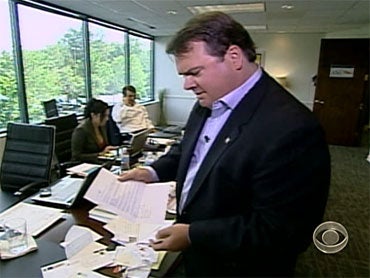 Thousands Quit AARP Over Health Reform
CBS News has learned that up to 60,000 people have cancelled their AARP memberships since July 1, angered over the group's position on health care.
Elaine Guardiani has been with AARP for 14 years, and said, "I'm extremely disappointed in AARP."
Retired nurse Dale Anderson has 12 years with AARP and said, "I don't wanna be connected with AARP."
Many are switching to the American Seniors Association, a group that calls itself the conservative alternative as CBS News Investigative Correspondent Sharyl Attkisson reports.
Watch Extended AARP Interview Here
Last week alone, they added more than 5,000 new members. Our camera was there Friday when the mail came.
Letters were filled with cut-up AARP cards.
"I think that probably the seniors are most upset with cuts in Medicare," said ASA President Stuart Barton.
The American Seniors Association is flat-out against President Obama's plan, which calls for $313 billion dollars in Medicare cuts over ten years. The AARP is widely viewed as supporting the President.
Last week, Obama told a town meeting in Portsmouth, NH, "We have the AARP on board because they know this is a good deal for our seniors."
The AARP called the President's statements "inaccurate," saying it hasn't endorsed any plan or bill.
Some were left with the feeling that AARP was waffling.
"I feel they're supporting it through the backdoor, and telling members that they're not through the front door," said Guardiani.
"AARP has not endorsed any plan at this point," said Cheryl Matheis, AARP VP for Social Impact.
Public or Co-op? Comparing Health Options
More coverage of Health Care Reform
Yet the AARP's Cheryl Matheis couldn't find anything to quibble with, including the Medicare cuts which she says will not affect benefits.
"We haven't seen provisions in legislation yet, so we're going to reserve judgment until we see them," said Matheis.
Meantime, the AARP's image suffered with this town meeting already seen by hundreds of thousands on YouTube.
Faced with skeptical questions from the audience, the AARP representative ends the meeting abruptly. When the discussion continues, she pulls the plug on the microphone.
AARP says for a group with 40 million members that adds hundreds of thousands each month, losing 60 thousand is just a drop in the bucket. But to the much smaller American Seniors Association it's a flood.
Thanks for reading CBS NEWS.
Create your free account or log in
for more features.