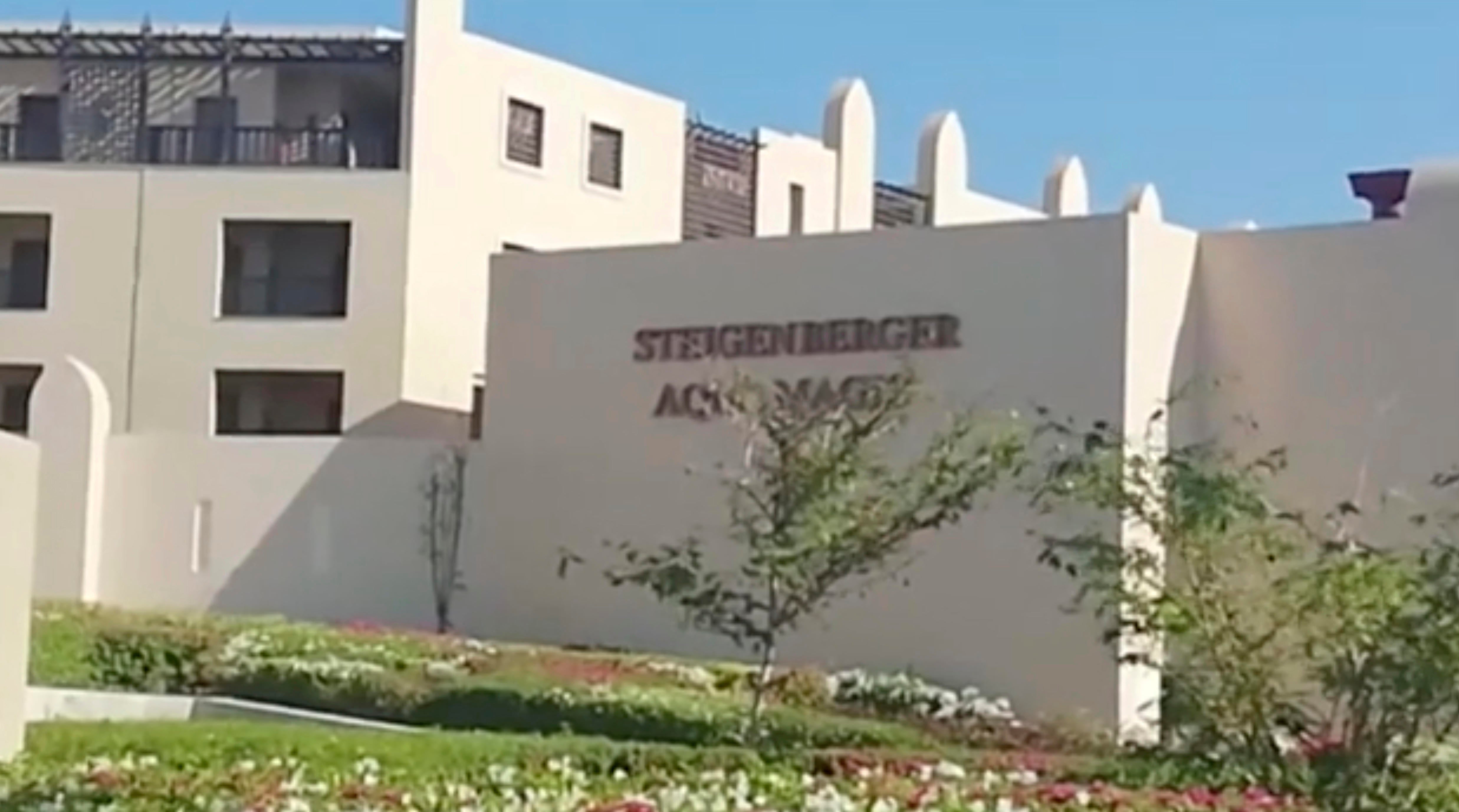 Hundreds of tourists evacuated from Egypt hotel after two deaths, reports of illnesses
CAIRO — Tour operator Thomas Cook is evacuating all of its customers from a hotel in Egypt's Red Sea resort of Hurghada after two Britons died there this week under unclear circumstances. The move came after John and Susan Cooper, from Burnley, England, died while staying at the Steigenberger Aqua Magic Hotel. They were on a holiday with other family members.
Their daughter, Kelly Ormerod, was with her parents and her three children when tragedy struck.
John Cooper, 69, died in his hotel room while her 63-year-old mother, a Thomas Cook employee, was taken to hospital, Ormerod said from Egypt.
"As a family we are devastated. Mum and Dad meant the world to me and the children, and we are in utter shock over what has happened and what is happening," Ormerod told the Lancashire-based radio station 2BR. "Prior to going on holiday, Mum and Dad were fit and healthy. They had no health problems at all."
Thomas Cook said in a statement on Thursday that the "circumstances of their deaths are still unclear" and that it has "also received further reports of a raised level of illness among guests."
The decision to evacuate 301 holiday makers from the Steigenberger Aqua Magic hotel is a "precautionary measure," the company said, adding that the guests, of various nationalities, will be offered alternative hotels or the option to return home.
"We continue to work closely with the hotel and are supporting the authorities with their investigations," it said. Customers due to arrive in the hotel in the next four weeks will be offered alternative options.
The Steigenberger Aqua Magic was last audited by Thomas Cook in July and received an overall score of 96 percent.
Other guests told BBC News they became ill while staying at the Steigenberger Aqua Magic Hotel. Janine Traviss, from Oldham, England, said she and her partner contracted a stomach bug earlier this month.
"I subsequently have been ill for several weeks now since returning and had to visit the doctors on two occasions with two full weeks of antibiotics," she said. "I am still recovering and still feel very tired and exhausted most days."
Speculation over the couple's death swirled in the media Friday, with some suggesting carbon monoxide poisoning may have been a cause. A later statement by Thomas Cook said that while the company was "aware" of the speculation, there was "no evidence to support this."
An Egyptian official told The Associated Press that an investigation was still underway but that the deaths were likely due to "natural causes." He said the prosecution on Friday ordered autopsies after the Coopers' daughter requested blood analysis to further look into reasons behind their deaths.
The official, who spoke on condition of anonymity to discuss the case, said the Cooper family had spent seven out of their 10-day vacation in the hotel when the deaths occurred. The hotel at the time was housing some 550 British holidaymakers as well as German, Italian and Belgian tourists, he added.
On Friday, an official statement by the Red Sea governorate was posted on Facebook, saying a forensic examination of John Cooper, who died on Tuesday, revealed he had suffered acute circulatory collapse and a sudden cardiac arrest.
It also said Susan Cooper was later rushed to hospital after fainting and underwent resuscitation attempts for 30 minutes but died. The statement dismissed criminal motives as being behind the deaths. Legal procedures would be underway for the transfer of the bodies upon the conclusion of the autopsy, it added.
Egypt has gone to great lengths to revive its vital tourism industry, decimated by years of political turmoil following the 2011 uprising that toppled longtime autocrat Hosni Mubarak. The government has been trying to lure tourists back by touting new archaeological discoveries and boosting security around historical sites.
The lucrative sector was dealt a severe blow after a bombing by the Islamic State group brought down a Russian passenger plane over the Sinai Peninsula in 2015, killing all 224 people on board. Russia subsequently imposed a two-year-ban on all flights with Egypt.
Russian flights to Cairo resumed earlier this year but flights to resort cities have yet to be decided.
Britain, another major source of visitors to Egypt, suspended flights to Sharm el-Sheikh, a popular Red Sea resort in Sinai from which the doomed Russian airliner took off shortly before it crashed.
Thanks for reading CBS NEWS.
Create your free account or log in
for more features.