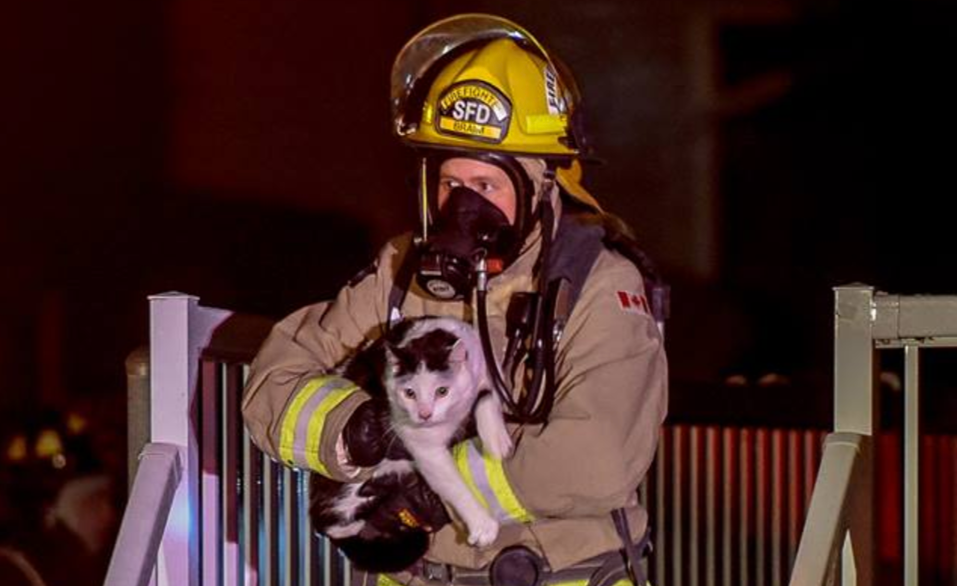 This hero cat bit its sleeping owner to alert family to house fire
A family was able to escape their burning home in the middle of the night unscathed, thanks to their favorite furry feline.
The family's cat was the first to notice the flames at around 3:30 a.m. on Thursday. The parents and two children were sleeping when the cat apparently pawed its way into its owner's bedroom and bit the mother on the arm to warn her, the Edmonton Journal reported.
The County of Grande Prairie Fire Department in Alberta, Canada confirmed the cat was partially responsible for the rescue.
"A cat is being credited with alerting a family to a fire in their home early this morning," County of Grande Prairie Fire Chief Trevor Grant said in a news statement. "The family escaped the home without any injuries."
Firefighters also managed to rescue a second cat from the fire.
Shortly after fire crews began to put out the fire, freelance photographer William Vavrek arrived on the scene.
"I arrived to see smoke coming from the trailer," Vavrek described to CBS News.
Vavrek snapped pictures as firefighters from Clairmont, Dunes and Sexsmith stations worked to contain the fire to the underside of the mobile home. He stood in front of the home and captured the moment as one of the firefighters carefully carried one of the family's cats down the front stairs.
His photo was featured on front pages of local newspapers, and quickly circulated online.
"Hero kitty," on Facebook user commented after Vavrek posted the popular picture on his photography page.
"Fantastic!" another wrote.
Firefighters are just glad the family, and their loyal feline, are safe. The family connected with the Red Cross Canada, and will be staying elsewhere as officials continue to investigate the fire.
Thanks for reading CBS NEWS.
Create your free account or log in
for more features.