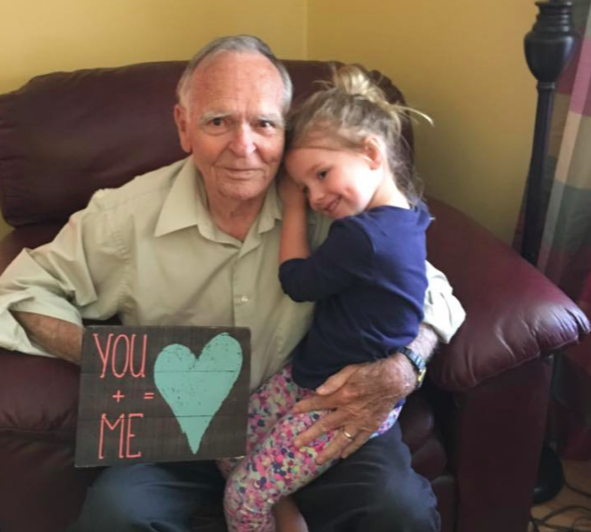 This 4-year-old made an unlikely friend at the grocery store
Tara Wood of Augusta, Georgia, was with two of her kids on a routine trip to the grocery store. It was Norah, her 4-year-old's, birthday.
That's when they ran across Dan Peterson, known as Mr. Dan.
"As Mr. Dan walked by, she (Norah) smiled and waved. 'Hi old person! It's my birthday!'" said Wood. "He stopped in his tracks, smiled, and said, 'Well hello, little lady! How old are you today?' They chatted for a couple of minutes, and we went our separate ways."
But a few minutes later, Norah decided she really wanted a picture with him, so Wood tracked him down.
"I just walked away, and then I was coming up the bread aisle," said Mr. Dan. "And I said, 'OK this is almost my last aisle before I get out of here, and then here is this little girl again.'"
"And so they posed together, and then they hugged each other like they were long lost friends," Wood said.
They thanked him for his time.
"He teared up and said 'No, thank you. This has been the best day I've had in a long time. You've made me so happy, Ms. Norah,'" Wood said.
Mr. Dan described Norah on that day as a "light that just lit me up."
Wood was so touched by the exchange that she went home and posted the photos on Facebook. Not only did she receive thousands of instant reactions, that's also when something really special happened.
A friend of Mr. Dan's reached out to let Wood know that his wife had just died and she hadn't seen him this happy in a long time.
"She knew Mr. Dan and his late wife, Mary. She was the key to us getting in touch," said Wood.
"So I got this phone call, and she (Wood) said, 'Is this the Dan that talked to the little girl at the grocery store?'" said Mr. Dan. "I said, 'Are you talking about Norah?'"
Wood decided they should probably pay him a visit, and Mr. Dan agreed.
"They came by the house, and sure enough, she grabbed me and hugged me like there was no tomorrow," said Mr. Dan.
"Norah brought him a framed picture of the two of them in the grocery store, pictures she colored (he put them on his fridge!) and a bag full of pastries and Butterfingers," said Wood.
After going over to visit him, Wood said, "Norah asks to visit Mr. Dan after school every single day."
While they don't go by every day, they make it a point to call him at least once a week, and they definitely went over to help him celebrate his 82nd birthday.
Norah also worries about Mr. Dan and doesn't want him to be alone.
"Norah has been worried about Mr. Dan being alone. She wanted to know if we could buy him a dog because dogs make everything better," said Wood.
While they didn't get Mr. Dan an actual dog, Norah made sure to hand-deliver a stuffed puppy.
"Tara finally I think convinced Norah that I might not be in the place for a dog, but maybe if they gave me a stuffed dog," said Mr. Dan. "And she had this bag and Norah took out a stuffed puppy for me."
While her mother said Norah spends a lot of time thinking about Mr. Dan, he said it's meant the world to him as well. Mr. Dan said that when he had run into Norah at the grocery store he had been having a really tough time.
"It was one of those days that I'm on my own little private pity party," said Mr. Dan. "And I'm feeling sorry for myself and doubting my beliefs and it obviously changed my opinion that day and lifted my spirits to heights that I hadn't known for a long time."
Mr. Dan made sure to let Wood know.
"He said that he hadn't had an uninterrupted night of sleep for the past several months," said Wood. "Sadness and anxiety had made his mind wander at night, but since meeting Norah, he has slept soundly every single night. He said she healed him."
Wood said she wasn't sure why Norah chose to call out Mr. Dan — she has grandfathers but seems to think of Mr. Dan as a friend.
"I don't know, for some reason; obviously there were other old people [at the grocery store]," said Mr. Dan. "And she saw me and I was the 'old people' she had to talk to."
Wood is sure that it was simply meant to be.
"I can only assume there was some divine intervention or stars aligning or she was nudged by the universe. I know we're all better because of it, though," said Wood.
Wood will keep updating the world on this dynamic duo.
"Mostly, she just cares about his well-being and his heart. She wants him to be happy... I guess that's what friends are supposed to do, huh?"
Mr. Dan summed up his new friend well.
"If I didn't have anything else to do the rest of my life," he said, "I have her to love."
Thanks for reading CBS NEWS.
Create your free account or log in
for more features.