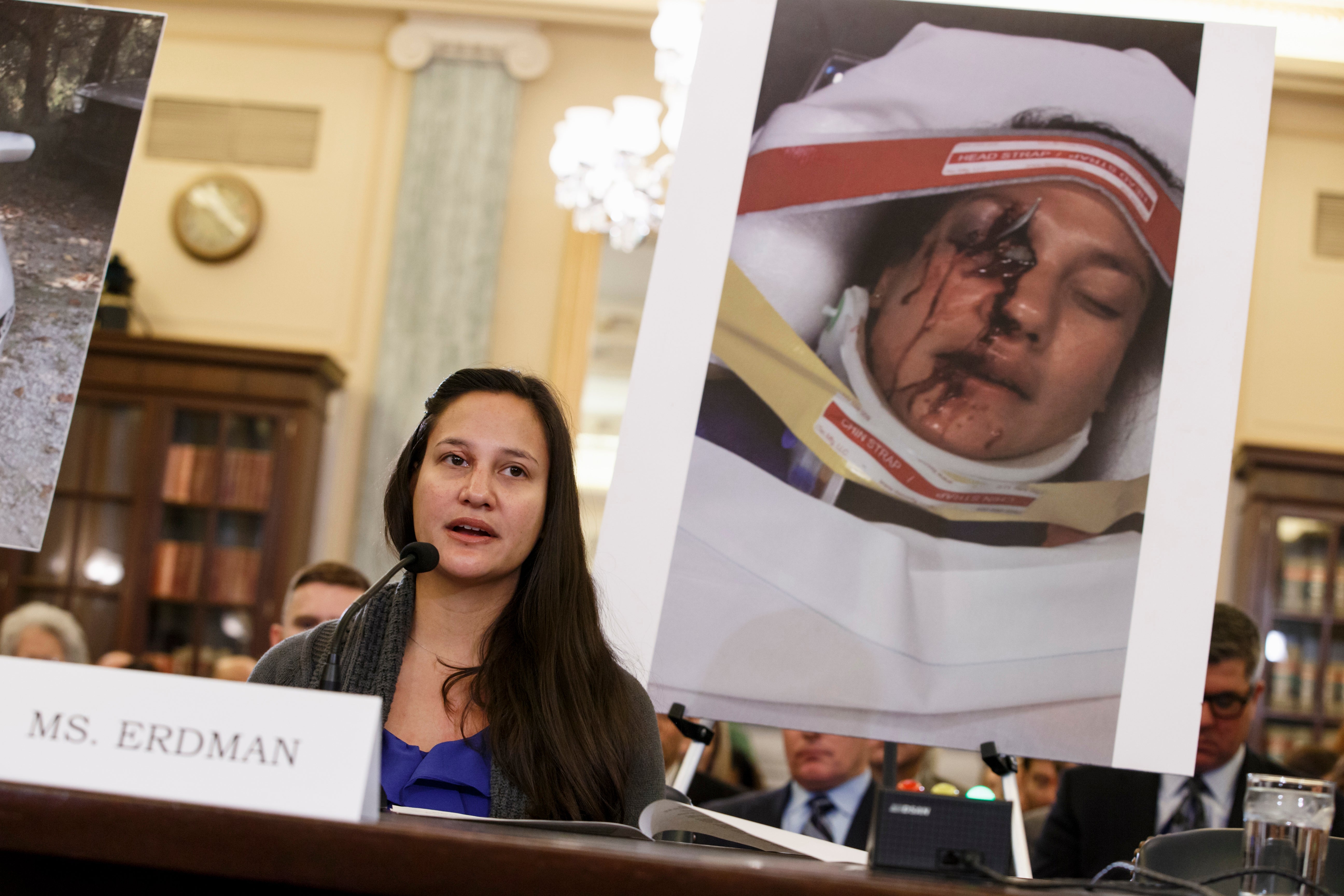 "They did nothing": Airbag defect victim lashes out at Takata, Honda
WASHINGTON -- A U.S. Air Force lieutenant who was injured in one eye when a defective airbag deployed in her car during a 2013 crash excoriated the company behind that airbag and the automaker that manufactured her car, telling a congressional panel that Takata and Honda had failed to protect consumers when they didn't provide sufficient warnings about a product defect.
Lt. Stephanie Erdman's testimony before the Senate Commerce Committee on Thursday put a human face on the problems with Takata airbags, which have been linked to dozens of injuries and at least five deaths nationwide.
According to victim accounts, when Takata airbags on the driver's side of the car deployed during a crash, the force of the explosion shredded the metal housing of the airbag and sprayed shrapnel into the cab, tearing holes in the airbag and harming the driver.
In Erdman's case, the resultant injuries were severe. She was injured in her right eye, and a tip of shrapnel embedded in her right sinus. She endured multiple surgeries and therapies, but she told the panel on Wednesday, "My vision will never be the same. I will never be the same."
Her voice broke with emotion as she recalled the incident on September 1, 2013 that changed her life "forever," vowing to provide a "voice for the people who have been forever silenced because of these Takata airbags."
"I hope that no other families will have to go through this terrible ordeal," she said.
Erdman noted Takata's insistence that it promptly notified auto manufacturers of the problems with their airbags when it discovered the problem, but she added, "I believe the facts show differently."
The New York Times reported earlier this month that the company conducted tests in 2004 that revealed safety problems with its airbags but did not notify automakers until years later.
Erdman also accused Honda, the manufacturer of her vehicle, and her local Honda dealership of failing to notify customers about potential safety problems with airbags.
"They did nothing," she said.
Takata executive Hiroshi Shimizu, who represented the company at Thursday's hearing, said Takata was "deeply sorry" for the reported instances of defective airbags causing injuries and fatalities.
To date, automakers have issued recalls covering 7.8 million vehicles with Takata airbags, focusing exclusively on coastal states and states with high humidity.
The recalls have been regionally limited because the product defect is thought to be linked with moisture, but the National Highway Traffic Safety Administration on Tuesday urged lawmakers to expand that recall to include all vehicles with Takata airbags nationwide. Several senators echoed that call on Thursday, pushing representatives from Takata and auto manufacturers on their support for an expanded recall.
Shimizu said Takata "is working closely with automakers and NHTSA to support the ongoing recalls," but he added that the company believes the recalls should be limited to regions with high humidity.
While replacing the airbags under a regional recall will be expensive for the company, that cost would soar if the company was forced to replace airbags in cars across the country.
Shimizu did agree with the need for an independent investigation into two areas: first, the airbag problems; and second, whether the company notified the government and automakers of the flaw in a timely manner.
When Shimizu was pressed on whether his company accepted responsibility for the five fatalities linked to the airbag defects, he paused for an extended time, asking a translator for clarification. He ultimately said that investigators have conclusively linked the airbags to deaths in only three of those cases, which he termed "anomalies," but he said his company accepts responsibility for those incidents.
Sen. Bill Nelson, D-Florida, the committee's chairman, asked that the official record of the hearing reflect Shimizu's pause, which he described as "painful."
Honda executive Rick Schostek was more candid in acknowledging his company's culpability in the matter, offering a personal apology to Erdman for her ordeal.
"We failed Lt. Erdman and our dealer failed Lt. Erdman," he said. "We did not effectively get word to her of her recalled vehicle. In addition, as she told you, she brought the car to a Honda dealer for other service. Her vehicle identification number was not checked and as a result we lost opportunities to repair her vehicle."
He offered his "sincere apologies" to other victims and their families, and said Honda is working to improve its efforts to notify consumers of the recall.
Chrysler Executive Scott Kunselman emphasized that safety is a "shared responsibility" between automakers, parts suppliers, consumers and the government. He stressed that his company does not use the type of Takata part in other cars that has been linked to the majority of the incidents, and he noted that only one incident thus far has involved a Chrysler vehicle.
By mid-December, Kunselman said, Chrysler would begin offering customers the opportunity to replace the airbags in their car. In the meantime, he added, consumers who would like to use a rental car or a loaner could contact Chrysler, which would process those requests on a "case-by-case" basis. He would not commit to supporting an expansion of the existing recall to include cars nationwide.
Some are blaming NHTSA too, questioning whether the agency has the resources and the expertise necessary to address potential safety problems in a timely manner.
NHTSA Deputy Administrator David Friedman stressed the need for a "new normal" in how the government and automakers approach product recalls during his testimony on Thursday. "They need to act much more quickly," he said of automakers, "and NHTSA needs to continue to act much more aggressively and quickly."
Despite NHTSA's call earlier this week for a nationwide recall of Takata airbags, Friedman said Thursday that an expanded recall could "divert replacement air bags from areas where they are clearly needed, putting lives at risk."
Several senators on the panel praised President Obama for formally submitting the nomination of Mark Rosekind, an official with the National Transportation Safety Board, to head the NHTSA, which has been without a Senate-confirmed leader for almost a year.
Looking ahead to his confirmation hearing, Sen. Claire McCaskill, D-Missouri, said she has "lots of questions" for Rosekind.
In October, NHTSA posted this list of vehicles affected by the recall, urging owners to "take immediate action." The safety agency has asked automakers for a complete list of their vehicles that have Takata air bags. Drivers can also find out if their vehicles are part of the recall by using a search tool on SaferCar.gov.
BMW: 627,615 total number of potentially affected vehicles
2000 - 2005 3 Series Sedan
2000 - 2006 3 Series Coupe
2000 - 2005 3 Series Sports Wagon
2000 - 2006 3 Series Convertible
2001 - 2006 M3 Coupe
2001 - 2006 M3 Convertible
Chrysler: 371,309 total number of potentially affected vehicles
2003 - 2008 Dodge Ram 1500
2005 - 2008 Dodge Ram 2500
2006 - 2008 Dodge Ram 3500
2006 - 2008 Dodge Ram 4500
2008 - Dodge Ram 5500
2005 - 2008 Dodge Durango
2005 - 2008 Dodge Dakota
2005 - 2008 Chrysler 300
2007 - 2008 Chrysler Aspen
Ford: 58,669 total number of potentially affected vehicles
2004 - Ranger
2005 - 2006 GT
2005 - 2007 Mustang
General Motors: undetermined total number of potentially affected vehicles
2003 - 2005 Pontiac Vibe
2005 - Saab 9-2X
Honda: 5,051,364 total number of potentially affected vehicles
2001 - 2007 Honda Accord
2001 - 2002 Honda Accord
2001 - 2005 Honda Civic
2002 - 2006 Honda CR-V
2003 - 2011 Honda Element
2002 - 2004 Honda Odyssey
2003 - 2007 Honda Pilot
2006 - Honda Ridgeline
2003 - 2006 Acura MDX
2002 - 2003 Acura TL/CL
2005 - Acura RL
Mazda: 64,872 total number of potentially affected vehicles
2003 - 2007 Mazda6
2006 - 2007 MazdaSpeed6
2004 - 2008 Mazda RX-8
2004 - 2005 MPV
2004 - B-Series Truck
Mitsubishi: 11,985 total number of potentially affected vehicles
2004 - 2005 Lancer
2006 - 2007 Raider
Nissan: 694,626 total number of potentially affected vehicles
2001 - 2003 Nissan Maxima
2001 - 2004 Nissan Pathfinder
2002 - 2004 Nissan Sentra
2001 - 2004 Infiniti I30/I35
2002 - 2003 Infiniti QX4
2003 - 2005 Infiniti FX35/FX45
Subaru: 17,516 total number of potentially affected vehicles
2003 - 2005 Baja
2003 - 2005 Legacy
2003 - 2005 Outback
2004 - 2005 Impreza
Toyota: 877,000 total number of potentially affected vehicles
2002 - 2005 Lexus SC
2002 - 2005 Toyota Corolla
2003 - 2005 Toyota Corolla Matrix
2002 - 2005 Toyota Sequoia
2003 - 2005 Toyota Tundra
Thanks for reading CBS NEWS.
Create your free account or log in
for more features.