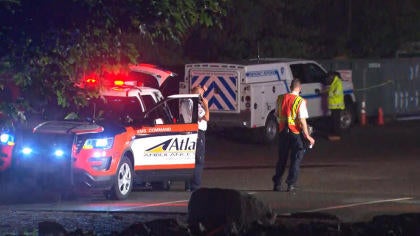 "Mass hysteria" at e-cigarette plant as almost 30 fall ill
Fire and hazmat crews were still working late Sunday night to determine what sparked a panic and sickened about 30 people at an e-cigarette manufacturer in Salem, Massachusetts. A spokesperson for the state's fire services said a hazmat team was assisting the Salem Fire Department at the Thermal Circuits plant and that 15 people had been taken to local hospital while about 15 others made their way to hospitals themselves.
A hazmat crew had entered the building and was trying to determine what caused so many to suffer breathing problems and nausea. Jennifer Mieth, spokeswoman for Massachusetts fire services, said the crews on the ground "do not believe that this is connected to an earlier chlorine leak in the building as that process was shut down and had not been restarted."
Fire crews were initially called to the plant on Sunday afternoon to respond to that leak, but left saying nobody was injured and the leak had been addressed. Less than two hours after officials gave the all-clear, however, at about 8 p.m., they were called back to the facility to help people suffering from the symptoms described above.
"There seemed to be a panic in the building" as workers began running out of the building, Salem Deputy Fire Chief Alan Dionne told CBS Boston. Dionne described it as "mass hysteria" as the employees rushed to get out of the building. CBS Boston said some 450 to 500 people were working at the time of the incident, and people started reporting symptoms not long after a shift change.
An official at Salem Hospital told CBS Boston early Monday morning that 20 people were being treated for unspecified illness related to the incident.
Acting Salem Fire Chief Gerry Giunta told CBS News later Monday that a total of 29 people were treated, including one who had suffered an apparent seizure and had been transported to a Boston hospital. The majority of the patients were treated and released but some, including the individual believed to have had a seizure, remained hospitalized.
Firefighters said they did not detect any chlorine in the plant when they came back the second time. An investigation was expected to take place throughout the night and Mieth said more information would be available later Monday morning.
When asked if the business would reopen on Monday, Dionne said the Thermal Circuits plant would "absolutely not" be reopening Monday morning.
Thanks for reading CBS NEWS.
Create your free account or log in
for more features.