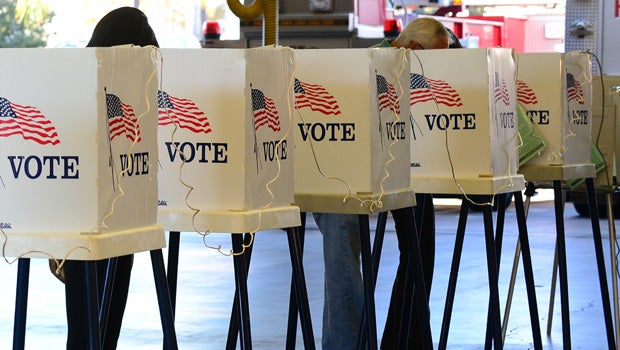 The young voter turnout in 2014
By Jennifer De Pinto
As expected, young voters in the 2014 midterm elections did not turn out in the numbers they did in 2012, but was there anything unique about the young voters who did come out to vote this year?
Voters ages 18-29, a core part of the Democratic party's coalition, made up 13 percent of the national electorate this year, compared to 19 percent in 2012, representing approximately 14 million fewer young voters--an early estimate based on exit polling and the number of votes cast for the House of Representatives.
Young voters in this election followed historical patterns, casting their votes for the Democratic candidate for the House, but they did so by a much smaller margin than they did two years ago. In fact, the Democrats' advantage with young voters was cut in half.
In 2012, a presidential election year, 60 percent of voters 18-29 backed the Democratic candidate for the House, and 38 percent backed the Republican candidate, a gap of 22 points. In the midterm years of 2014 and 2010, the percentages for the Democrat were 54 percent and 55 percent, respectively, while the Republican candidate won 43 percent and 42 percent in 2014 and 2010, respectively. The exit polls show young Republican voters, like young Democratic voters, also turn out in lower numbers during midterm years, but the drop off is less dramatic.
Party Identification
One of the factors contributing to the Democrats' more narrow margin may be the kind of young voters that showed up at the polls this year. The 2014 young voters leaned less towards Democrats, and a larger share were white, compared to those who came out to vote in 2012.
Specifically, voters ages 18-29 in 2014 were less likely to self-identify as Democrats than in either 2012 or in 2010. According to exit polls, 37 percent of young voters considered themselves Democrats, down from 44 percent in 2012. At the same time, the percentage of young voters who identified as Republican inched up from 26 percent in 2012 to 31 percent this year. Those who identified as independent also moved up from 30 percent in 2012 to 33 percent in 2014.
This reduced the Democrats' party identification advantage among young voters from 18 points in 2012 to just 6 points this year.
Racial composition
Also, the racial composition of the 2014 young voters had some impact. Republicans usually perform well with white voters and, like the electorate overall, a larger share of this year's young voters--64 percent--were white. In 2012, 58 percent of young voters were white. On the flip side, the share of young voters who are African American or Hispanic dropped from 35 percent to 28 percent.
White voters ages 18-29 backed the Republican candidate for the House this year (and voted for Mitt Romney two years ago), while young black and Hispanic voters voted for the Democrat. The Democrats' advantage with young black and Hispanic voters offset the Republican advantage with young white voters, giving Democratic candidates a lead among young voters overall, although not as large as in the past, and evidently, not big enough to prevent the Republican party from gaining seats in Congress.
Can the Republican Party win over young voters in 2016?
That is likely to be a challenge. Young voters continue to hold positions, particularly on social issues, that are more in line with the Democrats than Republicans. And while the racial composition of young voters this election may be less diverse compared to two years ago, voters age 18-29 are more likely to be African American or Hispanic (traditionally Democratic voter groups) than older voters.
Also, voters ages 18-29 have supported the Democratic candidate for President for six straight presidential elections. The last time young voters backed a Republican candidate for the White House was in 1988 when they cast their votes for George H.W. Bush.
Thanks for reading CBS NEWS.
Create your free account or log in
for more features.