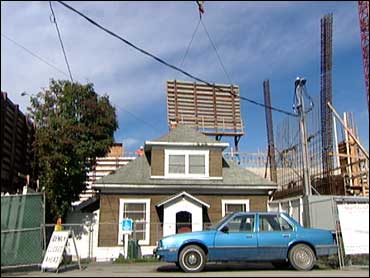 The Woman Who Wouldn't Sell
Whoever said you can't stand in the way of progress has never tried to step over 86-year-old Edith Macefield.
CBS News correspondent Steve Hartman asked her as she took out her garbage: "Want some help, Edith?"
"No!" she shouted back.
Frail as she is, Edith has stood her ground against Seattle developers who offered her a reported $1 million to move. When she said no, they started building their retail complex around her.
Today, just two pickets on the fence separate her from the west wall. The north and east are closer still. She's got port-o-potties doing fly-bys. And the noise - forget windchimes - you couldn't hear Aerosmith over that racket.
When the job is done, Edith's house will be surrounded on three sides by five stories of cement. Why would anyone want to stay here?
Unfortunately for this story, Edith not only says no to big-buck developers, but to two-bit reporters as well.
When a CBS News crew went to her door, Edith just said, "go away."
Mike Semandaris owns nearby Mike's Chili and has known Edith most of his life. Reporters come to him out of frustration.
"You're not the first to try and if you don't get the interview you won't be the first one not to get the interview either," he told Hartman.
And so did the developers.
"Yea, they did," Semandaris said. "They asked me to go down and try to convince her."
And if he was able to convince her, was there any money in it for him?
"There was a little carrot in it for us, yes," he said.
Mike declined the offer.
People who know Edith say she's not moving for three main reasons. First of all she's lived here more than 40 years and has some great memories from those decidedly quieter times.
Secondly, she doesn't want to have to move all her stuff.
And finally, she's really gotten to like her new neighbors.
"I've said, 'you know, if you need anything don't hesitate to call' and she doesn't," said Barry Martin, the construction project's senior superintendent.
"…take the garbage out," Martin said. "I make her lunch."
Barry says lots of the guys have grown fond of Edith and vice-versa. The crews drive her to her podiatrist appointments and check on her regularly.
They say she's really a sweetheart of a lady - who simply can't be bought.
Which explains why the flowers I sent her to try and get an interview - were re-gifted - to the construction guys, of course.
Thanks for reading CBS NEWS.
Create your free account or log in
for more features.