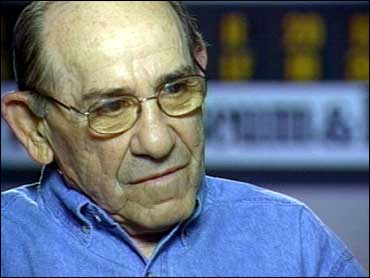 He may be the most quoted living American. And there's humor and an almost Zen-like wisdom in his sayings.
Who is he? Philosopher, author, philanthropist? He's all of these, but as 60 Minutes II told you last year, he's also a legendary baseball player.
Ronald Reagan, Tim Russert, Bill Clinton, George W. Bush and countless commencement speakers have borrowed from his arsenal of famous sayings.
"Yogi's been an inspiration to me," President Bush once said, generating gales of laughter. "Some of the press corps here even think he might be my speechwriter."
So how did a ballplayer with an eighth-grade education become known as a dispenser of wisdom and Zen-like quotes? Books have been written trying to answer that question. But one person who doesn't even pretend to know is Yogi Berra. Correspondent Bob Simon reports.

---

"I don't mean to be funny. I, tell you the truth, Bob - them sayings come out. I don't even know I say 'em. I really don't," says Berra.

At the Yogi Berra Museum and Learning Center in Montclair, N.J., the permanent exhibition consists of the words of Yogi:
"A nickel ain't worth a dime anymore."
"You can observe a lot by watching."
"If the world were perfect, it wouldn't be."
"If you can't imitate him, don't copy him."
"Ninety percent of the game is half mental."
To figure out all the great Yogi-isms, 60 Minutes II went to the world's foremost authority on quotes -- Justin Kaplan, editor of "Bartlett's Familiar Quotations."

Berra has eight entries in the latest edition, more than any living American president.

"I don't think people quote Shakespeare so much as they now quote Yogi Berra," Kaplan says. "Can you imagine a commencement speech without 'When you come to a fork in the road, take it'? It's impossible to conceive. And it leaves the young graduates in a state of total confusion and wonderment, which is the way it should be."

The fork in the road Yogi was talking about is near Berra's home in Montclair, N. J., and both roads lead to his home. When he first said it, it was a simple set of directions to get to his house.

---

Actor-director Billy Crystal, who used Berra for technical assistance on the set of "61," his movie about the Mantle-Maris home-run race, calls the former Yankee catcher "a gentler, convoluted Archie Bunker in many ways - without the bigotry."

During the filming, Crystal took Berra out to dinner and has this anecdote to relate:

"He said to the waiter, 'I want a vodka.' And I said, 'Do you want it straight up or on the rocks?' And he said, 'Straight up, but with a little ice.' Now, that's a Yogi. I went, 'You did it again.'

'What did I do?'

'Well, straight up is without ice.'

'Yeah, I just wanted a little bit.'

'So why didn't you just say - with just a little ice?'

'Well, I dunno - it just came out that way.'

"And that's - that's it," Crystal says. "The core of it is the truth. The core of it is a convoluted image that becomes very pristine when you look at it."

---

Retired ballplayer and sportscaster Joe Garagiola grew up on the same block in St. Louis. He says Yogi was a superb athlete and a boy of few words, anything but the neighborhood comedian.

"Yogi is not a funny guy," says Garagiola. "He says funny things, or he'll say things in a funny way. You walk away and you want to screw your head on just a little bit tighter ... Did he really say that?"

In 1947, Yogi was honored in St. Louis when the Yanks played in town. It was on this night that, legend has it, the very first Yogi-ism was uttered. Yogi asked a teammate to write a one-line speech for him, and the teammate suggested simply saying, "I want to thank all the people who made this day possible."

"So, I got up to the mike," Berra recalls. "I say,'I wanna thank everybody here for making this night necessary.' And that's when it started."

That same year he also met a girl named Carmen, who was waiting tables in a St. Louis restaurant. They got married, and 51 years later, are still married. Their three boys and eight grandchildren live near their home in Montclair.

During those Yankee years when Yogi was on the road, someone asked him about Carmen and another Yogi-ism was born. He said, "We have a good time together, even when we're not together."

It made perfect sense to Carmen. "I know exactly what he means by that. He means he's happy to be away from me for a little while, but he can't wait until he gets home."

---

Through the years, Berra's language skills made him famous -- and made him money. He's sold everything from cat food to beer. The mayor of New York even tapped Yogi for the recent campaign to boost tourism in the Big Apple after the Sept. 11 attacks.

With his new fame as a master wordsmith, one could lose sight of the fact that Berra was one of the greatest ball players of all time. He was chosen Most Valuable Player three times and has 10 World Series Rings, more than any other player.

"No earrings, no tattoos, no standing at home plate watching the ball," says Crystal. "Just a great unlikely superstar, whose stats for his physical makeup are astounding, you know, just amazing. You go, 'How did this guy hit 300 homeruns?'"

No one can question Yogi's baseball stats. But some wonder if he really said everything he's reported to have said. For example, Yogi is reported to have said, "It's déjà vu all over again."

"I don't believe that for a second, because déjà vu is not Yogi's kind of talk," says Kaplan. "The safe and prudent way to handle it in a book like Bartlett's is to say it's attributed."

Garagiola agrees: "Yogi would think déjà vu was a Latino shortstop. I mean, some of the things that they attribute to him saying - I know he doesn't say - or didn't say. And I have to laugh at it because I think that people, when they don't know who to hang it on, they'll hang it on Yogi."

But Yogi is certain that he made the comment about "déja vu."

So how does an MVP catcher from St. Louis go down in history for, to quote the President of the United States, "the enduring mark he left on the English language"?

"I think Louis Armstrong said it best," says Billy Crystal. "'If I have to explain it, I shouldn't be playing it.' And, I don't think you can explain someone like Yogi. It's too hard to do. I can't even attempt it. Because that would be to damage what is just a delightful little jewel that we should cherish."

Thanks for reading CBS NEWS.
Create your free account or log in
for more features.