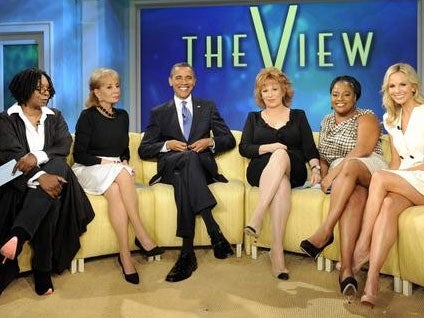 "The View": Obama Talks About His iPod, Lindsay Lohan and His Daughters
NEW YORK (CBS) Justin Bieber may have met the president, but he's not one of the artists on the Commander-in-Chief's iPod.
President Obama's musical tastes were just one of the lighter things talked about during his appearance on "The View."
After the first part of the interview dealt with jobs, the economy and the war in Afghanistan, the "View" co-hosts moved the conversation towards less heavy topics - like his taste in music.
"You name a song, I've got it," President Obama said. "I've got Jay-Z on there, I got Frank Sinatra on there, Maria Callis..."
But when Joy Behar mentioned Justin Bieber, he responded, "I do not have Justin Bieber on there."
The interview also tested his pop culture knowledge - the president said he knew Lidnsay Lohan was in jail, but sidestepped a question about Mel Gibson's latest troubles ("I haven't seen a Mel Gibson film in a while") and claimed to not know who Snooki was -- though others have pointed out the president did reference the "Jersey Shore" star in a joke at the White House Correspondent's Dinner back in May.
The president also talked technology, saying that while he has his Blackberry, the 10 people who have his e-mail address are careful what they send him.
"Nobody wants to send me the real juicy stuff," he said. "It's all very official."
His recent vacation with his family in Maine was another topic of conversation - he said it was the "rose," or highlight, of his past month.
"We went on bike rides and hikes," he said. "You know, the girls are getting old enough now where they're not quite teenagers yet, so they still like you. But they're full of opinions and ideas and observations and it's just a great age. Malia just turned 12 and Sasha just turned 9.And it couldn't have been a better couple of days."
Pictures: The Obamas in Maine
And he didn't resist an opportunity to poke fun at himself, either.
When the show returned from a commercial break, a clip of his 2008 election victory speech was played. His first comment when it was over: "Can I just point out - I don't have as much gray here in that clip."
Watch President Obama talk about Lohan, Gibson and Snooki:
Thanks for reading CBS NEWS.
Create your free account or log in
for more features.