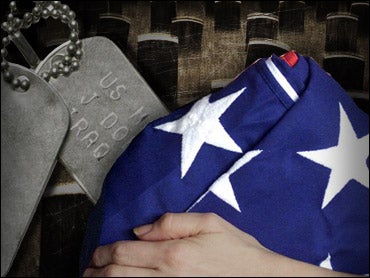 The Veteran Suicide "Epidemic"
At least 120 Americans who served in the U.S. military killed themselves every week in 2005, CBS News learned in a five-month investigation into veteran suicides.
That's 6,256 veteran suicides in one year in 45 states - a rate twice that of other Americans, CBS News chief investigative correspondent Armen Keteyian reports.
"These statistics tell me we have really failed people that served our country," Sen.Patty Murray, D-Wash., a member of the Veterans Affairs Committee, tells Keteyian.
During a five-month investigation, the CBS News investigative team uncovered what amounts to a hidden "epidemic" of suicide among the men and women who have served their country. The investigation was based upon a simple premise: How many veterans are committing suicide nationwide? How does that rate compares to that of the general population?
As it turns out, while there have been some studies, no group or agency - not even the U.S. Department of Veterans Affairs - has counted the nationwide numbers.
Among the exclusive CBS News findings:

Veterans aged 20-24, who are those most likely to have served during the War on Terror, are killing themselves when they return home at rates estimated to be between 2.5 and almost four times higher than non-vets in the same age group. (The suicide rate for non-veterans is 8.3 per 100,000 while the rate for veterans was found to be between 22.9 and 31.9 per 100,000.)
Overall, those who have served in the military were more than twice as likely to take their own life in 2005, than Americans who never served. (Veterans committed suicide at the rate of between 18.7 to 20.8 per 100,000 compared to other Americans, who did so at the rate of 8.9 per 100,000.)

"Those numbers clearly show an epidemic of mental health problems," says veterans rights advocate Paul Sullivan.

Keteyian sat down with the family members of five soldiers who committed suicide after returning home from Iraq.

"Nobody wants to tally it [veteran suicide numbers] up in the form of a government total," says Mike Bowman, whose 23-year-old son, Tim, an Army reservist, shot himself on Thanksgiving Day, 2005.

Why does he think that is?

"Because they don't want the true numbers of casualties to really be known," he said. [[PULL QUOTE THIS]]

The CBS News Investigative Unit, led by producer Pia Malbran, contacted all 50 states for their suicide data, based on death records, for vets and non-vets dating back to 1995.

It amasses to the first-ever collection of raw nationwide numbers.

"If these numbers don't wake up this country nothing will," Murray said. "And I would say to all Americans that we each have a responsibility to the men and women who serve us aren't lost when they come home."

Keteyian also spoke with Paul Rieckhoff, former Marine and founder of Iraq and Afghanistan Veterans for America.

His sentiment: "Not everyone comes home from the war wounded, but the bottom line is nobody comes home unchanged."
---

For the full investigation, along with interview with the family members and experts, watch the CBS Evening News with Katie Couric tonight.

Thanks for reading CBS NEWS.
Create your free account or log in
for more features.