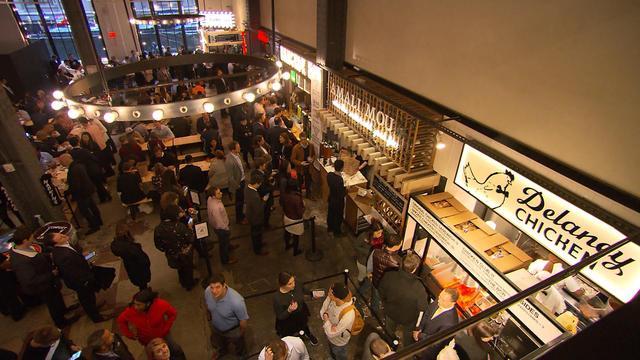 Exclusive culinary tour aims to school food industry leaders on innovation
At 11:30 a.m. a group of restaurant owners, food industry CEOs and restaurant chain executives gathered to embark on a 25-hour, 16-stop food odyssey by bus. The mission? Experience some of the most innovative food, coffee and cocktails in one of the food capitals of the world -- New York City -- and they'll only have a six-hour nap as a break.
But you can't buy a ticket to this event -- you need to be invited by culinary insiders Alice Elliot and Damian Mogavero, as CBS News correspondent Jamie Wax was. Elliot is a premiere industry headhunter and Damian Mogavero's Avero software helped launch a revolution of restaurant tech innovation. His book, "The Underground Culinary Tour," exposed how big data is changing the food industry.
"The software company that I started, Avero, aggregated data that showed wide disparity of restaurant performance. Some restaurants were killing it, while others were getting killed. And so the idea of this is just to really create a unique experience that's immersive, to use New York City as a restaurant laboratory to really showcase innovation," Mogavero explained.
That innovation was on display in the venues they visited, hosted by a mix of celebrity and emerging chefs, restaurateurs, sommeliers and baristas. One thing that united everyone was an adventurous spirit.
"We look for people that come from all different walks of life, all different disciplines, but at the end of the day, they are curious. They want to be better," Elliot said.
They know they have to be, given today's increasingly demanding and discerning consumer.
"We are in a grand foodie revolution. The consumer is changing so quickly. They're now demanding highest-quality ingredients everywhere. The idea is, how can we take this diverse group that Alice is mentioning and these leaders, and really showcase innovation so they can, in turn, think about how they are going to evolve in order to meet the ever-changing needs of the consumer," Mogavero said.
That's what brought Meenakshi Nagarajan, director of product innovation for Domino's, on the tour. What she learned could impact what you see on their menu.
"What it does is opens our eyes to understand where the trends are. We know what Domino's Pizza brings, we know what our customers are looking for, but we are still looking to see what's missing for that one Domino's Pizza creation. We want to make sure that it's a perfect pizza meal," Nagarajan said.
Mogavero says one of the trends he's seeing is a "vegetable-forward movement."
That's what David Chang's Momofuku Nishi is doing. Their lunch menu now features the "impossible burger," a vegetable patty that fans say looks and tastes like a real cheeseburger.
Also part of the tour is James Beard Award-winning chef Marco Canora of Hearth, who opened a window in both his restaurant and the industry when he pioneered the bone broth movement.
"You know, I think the hospitality industry is lacking, is behind. I think every industry needs to have innovation. I think we get lost in our craft and we don't kind of look in the bigger picture of things. And sometimes I think we forget that we need to evolve and innovate to stay relevant," Canora said.
Innovation and collaboration are the true heart of Urban Space, a food market that brings together 20 artisan vendors of various cuisines all under one roof.
"I think food is community. Food is really about life when you really take it all down to its bare ingredient, food is the one common denominator that many people can just come together and share. So the respect for the food has only grown because it has brought people together all different backgrounds and diversities," Elliot said.
Mogavero believes it's the most exciting time to be a foodie.
"One of the trends I see in the data is what I like to call in the book 'urban disloyalty,' where the consumer is being tempted by social media to try out a new place at the expense of the incumbent and that puts pressure on. I think one of the big challenges of our industry is how do you continue to innovate and stay connected to the restaurant customer," Mogavero said.

Thanks for reading CBS NEWS.
Create your free account or log in
for more features.