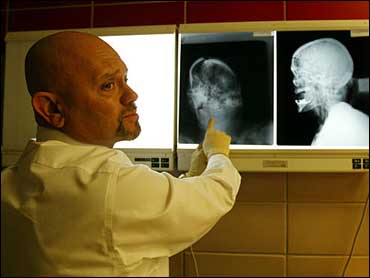 The Suicide Capital Of America
Lawrence Orbe didn't come to the Las Vegas Strip looking to win big. He didn't come for the strippers or over-the-top shows.
He came to die.
Orbe, 64, checked into the exclusive Four Seasons Hotel on March 11 after driving his silver Jaguar from his condominium in Montecito, Calif.
Five days later, a maid found the businessman in his room, slumped in a chair with a gunshot wound to the head and a suicide note in his leather briefcase.
"Las Vegas was one of his very favorite places," said his former wife, Loni Chiarella. "They always treated him like a king. He loved Las Vegas."
Every year desperate men and women make the pilgrimage to the gambling capital to kill themselves. More than once a month, a visitor commits suicide here, according to Clark County Coroner records dating to October 1998.
By comparison, Atlantic City, N.J., had about one-third as many nonresidents take their lives during that period. In the same six years, no one committed suicide at Disney World.
"They pick Las Vegas and kill themselves," former Clark County Coroner Ron Flud said. "It's a fact."
But saying exactly why is not so straightforward.
Experts and family members have their thoughts - from the city's culture of anonymity to despair, in some cases, over gambling losses. But each case is different.
As one suicide note said, "Here there are no answers."
Orbe married Chiarella in Las Vegas three years ago and found the city luxurious.
"They always showered him with the attention he felt he deserved," she said.
The two had separated and planned to divorce. Chiarella said Orbe was also despondent over recent financial setbacks. But what he was thinking will always be unclear.
"Lawrence remained a mystery to those close to him," she said.
Four months after Orbe's suicide, Gloreah Hendricks, 30, jumped from the ninth floor of the Aladdin hotel-casino parking garage on July 19, 2003.
Her family thought Hendricks was on vacation in Las Vegas, which she considered beautiful, said her mother, Rosemary Pitts of Montgomery, Ala.
In her car, police found a note that said: "One stop and away I go."
Matthew Naylor didn't leave a note before killing himself on June 21, 2002, at the Plaza hotel-casino.
The 31-year-old died from a loss of hope, said his father, Lewis Naylor, an engineer in Baltimore: "He just had a lot of challenges in life and gave up. He couldn't see how it was all going to come together to make a life worth living."
David Strickland, a 29-year-old Hollywood actor, whose wrists were scarred from previous suicide attempts, toured strip clubs and partied before he put a bed sheet around his neck at the Oasis Motel on March 22, 1999.
Strickland was depressed he "had fallen off the wagon," his friend and fellow actor Andy Dick, told investigators. Strickland, who was in Alcoholics Anonymous, was worried his girlfriend would leave him after his relapse.
But why Las Vegas?
"I've asked myself that 100 times," said Judi Kagiwada of Middleboro, Mass., whose 39-year-old husband, Terrence, hanged himself at a downtown casino on March 5, 2003.
Relatives suggest their dead loved ones might have been attracted to a place where you can get lost, and be found only when it's too late.
Experts say some might have been looking for one last sign not to pull the trigger or tie the noose: A jackpot, blackjack or smile. Anything.
"You're in a place that nobody cares. It's not famous for being warm and fuzzy. It's a place you can be anonymous and die," said David P. Phillips, a sociologist at the University of California at San Diego, who co-authored a 1997 study that found Las Vegas had the highest level of suicide in the nation for residents and visitors.
Still, he said, "I wouldn't bet big money on any particular explanation" behind the deaths.
Victims included a banker, musician, immigration officer, pharmacist, exotic dancer, taxi cab driver, disc jockey, car salesman and professional gambler. Most came from California, same as the tourists. Others hailed from Texas, Wisconsin, New York, Utah, Kansas, Maine and Oklahoma - 26 states and two foreign countries in all.
Almost all had medical, financial or domestic problems. In some cases, victims appeared to suffer from gambling addictions or killed themselves only after Las Vegas took their money.
Elton Beamish, 24, drove to Las Vegas from Ann Arbor, Mich., where he was a student at the University of Michigan. He checked into a motel Jan. 12, 2000. Four days later he was dead. His checkbook told the story.
Beamish lost his financial-aid money and became depressed. He bought a 12-gauge shotgun from Kmart, put it in his mouth and pulled the trigger.
Suicide destinations exist around the world, the most famous of which is the Golden Gate Bridge, where more than 1,000 people have jumped to their deaths since the bridge was constructed in 1937. It averages about 20 suicides a year.
Other places resonate with the suicidal, such as Mount Mihara in Japan and the Empire State Building in New York.
Las Vegas is different. It has no association with death, even though in 2001 Nevada ranked third behind New Mexico and Montana in suicide rates, according to the American Association of Suicidology. For many years it was No. 1.
From 1991 to 2002, 4,994 people killed themselves in Nevada. Of those, about 11 percent, or 547, were from out of state. Most suicides take place in southern Nevada's populous Clark County, home to the Strip and its decadence and debauchery.
"Vegas is a canvas for American neurosis," UNLV history professor Hal Rothman said. "It's a place where we paint our hopes, dreams, fears and apprehensions. ... It's the city of excess. What could be more of an excess than killing yourself?"
"The average person who comes here still sees it as Sin City, where the rules of their lives have been suspended, where their actions have no consequences."
There are consequences to suicide, of course.
The body of William L. Mauldin III was discovered Aug. 2, 1999, in a swath of rocky dirt next to New York-New York hotel-casino's 10-story parking garage.
In the 32-year-old disc jockey's pocket was a note for his mother: "Tell her I'm sorry and I love her with all my heart. I have been depressed for almost a year now. Don't blame anyone but me."
Finding the body would have devastated family members, and that may partly explain why William chose Las Vegas, brother Rob Mauldin said. "He was probably trying to protect love ones from the horror."
Nothing protects families from the long-term hurt that follows the death notification, and yet county Coroner Michael Murphy said the news doesn't always come as a shock.
"Some even expect the call," he said.
More than 90 people, both tourists and locals, have committed suicide inside a casino or on hotel properties in Clark County since 1998. Twenty have jumped from casinos and parking garages, including three from the Stratosphere hotel-casino, the tallest building west of the Mississippi.
Casino companies could do more, but they "don't want to be connected to us," says Dorothy Bryant, director of the Suicide Prevention Center in Las Vegas. Hotels could place the center's hot line number in rooms or other places for guests, she says.
Alan Feldman, MGM Mirage senior vice president for public affairs, said saving people who are suicidal once they arrive in Las Vegas probably is impossible.
"If a person's closest friends and family ... can't prevent it," Feldman said, "How is the bellman at the hotel all of a sudden going to have this miraculous cure? I don't know if there is very much we can do."
It was not a hot line but coincidence that saved one 51-year-old Texas man's life. Seven and a half years ago, he bought a one-way ticket to Las Vegas to kill himself.
"I came here knowing I was going to do it," he said at his Las Vegas apartment, speaking on condition that he not be identified. "I felt very comfortable with it. All of sudden nothing bothered me."
He checked into the Westward Ho hotel-casino on the Strip and wandered the city drinking and gambling for about two weeks before finally deciding to die July 19, 1996.
He cut some nylon rope from the room's curtains, looped it around a pipe and tied a noose. A maid caught him testing the rope. Police arrived and there was a standoff. He told officers he had a bomb so they wouldn't rush him.
Thinking of his mother, he later changed his mind and surrendered.
The Vietnam veteran, who suffers from post-traumatic stress disorder, according to his doctor, was institutionalized, given treatment and eventually released.
Suicide is never far away - he's tried it twice since.
Las Vegas will be his final stop, though it's hard for him to say precisely why.
"I always felt something lured me here. This was my destiny. I can't get away from it. I can't get out from under it. It's going to end here. I can tell you that."
By Adam Goldman
Thanks for reading CBS NEWS.
Create your free account or log in
for more features.