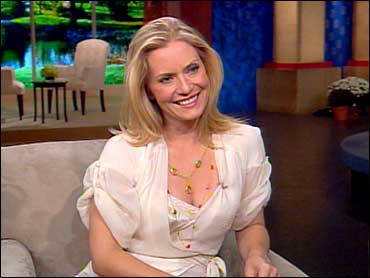 The Southern Belle Of 'CSI'
"Death Pool 100" is the title of tonight's episode of the hit CBS drama "CSI: Miami," which is fitting, as it's the series' 100th episode.
As part of the celebration, Emily Procter, who plays Calleigh Duquesne in the show, dropped by The Early Show to talk with co-anchor Hannah Storm.
The interview began with a lovefest, as Storm called the actress "a great Southern belle," adding, "We love having you on our show."
Procter returned the compliment by saying, "Every time I come here, I have the same thought: I feel like I have such history with all y'all here, from the very first time you interviewed us for the pilot."
It's been a long time since then, and Procter was ready to reminisce.
"I remember sitting around with David (Caruso, who plays Horatio Caine) in the parking lot during season one, getting ready for the first episode to air," she said. "We said, 'I guess we'll make it to four (episodes). We were at the 100th anniversary party on Saturday night, and we were looking at each other and thought, 'We are going to spend the rest of our lives together. For better or worse.' "
Storm, pointing out that "CSI: Miami" is the most-watched television show worldwide, asked Procter why she thinks it's so successful.
"The only thing that I can think of," replied Procter, "it's a wonderful escape on a Monday night. There are car crashes and action … and unbelievably good-looking people!"
Storm asked Procter if she knows what's ahead for her character, Calleigh.
"They kind of like to keep it from me," explained the actress, "but Calleigh has a new boyfriend who is an old boyfriend. I don't know if they told you this: One thing that is interesting, an old boyfriend of mine was in the episode. A boyfriend of mine from college actually played the killer! Isn't that weird?"
"That must have been so strange," commented Storm.
Unlike many successful actresses, Procter does not use a personal stylist.
"I decided about a year ago, and I just feel like I want to see more personal style in people, and I feel like if I'm going to be out there in the public eye, they should see who I am and how I dress, and I feel like it, also."
So does Procter think Hollywood is sending the wrong message to people?
"I think that we could be more careful about what we're saying to young women in terms of their expectations. It's unrealistic to expect people to always be in designer clothes," said the actress. "Girls growing up deserve more freedom in how they look and how they feel about how they look."
Procter seemed to feel pretty good when, at the end of the interview, Storm and The Early Show crew surprised her with a cake to celebrate the 100th episode of "CSI: Miami."
"Holy cow!" Procter exclaimed. "My birthday is next week (Oct. 8), and I feel like (the cake) is mine, so I'm 100."
Actually, she'll be 38.
For more about "CSI: Miami," go to the show's official Web site at CBS.com.
Thanks for reading CBS NEWS.
Create your free account or log in
for more features.