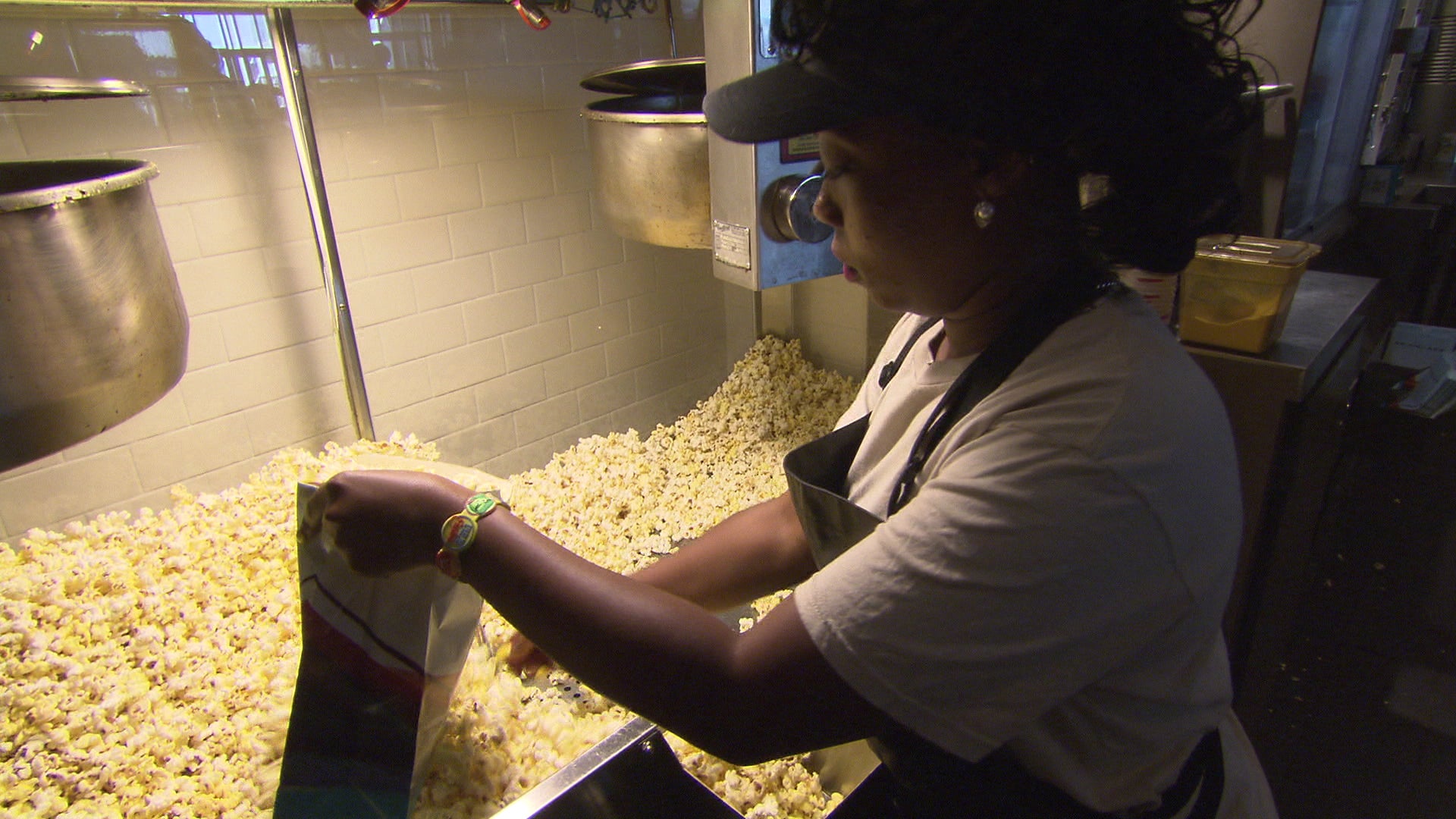 Plot twist at movie theater snack bars
This piece originally aired July 2, 2015.
Popcorn, whether plain, salted or heavily buttered, has always been addictive, but the finger food that never seems to last through an entire movie wasn't always a part of the scene
"When movie theaters first opened, it was sort of a high-end experience ... and the theater owners at that time didn't want snacks in the theater to sort of downgrade that posh experience that people were having," Showcase Cinemas Marketing Vice President Amber Stepper said.
But as time went on, vendors outside the movie theater sold snacks to people before they came in, reports CBS News correspondent Vinita Nair.
"So then the theater owner said, 'Well, OK, we don't need people outside our doors selling this to our customers and then bringing it in. We'll sell it within the theater itself,'" Stepper said.
Showcase Cinemas is a movie chain that shares its parent company with CBS.
Lobbies have mini food courts featuring hot dogs, pizza, ice cream and Starbucks.
"Coming to the movies is still an experience, and so the food aspect is still a really important part of that experience," Stepper said.
Sales of snacks account for up to 40 percent of a movie theater's revenue, but new FDA regulations to reveal calories in those classic concessions may leave audiences wondering whether it's worth it. A small popcorn weighs in at more than 1,000 calories.
"I'm sure you go to restaurants and places when you see the numbers. I think it definitely makes you stop and think," Stepper said.
It has entrepreneurs like Ron Law thinking, too. He's hoping EdaMovie, the salty and steamed edamame he developed, will make its way to a theater near you.
"Going to the movies is about having fun, and I think eating edamame is fun," Law said.
The former cardiologist isn't new to the movie business. He produced a feature film called "Warriors of Virtue" in 1997.
"It was released at a time when, frankly, MGM was having quite a bit of trouble, and we thought it could have done better than it did," Law said.
"Warriors of Virtue" didn't do well at the box office, but law is more optimistic about what he's produced for the concession stand.
Law's EdaMovie is 150 calories, a tenth of a small bag of popcorn, but he'd rather not call it "healthy."
"It needs to convey that this is good for you subliminally, but that it is fun to eat," Law said.
Theater owners seem to agree. The shelves at Showcase Cinemas are stocked with options like nuts and rice crackers, but so far "healthy" hasn't been a hit.
"The movie theater for sure is a place where people want to treat themselves," Stepper said.
People can hide under the darkness of the theater and eat whatever they want.
"Of course people, when they go to the theater, it is a special occasion, it is a special event. So I think the concession piece goes along with that," Stepper said.
The FDA order to post calorie content will not take effect until the end of the year.
Thanks for reading CBS NEWS.
Create your free account or log in
for more features.