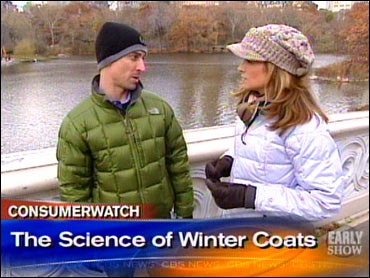 The Science Of Picking A Winter Coat
Do you have the right kind of winter coat? Are you about to buy one?
Early Show consumer correspondent Susan Koeppen says there are literally hundreds to choose from: down jackets, soft shell, hard shell, cross-over, fleece, and more. The technology is so advanced now that some are even made from recycled material!
The selection, she says, is incredible -- enough to make your head spin.
So, which are the best coats to keep you warm, and which are best at keeping you dry?
Koeppen got the lowdown from Michael Roberts, executive editor of Outside Magazine (http://outside.away.com/index.html), which just put together its Winter Buyer's Guide and tested dozens of jackets and coats in the process.
She also stopped a North Face store in Manhattan, where manager Steve Martino told her coat sales have been brisk, with winter on the doorstep, and where the first question customers ask about coats they're considering is, "Is it warm?"
Roberts says the trick to picking the proper coat is to match it to your lifestyle.
For a walk in the park, he advises, a down jacket is the way to go. They are, he says, "really warm" and "incredibly lightweight and really comfortable."
When buying down, look for numbers such as 650 fill or 800 fill. "The higher up that number, the higher quality the down and, generally, the warmer it's gonna be," Roberts points out.
But down isn't the choice if you plan on getting wet. Down then suddenly goes from lightweight and puffy to wet and clumpy. "It's like mud and, you lose everything," Roberts notes.
If you're going to be in heavy rain or snow, a hard shell jacket is hard to beat. It is, says Roberts, "really about keeping you dry. It's waterproof. And it's breathable. So, the moisture can't get in, but water vapor, when you heat up, can get out."
If being physically active in the cold is your thing, doing things such as skiing or jogging, Roberts recommends buying a soft shell, which is water-resistant. He says it's "just gonna have more breath-ability, and it's not quite waterproof. So, it's gonna keep snow off, but a lot of heavy rain . . . probably will soak through after awhile."
Manufacturers, Koeppen says, are constantly testing materials and working hard to make jackets better -- using real-world conditions and laboratories that simulate rain storms and freezing temperatures.
Some companies are even making coats that are better for the environment, using recycled materials. One such offering, Roberts says, is the Patagonia, which he describes as a high-performance jacket.
Coats these days are not only functional, but fashionably appealing, as well, Koeppen observes.
Roberts tried on one from Cloudveil and Koeppen one from Burton. Both, Roberts says, are insulated, but look great.
And, if you want to step from the slopes to the shops without looking out of place -- a crossover coat is a sure bet, Koeppen says. She put on a shell with some faux fur, and Roberts a Gortex product, which he says "looks great in the mountains and it's look great in the city."
But staying warm and dry can cost you. Some jackets reach the $500 range.
Roberts says it's all relative: "How much are you willing to pay to stay warm and dry? It makes us happy. I mean, we pay a lot for our food, we pay a lot for a stylish suit. ... It may be worth your money."
And, Koeppen concludes, don't forget about wool -- it is, she says, always a good option. It's a natural insulator and keeps you warm even if it gets wet. It's been used for hundreds of years and now, even some high-tech jackets with fancy fabrics are using wool on the inside.
Many of these items were seen in Koeppen's piece:
Men's Jackets:
Ibex Clive Jacket: $225, ibexwear.com
The North Face Flash: $229, thenorthface.com
The North Face Sentinel Windstopper Jacket: $229, thenorthface.com
Cloudveil Four Pines Insulated Jacket: $250, cloudveil.com
Patagonia Winter Guide: $275, patagonia.com
Powderhorn Night Hawk Down Jacket: $325, powderhornworld.com
Marmot Exum Jacket: $375, marmot.com
Mountain Hardwear LoDown Jacket: $130, mountainhardwear.com
Merrell Universal jacket: $400, merrell.com
Nau Shroud of Purrin Jacket: $258, nau.com
Arc'teryx Hercules Hoody: $325, arcteryx.com
Arc'teryx Hercules Jacket: $299, arcteryx.com
Filson Mackinaw Cruiser Jacket: $275, filson.com
Women's Jackets:
Ibex Alyx Jacket: $225, ibexwear.com
The North Face Metropolis: $279, thenorthface.com
Cloudveil Down Patrol: $330, cloudveil.com
Patagonia Rubicon Puff Jacket: $349, patagonia.com
Patagonia R2 Jacket: $160, patagonia.com
Marmot Ascend Jacket: $275, marmot.com
Marmot Gravity Jacket: $150, marmot.com
Mountain Hardwear LoDown Jacket: $130, mountainhardwear.com
Burton Dutchess Insulated Jacket: $199.95, burton.com
B by Burton Adams Jacket: $219.95, burton.com
Burton City System Jacket: $279.95, burton.com
ISIS Shastina Jacket: $219, isisforwomen.com
Thanks for reading CBS NEWS.
Create your free account or log in
for more features.