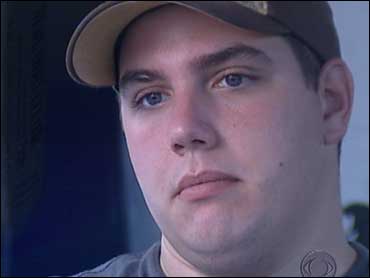 The Road Back From Addiction
Twenty-four year old Mark McCarthy is leaving home.
"I'm outta here," he said.
For his mother, Florence, and father, Bob, it's a special trip. But it's also one they wish they didn't have to make, CBS News anchor Katie Couric reports.
"Tomorrow we're taking Mark to rehab," Florence McCarthy said.
This is the new face of America's drug crisis.
"[We're] middle-class as it comes. God-fearing people. And you know, we raised our kids right," said Bob McCarthy.
"Oh yeah, we loved him," Florence said.
But none of that love could save Mark, when five years ago he began his affair with the narcotic pain reliever OxyContin.
"I went from taking one, maybe two a day - until I was taking maybe nine a day," Mark said.
In a matter of months, Mark was feeding a $300-a-day addiction, and the McCarthy family had descended into chaos.
"I wanted to murder him," Bob said.
When a friend died after overdosing on prescription drugs, Mark decided to check into Florida's G & G Holistic Addiction Treatment Center.
Mark's failed at rehab twice already. But the staff here specializes in just such cases.
The average cost for a two-month stay is $28,000 dollars, some of which can be covered by certain insurance policies.
In rehab, Mark will confront his demons, with constant counseling and therapy.
"I'd like to improve my health," he said. "Because the drugs really downed my body."
He told a counselor: "I want this I really want this, so I'm just going to pray to God and have faith that everything will work out and everything will be fine."
He'd record the details of the damage he'd done in a video diary.
"When I was taking Oxy's I would think about who am I going to rob today. Who am I going to steal from. Who am I going to have to hurt? I don't care because I want to get high," he said.
Mark's erratic behavior is typical of what doctors say parents should be on the look out for. Potential warning signs include a drop in attendance and grades at school, financial problems, and changes in friends.
But like many, Mark's parents understood next to nothing about prescription drug addiction.
"I thought prescription drugs were okay because the doctor gave them to you," Bob said.
It's that kind of thinking that fuels America's drug crisis - something Dr. Herbert Kleber has been monitoring for 35 years.
Does he think people perceive using prescription drugs differently than street drugs like heroin, crack marijuana?
"Absolutely. These drugs are perceived as safe, as medicinal, not drugs," Cleber said.
And when the addict does get serious about finding help?
"There's not enough treatment available in this country," he said.
It is estimated that every day 22 Million Americans need treatment for substance abuse of some kind, but only two million get help. And even those often experience a relapse.
After two months at "G & G," Mark McCarthy completed the program.
Now Mark's back with his parents, and can enjoy a night out - without drugs, hoping this time he's finally kicked the habit for good.
"I feel like I finally got my son back," Bob said.

Thanks for reading CBS NEWS.
Create your free account or log in
for more features.