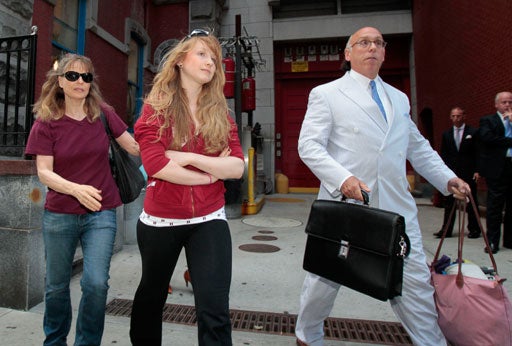 The Real Reasons Some Young People Shoplift
(CBS/AP)
It's not easy being a famous politician's daughter -- especially when you're arrested for an alleged theft.
Rudy Giuliani's daughter Caroline, a law enforcement official says, was arrested Wednesday after she was seen on video pocketing makeup at a Manhattan Sephora cosmetics store on the Upper East Side.
The official spoke to the Associated Press on condition of anonymity because authorities had not filed formal charges.
Now the 20-year-old Harvard student and youngest of the ex-New York mayor's two children joins the ranks of other celebs who have been accused of shoplifting.
The same day, in fact, police say former Miss USA Shannon Marketicwas released from a Texas jail after she was accused of stealing almost $90 in beauty products from a Target store. The Fort Worth Star-Telegram reported Wednesday the 38-year-old was released after posting a $500 bond.
And what about other celebrities associated with shoplifting? Winona Ryder was convicted in 2002 of felony grand theft and vandalism for stealing several thousand dollars worth of merchandise from a Saks Fifth Avenue store in Beverly Hills, Calif., the previous year. In 1993, tennis star Jennifer Capriati was caught allegedly trying to steal a cheap silver ring from a mall in Tampa, Fla. She was issued a citation for shoplifting. Singer Courtney Love was also arrested for shoplifting at age 13 for reportedly stealing a Kiss T-shirt.
Pictures: Celebrity Shoplifters
But why do people, expecially teens, shoplift? Could it stem from some other problem?
According to KidsHealth.com, run by Nemours a non-profit kids health organization, shoplifting among teens is often the result of peer pressure, or because some young people may find it cool or daring. The website says jealousy may also be a factor because kids want things their classmates have, but can't afford them. KidsHealth.com adds teens may also want attention from their parents or friends when they shoplift from stores.
So what can parents do if they discover a child has taken something from a store?
You may want to first inform your child of some of the hefty consequences.

On "The Early Show," child and adolescent psychologist Dr. Jennifer Hartstein said, citing statistics from the National Association for Shoplifting Prevention, about a third of people who shoplift have depression.

However, the two-thirds of others who shoplift do it for a variety of reasons. Hartstein said justified payback could be a factor in Caroline Giuliani's case.

"(Justified payback) is getting back at a parent, getting back at someone who does something to hurt you and getting back at them by trying to embarrass them. ... Certainly look what her father did for New York, reducing crime. What's the best payback for him -- is to get caught stealing."
Have you had an experience with your child shoplifting? What did you do? What do you suggest parents do in that situation?
Thanks for reading CBS NEWS.
Create your free account or log in
for more features.