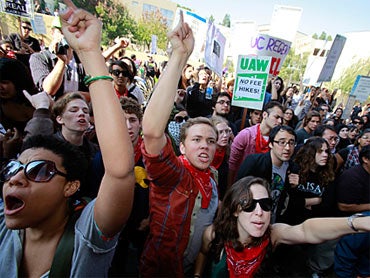 At 4 o'clock each and every Monday morning, Sandy Wyatt greets some of her favorite clients at the Southside SPCA in Meherrin, Va. She tells a puppy, "It's going to be fun."
"Fun" might not be the right word. "Lifesaving" is more like it. The Early Show resident veterinarian Debbye Turner reports.
Nationwide, there are millions of stray puppies, but according to Wyatt, the problem is much worse in poor and rural areas.
"They just roam the roads; they are not altered; they are breeding with everything. And that's why we've got this overabundance of puppies," Wyatt explains.
But the overabundance in the south is an opportunity for one shelter up north. That's why, each week, Wyatt, her driver Lynda Conrad, and a host of volunteers transport about 40 puppies up to Massachusetts.
Conrad notes, "They are good dogs. They deserve a chance at a good life, which more than likely they would not get here."
The official name for the program is Homebound Hounds. But some jokingly call it "the puppy underground."
While driving, Conrad notes, "People say, 'Oh, that must be a horribly noisy ride.' It's not. Sometimes it gets to be a little smelly, though."
Along the way, Conrad picks up other fostered dogs, and then, in New Jersey, they switch vans and drivers so when the puppies arrive at Sterling Shelter in Massachusetts, they arrive in style.
They're photographed for the shelter's Web site, checked by the vet, evaluated by the trainer and generally doted upon.
Leigh Grady says, "Fortunately, our turnover rate is so high and they are adopted so quickly that we don't have time to get attached."
In less than 24 hours, most of the puppies will be going to their new homes.
Before that happens, they will all be spayed or neutered so as not to perpetuate the problem that brought them there in the first place.
People arrive from all over New England - just like little Nomari Lopez, who after a short wait gets to choose her dog.
She promises she will love him forever and take good care of him. She says, "I really, really love him."
And it's that kind of love that Wyatt and Grady hope to give each and every one of these once homeless, now homebound, hounds. Together, Grady and Wyatt have now rescued more than 3,000 puppies.
Thanks for reading CBS NEWS.
Create your free account or log in
for more features.