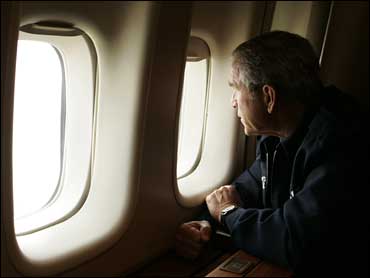 The Politics Of Hurricanes
This column was written by CBS News director of surveys Kathy Frankovic.
---
Three years after Hurricane Katrina devastated the Gulf Coast, another major storm - Gustav - was heading that way, just as the Republican National Convention was about to start. Hurricanes do sometimes have an impact, not only on campaigns, but on opinions about the president, and perceptions of government in general. And there is one historical example of a hurricane intruding on a presidential election.

The immediate government reaction to Hurricane Katrina clearly hurt assessments of George W. Bush and of the government's ability to respond to crisis.

After Katrina, only 32% expressed a lot of confidence in George W. Bush's ability to handle a crisis - down from 64% just after the 9/11 terrorist attacks.

Just 38% of Americans approved of how George W. Bush handled the situation with the hurricane.

Two weeks after Katrina, 64% said the President's response had been too slow.

Two weeks after Katrina, 70% said the government effort was too slow.

Five months after Katrina, six in ten Americans expressed dissatisfaction or anger about the rebuilding effort.

Even two years later, only 45% saw even some progress in rebuilding New Orleans - no improvement since February 2006.

In the weeks after Katrina, 56% of Americans reported becoming less confident in the government's ability to respond to disaster or terrorism. It also affected opinion about the economy: more people saw the economy as getting worse after Katrina than at any time since their short bout with worry immediately after 9/11.

Disaster frequently brings out great altruism in Americans; more than half (56%) said they were willing to pay more in taxes for the Katrina recovery; 62% were willing to do that for job training and other assistance to Katrina's victims.

The President's overall job approval fell only a little immediately after Katrina; 41% approved, little changed from the 45% approval rating he enjoyed a month before. But it never rose above 42% again; and approval of his handling of terrorism, the economy, and Iraq also dropped 4 to 7 points in the same period.

And Katrina deeply cut into public perception of his leadership. 81% said he had strong qualities of leadership after 9/11, 64% of registered voters said so in the fall of 2004. But that fell to just 48% after Katrina and has stayed under 50% ever since.

Katrina hit almost a full year after a presidential election. But there was a hurricane during a previous presidential campaign - in 1992 Hurricane Andrew hit Florida just a few days after that year's Republican Convention ended. Polls weren't taken about the government's response until more than a week later. But the public's assessment of the response to that hurricane was very different.

Andrew was a storm with a long reach. 16% of Americans said they had a close relative or friend who had been directly affected by Hurricane Andrew. That's fewer than the 29% who said they had a close relative or friend directly affected by Katrina, but still a large number. 64% approved of the way George H. W. Bush handled the response to Hurricane Andrew, a far cry from the 38% approval his son had in dealing with Katrina. Even 54% of Democrats approved. Even in Florida, CBS News and The New York Times found 61% approving of that President's response. In Dade County, hardest hit, 65% approved.

But although people approved of the President's response, there was a sense that things could have been better, and especially the response of FEMA, the Federal Emergency Management Agency. Nationally, by 52% to 41%, Americans thought the government could have "done much better." 55% of Floridians thought that. Only 31% of Floridians thought FEMA's response to Andrew was adequate, presaging the negative response of Americans overall to FEMA's actions following Katrina. Only 24% thought FEMA's response to Katrina was adequate.

Americans always want their government to respond to crisis, even though many might say that the response might have been better. The response to Andrew - at the time -- was acceptable, while the response to Katrina was not. George H.W. Bush carried Florida, even while losing to Democrat Bill Clinton in an electoral vote landslide.

In theory, Americans should rally around their president and government in times of crisis. They did so after the 9/11 terrorist attacks. They were content with George H.W. Bush's response to Hurricane Andrew, even while they were proclaiming their preference for Bill Clinton in the 1992 election. They were NOT content with his son's response to Hurricane Katrina, and that event has continued to dog his Presidency. And as Gustav keeps the President away from the convention, we'll see if this year's storm helps or hurts the Republican who would like to succeed him.

By Kathy Frankovic
Thanks for reading CBS NEWS.
Create your free account or log in
for more features.