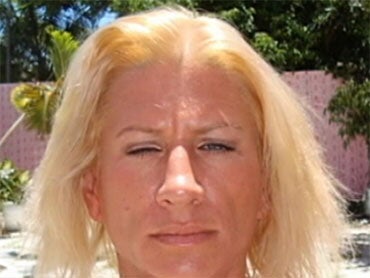 The Perils of Unlicensed Hair Stylists
Have you ever checked the license of the person styling your hair? Maybe it's time you started.
On Thursday, "Early Show" Consumer Correspondent Susan Koeppen shared her startling investigation into the salon industry.
Much More Consumer News from Susan
E-mail Susan
Susan's Twitter page
Koeppen reported that last year alone, the Better Business Bureau received more than 2,400 complaints about hair stylists about everything, from bad cuts to severe scalp burns. Even people inside the salon industry admit there's a problem with unlicensed stylists.
Hair is big business in the U.S. Americans spend $39.8 billion at salons every year.
Hair styling can cost consumers hundreds of dollars a pop. So what would you do if after a trip to the salon ended in disaster?
Kristy Picornell, a victim of unlicensed hairstylist, said when she saw her hair she "was terrified."
She told CBS News, "My hair was destroyed."
Kristy Picornell went into a Miami salon to get hair extensions. But what she didn't know was the woman styling her hair was working without a license.
Picornell explained, "When I came out from underneath the dryer, I noticed that my scalp was burning. I had some blistering on the sides of my ear, on my hairline, at the nape of my neck."
She was covered in painful chemical burns. Her hair turned a Creamsicle orange. And as for the extensions, Picornell says they ruined her hair.
"The salon apparently used a superglue bonding rather than a bonding solution used for extensions," she said. "When I looked in the mirror and saw my hair I was horrified. I started to cry."
From coast to coast in the U.S., Koeppen reported, there are 861,400 salons with 1,135,000 employees. Policing the industry, she said, is a challenge.
In Miami, Bill Tejada and the Florida Department of Business and Professional Regulations conduct regular inspections of salons.
Tejada and his team took Koeppen along on surprise sweeps of six salons, looking for unlicensed activity.
A salon had an unlicensed cosmetologist and was issued a $500 citation.
And Tejada shut down another salon after it was found to be operating on a suspended license -- an arrestable offense.
The owner of the salon told Tejada, "I want to take care of it first thing."
Tejada replied, "It wanted to talk to you before because it's a misdemeanor, you're committing a crime, so I wanted to make sure that you were here so we could talk to you about it."
Of the six salons Koeppen visited, a third had unlicensed activity.
At the Hair Design Institute in New York, students need more than 1,000 hours of training before even applying for license.
Anthony Civitano, president of the Hair Design Institute, told CBS News, "When you get into chemical work, or your working with sheers, sharp instruments around somebody else's body, it's really very important that you have the proper training and dexterity."
Civitano said, "I cringe. It is something that we've been working on for years."
Civitano added that unlicensed stylists harm not only consumers, but the industry as a whole.
"This is as serious as going to a doctor that's not licensed or any other profession," he said.
Picornell found out the hard way how serious the problem can be.
She said, "They could have done permanent damage, they could have scarred my face, they could have scarred my neck, I was lucky that they didn't."
Koeppen added on "The Early Show" that Picornell paid nearly $1,000 for her bad hair extensions, and she ended up paying $5,000 to have her hair fixed. She sued the salon and won.
Thanks for reading CBS NEWS.
Create your free account or log in
for more features.