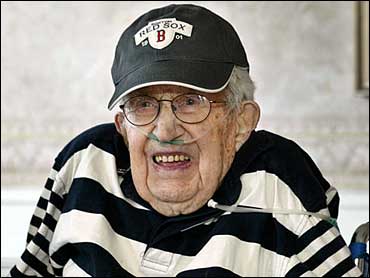 The Oldest Man In The World
Weekly commentary by CBS News Chief Washington Correspondent Bob Schieffer.
---
Finally today, I saw in the paper that Fred Hale of Syracuse, New York, died Friday.

He had been documented as the oldest man in the world. He was 12 days shy of his 114th birthday when pneumonia finally got him. He lived to see the Boston Red Sox, his favorite team, win the World Series last month. He was one of the few fans around when the team won the time before, 86 years ago.

I just love stories about people who live to be 100, maybe because I used to have to write them as a young newspaper reporter. Interviewing people on their 100th birthday is the assignment that always goes to the rookie, so I caught my share, always careful to ask the obligatory question about why they had lived so long. I found no consensus. One man credited clean living, no wine, women or song. I think he was prompted by younger kin.

Another credited bad living, a big cigar and a swig of bourbon.

Another had no idea at all about that or anything else, as far as I could tell.

The late David Brinkley told me that, as a young reporter, he once asked a 100-year-old man how it felt to be 100. The old fellow responded, 'About the way you'd expect,' better than any answer I ever got.

Another reason I love these stories is that somehow copy editors and headline writers always foul them up. My favorite on that score was some years back when a wire service moved a story titled Oldest Living Graduate of West Point is Dead.

Getting back to Fred Hale, who died Friday at age 113; he was older than seven states in the union when he died. He lived in Maine most of his life, but moved to Syracuse when he was 109 to be near his son Fred Jr. Fred Jr. is 82, just a sprout in the Hale family.

By Bob Schieffer
Thanks for reading CBS NEWS.
Create your free account or log in
for more features.