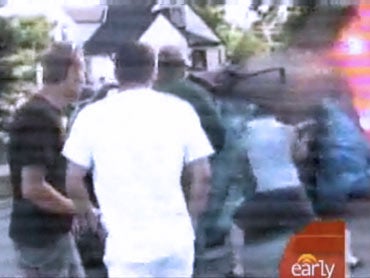 The Odd Truth, Nov. 23, 2004
The Odd Truth is a collection of strange but factual news stories from around the world compiled by CBSNews.com's Brian Bernbaum.
Grilled Cheese Fetches $28,000
HOLLYWOOD, Fla. - A woman who said her 10-year-old grilled cheese sandwich bore the image of the Virgin Mary will be getting a lot more bread after the item sold for $28,000 on eBay.
GoldenPalace.com, an online casino, confirmed that it placed the winning bid, and company executives said they were willing to spend "as much as it took" to own the 10-year-old half-sandwich with a bite out of it.
"It's a part of pop culture that's immediately and widely recognizable," spokesman Monty Kerr told The Miami Herald. "We knew right away we wanted to have it."
Photos posted on eBay show what can be viewed as a woman's face emblazoned on the sandwich, a bite taken out of one end. Bidding closed Monday.
In a statement, GoldenPalace.com CEO Richard Rowe said he planned to use the sandwich to raise money for charity. Kerr and Steve Baker, CEO of GoldenPalace's management company, Cyberworld Group, flew to south Florida on Monday to make arrangements for a sandwich handover from its owner, Diana Duyser.
"I would like all people to know that I do believe that this is the Virgin Mary Mother of God," Duyser, a work-from-home jewelry designer, said in the casino's statement.
The online auction site initially pulled the sale, saying it didn't post joke items. The page was restored after the company was convinced that Duyser would deliver on the bid, said eBay spokesman Hani Durzy.
Duyser said she took a bite after making the sandwich 10 years ago and saw a face staring back at her. She put the sandwich in a clear plastic box with cotton balls and kept it on her nightstand. She said the sandwich has never sprouted a spore of mold.
Big Bank Robbery In The Sky
DALLAS - The nation's oldest known bank robber is dead at 92.
J.L. Hunter "Red" Rountree turned to crime in his 80s. In an AP interview earlier this year, he said robbing banks made him feel "awful good" - sometimes for days afterward.
Rountree said a bank teller once reacted to him by saying, "Are you kidding?" But the employee complied and Rountree was later caught. He was sentenced to more than 12 years in prison - a death sentence for a man of his age.
Relatives say Rountree was once a successful Houston businessman. But he'd had a bank loan turn sour and the bitterness stayed with him. When he was 76, he married a 31-year-old woman a year after his wife died, and spent half a million dollars putting the new wife through drug rehab.
Rountree was transferred to a prison hospital in Missouri in January. He was 91 at the time. That's where he died just two months shy of his 93rd birthday.
Dolphins Save Swimmers From Great White
WELLINGTON, New Zealand - A pod of dolphins saved a group of swimmers from a predatory 10-foot great white shark off the northern New Zealand coast, a newspaper reported Tuesday.
The unusual incident occurred Oct. 30 when lifeguard Rob Howes took his 15-year-old daughter Niccy and two of her friends swimming near the town of Whangarei, The Northern Advocate said.
The dolphins, "started to herd us up, they pushed all four of us together by doing tight circles around us," Howes told the newspaper. When Howes tried to break away from the protective group, two of the bigger dolphins herded him back, he said.
Howes then spotted what he described as a 10-foot great white shark cruising toward them, but the man-eater was apparently repelled by the ring of dolphins and swam away.
"It was only about two meters (six feet) away from me, the water was crystal clear and it was as clear as the nose on my face," he said.
Howes realized what the dolphins were doing: "They had corralled us up to protect us."
Another lifeguard, Matt Fleet, on patrol in a lifeboat, saw the dolphins circling the swimmers and slapping their tails on the water to keep them in place. Fleet told the newspaper he also had a clear sighting of the shark.
"Some of the people later on the beach tried to tell me it was just another dolphin but I knew what I saw," he said.
Ingrid Visser, who has been studying marine mammals for 14 years, told the newspaper that there have been reports from around the world of dolphins protecting swimmers. She said that in this case the dolphins probably sensed the humans were in danger and took action to protect them.
Visser, of the group Orca Research, said dolphins will attack sharks to protect themselves and their young.
Crackhead Calls Cops Over Bunk Rock
WATERLOO, Iowa - A woman called Waterloo police to report that her dealer sold her bad drugs.
The woman made the call about 4:30 p.m. Friday from a coin-operated laundry and told police a drug dealer sold her crack cocaine that was possibly fake.
By the time police arrived, she apparently changed her mind about filing the complaint and was gone.
They Grow Up So Fast These Days ...
VIRGINIA BEACH, Va. - A 13-year-old boy was charged with abducting an exotic dancer when she showed up for an appointment at what turned out to be a vacant house with no electricity, police said Monday.
When the woman entered the house at 6:30 p.m. on Nov. 16, she realized her client was a juvenile, police spokeswoman Rene Ball said.
The boy told her the contract was for his older brother, but no one else showed up. The woman tried to leave, and the boy pointed a shotgun at her and ordered her to dance for him, Ball said.
She tried to call 911 on her cell phone, but the boy grabbed the phone. The woman bit the boy's hand, broke free and ran to her car.
The boy was arrested Thursday and charged with abduction by force, conspiracy, using a firearm to commit a felony, brandishing a firearm and transporting and possessing an assault firearm at age 13. He was being held at the Virginia Beach Detention Center.
The names of the woman and the boy were not released.
Police were trying to identify a second juvenile suspected of being involved in the abduction plan.
18 Cat Skeletons Found In Home
PORTERDALE, Ga. - Eighteen cat skeletons were found in a home where a couple was being evicted, and now the couple faces animal cruelty charges.
Melissa Payne, 28, and her boyfriend, Aleix Thomas, 32, were arrested after sheriff's deputies on an eviction call found the cat carcasses in a sealed-off bedroom. The room also was infested with fleas and cockroaches and was full of feces, said Investigator David Jones with the Newton County Sheriff's Office.
Payne and Thomas were each released on $15,000 bonds Friday.
"The house was just completely nasty, is the only way to put it," Jones said. "It had a horrible smell to it, so they started looking around, and once they opened one door and found the cats, that's when they called me."
Authorities said they didn't know why the cats had been neglected because ample cat food was found in the home.
"Apparently they were just put in there, the door was closed, all the cracks were sealed and they were just left to die," Jones said.
Three living cats were taken to Newton County Animal Control. The animals appear to be in good condition, said Animal Control Director Teri Key-Hooson.
Man Kills Himself With Homemade Electric Chair
VILNIUS, Lithuania - A 74-year-old Lithuanian man apparently killed himself by using a homemade electric chair he put together, police said Tuesday.
The man, who was not identified, was discovered Monday by his relatives who, concerned that they had not heard from him, broke down the door to his apartment in Kaunas, Lithuania's second-biggest city.
Police said they found the man sitting in the chair, which had been rigged with wires and electrodes and was plugged into an electrical outlet in the wall.
The daily newspaper Respublika reported that the man had been a senior engineer for a local company that gone bankrupt, but didn't say which company it was.
Thanks for reading CBS NEWS.
Create your free account or log in
for more features.