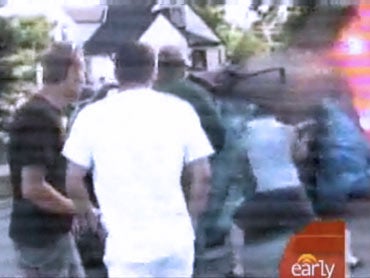 The Odd Truth, May 9, 2003
The Odd Truth is a collection of strange but factual news stories from around the world compiled by CBSNews.com's Brian Bernbaum. A new collection of stories is published each weekday. On weekends, you can read a week's worth of The Odd Truth.
Monkey Theory Proven Wrong
LONDON - Give an infinite number of monkeys an infinite number of typewriters, the theory goes, and they will eventually produce the works of Shakespeare.
Researchers at Plymouth University in England reported this week that primates left alone with a computer attacked the machine and failed to produce a single word.
A group of faculty and students in the university's media program left a computer in the monkey enclosure at Paignton Zoo in southwest England, home to six Sulawesi crested macaques. Then, they waited.
At first, said researcher Mike Phillips, "the lead male got a stone and started bashing the hell out of it.
"Another thing they were interested in was in defecating and urinating all over the keyboard," added Phillips, who runs the university's Institute of Digital Arts and Technologies.
Eventually, monkeys Elmo, Gum, Heather, Holly, Mistletoe and Rowan produced five pages of text, composed primarily of the letter S. Later, the letters A, J, L and M crept in — not quite literature.
The notion that monkeys typing at random will eventually produce literature is often attributed to Thomas Huxley, a 19th-century scientist who supported Charles Darwin's theories of evolution. Mathematicians have also used it to illustrate concepts of chance.
The Plymouth experiment was part of the Vivaria Project, which plans to install computers in zoos across Europe to study differences between animal and artificial life.
"They were quite interested in the screen, and they saw that when they typed a letter, something happened. There was a level of intention there."
Wayne Newton's Wallaby Escapes
LAS VEGAS - Wayne Newton's wallaby escaped from the performer's home Thursday morning, leading police, animal control officers and an urban cowboy on a two-mile chase through south Las Vegas.
The female adult wallaby, a marsupial with clawed fingers and powerful legs, first was seen about 6:30 a.m. running down a busy street near Newton's walled compound, said Joe Boteilho of Clark County Animal Control.
About the same time, Harry Sullard, 49, got a call from his oldest son, who said there was a kangaroo on the loose.
"I asked him what he had been smoking," Sullard recalled.
But Sullard, a self-described redneck and cowboy, grabbed a lasso from his truck and took off on foot after the hopping wallaby, named Priscilla.
The chase lasted nearly two miles, Sullard said, as he hoped the animal would tire. When she did, Sullard pounced with his authentic rodeo rope.
"I'm not very good because I missed him the first two times," he said. "But I got him the third time. She started kicking but calmed down."
An animal control officer snared Priscilla about 6:50 a.m. and got the animal secured in an officer's truck. Boteilho said Priscilla was returned unharmed to Newton.
Newton's publicist, Tricia McCrone, said investigators were trying to determine how Priscilla got out of the compound.
North Korea Fights Computer Fatigue
SEOUL, South Korea - North Korea, one of the world's poorest countries, claimed Friday it has invented a drink to ease a health threat few outsiders would associate with the country: computer fatigue.
Computers are a rarity among the communist country's hunger-stricken 22 million population. Visitors say the Internet is available only at a few hotels in the capital, Pyongyang.
Still, North Korea's official KCNA news agency said the drink, invented by the Institute of Plant Resources, was tested on computer users, and the "results show that the eye and mental strain has considerably been reduced."
The drink, which ingredients have been extracted from "fruits of a tree," has a "good odor and sweet and sour taste," it said, without giving further details.
The Sword Is Mightier Than The Gun
MONROVIA, Calif. - It was gun versus sword — and the guy with the Samurai sword won. Police in Monrovia, California, were chasing a suspected car thief when the man ran into a house. But the guy was chased right back out by the homeowner, who was wielding a Samurai sword. Officers say suspect Wanton Beckwith was armed with a gun. The resident grabbed a Samurai sword on display in his home and confronted the intruder. Police say the man held Beckwith at sword-point until officers arrived.
Hong Kong Woman Hordes 30 Tons Of Garbage
HONG KONG - Sanitation workers already busy with a "clean up Hong Kong" campaign to combat SARS are clearing 30 tons of rubbish accumulated by an elderly woman who lived under the staircase in her apartment building, officials said Friday.
The hoard of scrap metal, wood, plastic bottles, air conditioners, broken umbrellas and rat and cat carcasses was piled in two apartments and two illegally constructed rooftop sheds owned by the woman, said Felix Cheng of the Food and Environmental Hygiene Department.
The cleanup came only after neighbors filed formal complaints about the smell, he said.
"It's her property and we cannot just break into the flat and take it away. We can only act on complaints if it's a nuisance to the neighbors," Cheng said.
A litter of newborn kittens was found among the mess, the reports said.
The woman, aged about 60, had agreed to be hospitalized for psychiatric observation and it was unclear if she would move back into the apartments after they were cleaned and disinfected, officials said.
Attempted Sing Sing Break-In Foiled
OSSINING, N.Y. - Usually, people are trying to get out.
The Sing Sing prison was locked down Wednesday afternoon after a man wearing a state Correction Department uniform tried to get in, the department said.
"We had some suspicions that he was not indeed a correction officer and took him to an office and spoke to him," said department spokesman Mike Houston. "He said he was new on the job and would go out to his car and get the appropriate paperwork."
The man did not return and officials notified local and state police and locked down the prison in case the "officer" was part of an escape plan. State police confirmed they were investigating.
Sing Sing, a forbidding presence on the Hudson River waterfront, spawned the phrase "up the river" and housed the state's electric chair for many years. While prison officials couldn't document earlier break-in attempts, there have been some escapes, including that of bank robber Willie Sutton, who was on the lam for four years after using a makeshift ladder to get over a 25-foot wall.
Thousands Of Bees Swarm Texas Car Dealership
TYLER, Texas - This was no "honey" of a deal at a car dealership in Tyler, Texas.
An expert had to be called in to remove several thousand bees swarming a bright red car.
An employee was checking the inventory at the Jack O'Diamonds dealership when he noticed one side of a Honda Accord was attracting bees.
A tree service worker called in to remove the swarm estimates as many as 8,000 bees had settled on the side of the car.
The worker suffered one sting during the process.
Sleepin' With The Fishes, But Only Temporarily
VENTURA, Calif. - Even the folks at the humane society are amazed. A cat managed to survive after its animal carrier was weighed down with rocks and tossed in the ocean. A woman walking on a state beach in Southern California found the cat, soaked but alive. Tom Dewar, of the Humane Society of Ventura County, says he's seen a lot of horrid things, but this is a first. He notes the attempted cat drowning occurred during Be Kind to Animals Week. The Himalayan-mix was treated by a veterinarian and taken a shelter. The Humane Society is offering a $300 reward for information leading to the cat abuser.

Thanks for reading CBS NEWS.
Create your free account or log in
for more features.