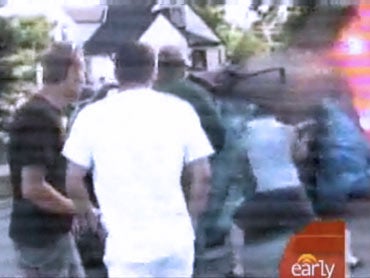 The Odd Truth, Aug. 21, 2003
The Odd Truth is a collection of strange but factual news stories from around the world compiled by CBSNews.com's Brian Bernbaum. A new collection of stories is published each weekday. On weekends, you can read a week's worth of The Odd Truth.
Man Dies Laughing
BANGKOK, Thailand - An ice-cream truck driver in Thailand died while laughing in his sleep, a newspaper reported Thursday.
Damnoen Saen-um, 52, laughed for about two minutes on Wednesday and then stopped breathing, The Nation said, quoting officials.
The newspaper said Damnoen's wife tried to wake him up but he kept laughing. An autopsy suggested that he might have had a heart attack, The Nation quoted a doctor as saying.
"I have never seen a case like this. But it is possible that a person could have heart seizure while laughing or crying too hard in their sleep," said Dr. Somchai Chakrabhand, deputy director-general of the Mental Health Department, according to The Nation.
The incident occurred in Phrae province, 300 miles north of Bangkok.
Cell Phone Bursts Into Flames, Burns Woman
AMSTERDAM, Netherlands - A Dutch woman who dropped her cell phone suffered serious burns after it burst into flames when she tried to make a call, police said Thursday.
The woman, who wasn't identified, turned the Nokia phone on after it had fallen and held it up to her ear.
"She was treated on site by health workers for facial burns," police spokesman Eric Vermeulen said. "I'm not a technical expert, but we assume it caught fire due to a short circuit."
Reacting on Dutch television, a Nokia official said the fire was caused by the phone battery, which was not manufactured by Nokia.
Clerk To Robber: 'Go To Hell'
VANCOUVER, Washington - A Seven-Eleven clerk had a few choice words for a would-be robber. The clerk told the bad guy to "go to hell." Deputies in Clark County, Washington, say a masked man tried to rob the convenience store near Vancouver. According to deputies, the five-eleven, 330-pound clerk wasn't intimated and refused the crook's demand to open the register. The robber never did show a weapon. Deputies say he left the store with a threat, telling the clerk he'd be back to get him.
Peanut vs. Kidney
HARTFORD, Connecticut - There's a big difference between a peanut and a kidney. At least when it comes to the shape of swimming pools. A Connecticut state Appellate Court has sided with homeowner Robert Strouth of West Suffield. Strouth contends he wanted a peanut-shaped pool, but the contractor was building a kidney-shaped. Strouth stopped construction, and Murphy and Sons offered to complete the pool, but not in the desired peanut shape. The contractors wanted more than $4,000 in labor expenses. A lower court ruled the misshaped pool amounted to a breach of contract. The appellate court agrees. Now, Strouth doesn't have to pay the four grand.
Japanese Execs. Learn To Use Their Noodle
TOKYO - It takes tough managers to succeed in Japan's cutthroat instant noodles business, and one company wants to ensure it has the toughest — through ramen noodle boot camp.
Newly promoted managers at Nissin Food Products need to survive three days on a tiny, uninhabited island where they will dig their own toilets, make fire from dry leaves, catch their own fish and even carve their chopsticks from local bamboo.
The plan is to promote team spirit, perseverance, creativity and an appreciation for the product, said Masanaga Oguchi, spokesman for the Osaka-based ramen noodle maker.
"In our daily lives, all you have to do to make instant ramen is pour hot water and wait a few minutes, and we take it for granted," Oguchi said. "I'm sure participants would appreciate our product in a situation where they have to go through a lot of trouble just to make hot water."
During the Aug. 26-28 boot camp, the group of eight recently promoted employees will camp out on the beach and be personally overseen by Nissin president Koki Ando.
Futon island, about 260 miles southwest of Tokyo, has no electricity, housing or sewage facilities.
Participants are only permitted to take uncooked rice, soy beans and wheat. If that tastes bland, they can make salt from sea water, Oguchi said.
Angry Danish Pizza Man Goes To Jail
COPENHAGEN, Denmark - A court in western Denmark has upheld a sentence against a Danish pizzeria owner who refused to serve French and German tourists. He was angry their governments opposed the war in Iraq.
Denmark's Western High Court upheld a lower court ruling that ordered the man to pay a $780 fine or serve eight days in prison. He says he'll serve the time - as a "matter of principle."
He's already sold his business - because business dropped off, people were vandalizing it and police threatened to seize his restaurant permit if the ruling was upheld.
But he vows to pursue his pro-American crusade by selling frozen pizzas on the Internet. And he says he'll put it clearly on his home page: "No pizzas to the Germans or the French."
From The Line Of Fire, To The House Of Fire
GARY, Indiana - After spending months in the line of fire in Iraq, a soldier was awaken his first night back to find his bedroom in flames.
Hours after being greeted by his family to an emotional homecoming Aug. 14, Army Pfc. Nick Crawford was jolted out of bed by his girlfriend's screams of "fire!"
Andrea Melendez's clothes caught fire as she hit Crawford, trying to wake him up as the room burned around them.
"She pretty much saved my life," Crawford told The Times of Munster in its Wednesday editions. "Now she's my hero."
Disoriented and choking on the thick smoke, Crawford broke some windows, hit the floor and then crawled to the stairs as his stepfather tried to douse the fire with an extinguisher. He and Melendez bolted from the house just as firefighters pulled up.
But they arrived too late. The house and nearly all the family's possessions were destroyed. The family was renting the house and did not have insurance.
Everyone survived unharmed. Gaylia Somers, Crawford's mother, said she's relieved her son is alive, but is exhausted after months of worrying about his well-being.
"We are just happy Nick got out," she said. "I'm ready for this roller coaster to stop. I want to get off ... There comes a point when you just can't cry anymore."
The Lord Provides ... Cocaine?
VIVIAN, Louisiana - There was a little something extra in a church furniture donation. But the unexpected gift isn't anything the Vivian, Louisiana, church can use. When members moved a couch and chair into the North Pine Street Christian Center a small jewelry-type box fell to the ground. There was no ring inside. Vivian police officer Trey Rose says the box contained 41 grams of cocaine. That's worth about $4,100 on the street. Police are now trying to figure out who gave that furniture to the congregation.
Thanks for reading CBS NEWS.
Create your free account or log in
for more features.