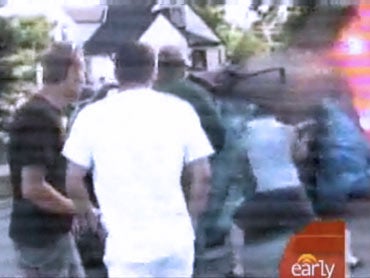 The Odd Truth, April 24, 2003
The Odd Truth is a collection of strange but factual news stories from around the world compiled by CBSNews.com's Brian Bernbaum. A new collection of stories is published each weekday. On weekends, you can read a week's worth of The Odd Truth.
Gas Mask, Inverted
CEDAR RAPIDS, Iowa - It's a gas mask — but it's not one you wear over your face. The Flat-D pad is a deodorizer that goes inside your underwear. The odor-trapping pad has developed independently by Frank Morosky and Brian Conant. They decided to combine forces in an Iowa-based company they call Flat-D Innovations. A package of three reusable Flat-D pads sells for about $27. The company also makes chair pads. Pre-school teacher Jane Simpson sings the praises of the gas-trapping device. She suffers from an intestinal condition that leads to bloating and excessive gas. Simpson says the pads are lifesaver.
'Miracle' Dog In Good Shape
CLEARLAKE, Calif. - Veterinarians are calling a dog that survived being hit by a car, shot in the head and kept in a freezer for two hours a "miracle girl."
Dosha, a 10-month-old mixed breed, is getting a thorough checkup to make sure she doesn't need further treatment, and the prognosis is good.
Dosha's ordeal started April 15, when she escaped from her owner's backyard and got hit by a car. The Clearlake police officer who reported to the scene shot the collarless dog when no one could tell him who owned her.
The dog was taken to the local animal shelter, where she was put in a freezer for disposal later. After about two hours, the center's interim director opened the freezer door and found Dosha standing upright in a plastic orange bag.
"The gunshot was, of course, no good. The hypothermia was more life threatening when she arrived here," said Yvonne Scott, the clinic's office manager. "The car accident was the least of her problems."
Local animal groups and the Humane Society of the United States have begun fund-raising efforts to pay for her care.
Clearlake's police chief has defended the officer's decision to shoot the dog. The officer said Dosha appeared to be in extreme pain and he wanted to end her suffering.
The Case Of The Vomiting Drug-Dealer
STAMFORD, Conn. - You have the right to remain silent, but what if you vomit evidence before police read you your rights?
Vincent Betances wants his drug-dealing conviction thrown out, arguing that eight bags of heroin he threw up after emergency medical treatment should never have been admitted into evidence.
He contends police illegally seized the evidence from an ambulance after asking him if he'd swallowed heroin — but before reading him his rights.
The state Supreme Court heard arguments in the case Wednesday and is expected to issue a ruling this summer.
Betances was arrested on drug charges in New Haven on June 20, 2000. Police said he was holding 30 bags labeled "The Cure."
While handcuffed and in a police cruiser, Betances began sweating profusely, turned pale and had difficulty breathing. Betances admitted he had swallowed four bags.
A paramedic gave Betances a medication to prevent the body's absorption of the drugs. A short time later Betances threw up eight bags of heroin, which an officer seized.
Assistant State's Attorney Toni Smith-Rosario argued that police should not be penalized for protecting the public, including defendants in their custody.
"Most defendants are grateful when police save their lives," Smith-Rosario said.
Suzanne Zitser, a public defender representing Betances, countered that exceptions to the Miranda warning must satisfy stringent requirements.
"It's not even a close call in this case," Zitser said. "There was no threat to the public or police officer safety."
Scaredy Cats
SAN FRANCISCO - Tony and Emily, a pair of Siberian tigers at the San Francisco Zoo, are a couple of scaredy cats.
Their eyes bulge, their mouths loll and their ears fold back — the typical behavior of frightened felines — upon seeing a lifelike portrait of their popular predecessor.
But the tiger siblings are just going to have to cope. The eight-foot oil painting of Sedova, a popular Siberian tiger who lived at the zoo for 19 years before her death in 1992, is going to stay hanging in their habitat, zoo officials say.
"Animals are more important than pictures. But it is a magnificent portrait — kind of a testimonial to one of the zoo's most beloved cats," said Linda Caratti, the tigers' keeper.
According to Caratti, there is no question that 11 year olds Emily and Tony are unnerved by the painting, which reportedly bears an impressive resemblance to its subject. The tigers often refuse to enter the exhibit at feeding time and won't turn their backs on the fierce gaze staring out at them from a wall.
"It's their instinct to feel threatened by another tiger," Caratti told the San Francisco Chronicle. "They just haven't figured out it's a picture. Instead, they look totally scared, like it's a giant ghost tiger."
From A Joint To The Joint
CARLSBAD, N.M. - If you've got a court date, you might want to leave your stash at home. Authorities in Carlsbad, New Mexico, say 18-year-old Robin Loftin dropped a joint on the floor during a court appearance on traffic charges. After the judge entered the courtroom, Loftin removed his hat and the joint fell out. He was immediately ordered into the joint, charged with contempt of court and sentenced to two days in jail. But the judge deferred sentences on the traffic citations on the condition Loftin stays out of any more trouble, clears his license and renews his vehicle registration.
Fans Sue Rock Band Creed Over Bad Concert
CHICAGO - Fans are so angry with the rock band Creed's Chicago show in December they're taking the band to court. Four fans filed the suit yesterday in Cook County, Illinois. It alleges that singer Scott Stapp was so "intoxicated and/or medicated" that he was unable to sing. The four argue that Stapp's inability to perform is tantamount to canceling the show. They're looking for a refund of the $56 they each paid for tickets, plus parking expenses. They're looking for other disappointed fans, too. The suit seeks class-action status. The four say the roughly 15,000 people who were at the show are owed $2 million. The band and its management are not commenting.
Bears Rampage Alaskan Luxury Lodge
ANCHORAGE - If there's a shortage of doors in Anchorage, blame the brown bears of Bristol Bay.
At least five marauding brown bears destroyed 53 doors this winter at Katmai Lodge, a luxury fishing resort on the Alagnak River. Lodge employees this week were buying up replacement doors as fast as they could find them in Alaska's largest city.
Sarp blames the rampage on Alaska's unusual weather. The bears probably were confused by temperatures that allowed flowers to bloom well after snow was supposed to be on the ground.
"There was no winter," lodge owner Tony Sarp said. "They didn't know it was November and December. They thought it was still September, I'm sure."
The lodge can accommodate 60 guests, who pay $5,000 per week to catch salmon, grayling and rainbow trout.
The bears' first target was a pantry filled with dry goods. The animals destroyed flour, salt, sugar, spices, cake mix and canned goods, the surplus from last season.
The bears continued their binge in the kitchen, even though it had no food.
"They just literally ate the floor," Sarp said. "It must have had some grease on it, I guess."
The bears had success pushing in one door, Sarp figures, so they tried more. They moved from building to building, entering 18 in all.
"Most of these buildings have a steel door on them," he said. "They went right through them."
He estimated total damage at $50,000.
Teacher Suspended
FORT PIERCE, Fla. - Usually, it's the students who get suspended for not asking permission.
A high school English teacher was suspended for three days after showing a class portions of the R-rated movie "Dracula" without the OK from administrators or parents.
Teacher Stephen McKee did not show any nudity or parts of the movie that prompted the R rating, but he should have sought approval before showing any movie rated anything other than G, Assistant Principal Terry Davis said.
McKee's English honors class viewed the first 20 minutes of the film as part of its study of the novel.
In a disciplinary letter, schools Superintendent Bill Vogel said teachers are required to protect students' physical and mental health and "the content of this video is inappropriate and unacceptable for the classroom."
McKee, a second-year teacher in the district, was also reprimanded in February for asking questions on a test that referred to a "blonde babe" and a classroom disturbance. Students said the questions offended them.
McKee did not immediately return a call to his home Wednesday.

Thanks for reading CBS NEWS.
Create your free account or log in
for more features.