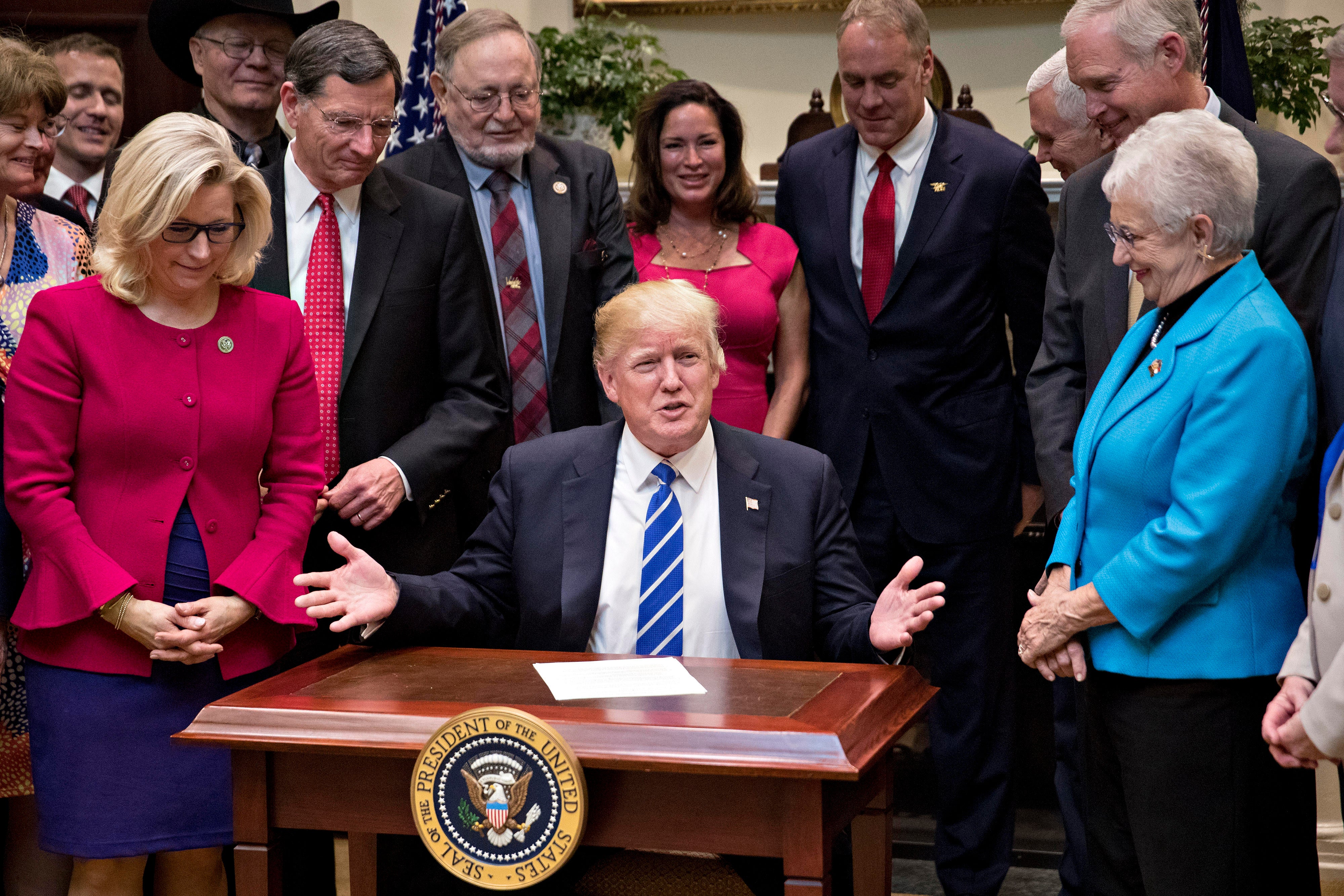 The obscure law Republicans are using to nix Obama-era regulations
Congressional Republicans have been using an obscure law from 1996 to take an ax to rules finalized by federal agencies toward the end of the Obama administration -- and their elimination could have long-lasting effects.
They've been relying on the power of the Congressional Review Act (CRA) to nullify regulations that, for example, would have provided communities with information about how to protect surface water from coal mining operations -- or one that would have directed the Social Security Administration to report the records of people with severe mental illnesses to the background check system used by licensed firearms dealers.
So far, President Donald Trump has signed into law "resolutions of disapproval" that have now overturned seven Obama-era rules.
Lawmakers have aggressively used the CRA to target these new regulations because they only have 60 days in session, from the start of the new Congress, to take advantage of the law's authority to expedite the reversal process. That means Congress has until about mid-May to use this law to reverse agency-issued rules that they oppose.
Any rules that were issued from mid-June 2016 to when President Obama left office in January are eligible to be targeted. During that period, more than 450 rules were finalized, according to Sam Batkins, director of regulatory policy at American Action Forum, who has closely tracked these regulations.
"We're seeing it used now in particular because I think President Trump has been very clear since the campaign that he would like to see fewer regulations," said Susan Dudley, director of George Washington University's Regulatory Studies Center. "I think that has been an invitation to Congress to look at regulations they'd like to disapprove."
The GOP has also focused on this tool, Dudley said, because the end of a president's term is always marked by "an uptick in regulatory activity."
"It means it's a target-rich environment because there are more regulations issued during the last six to eight months of a president's term generally than otherwise," she said.
Republicans on Capitol Hill have already set a new record with their CRA-related activity. Until now, using the CRA to reverse a rule had only been done once before -- by President George W. Bush -- for a rule issued under the Clinton administration. It was issued by the Labor Department's Occupational Safety and Health Administration on standards for ergonomics in November 2000. The following March, the new Congress passed a CRA resolution to reverse the rule and Bush signed it into law.
Resolutions of disapproval through the CRA only require a simple majority in both chambers to pass and is not subject to the filibuster. Beyond just the cancellation of the rule, there are consequences to consider. Once the rule is reversed, such a rule "may not be reissued in substantially the same form" ever unless Congress were to authorize it in the future.
One of the seven rules reversed by Mr. Trump and the GOP-controlled Congress was part of the implementation of a 2007 law passed in the aftermath of the Virginia Tech mass shooting. It would have allowed the Social Security Administration to provide information to the gun background check system of people who have so severe a mental disability that they can't perform any kind of work -- even part-time work -- and who were determined not to be able to manage their own benefits.
"It was important because there is a significant lack of information about people who shouldn't be able to just walk into a gun store and just pass a background check," said Lindsay Nichols, senior attorney at the Law Center to Prevent Gun Violence. "The Social Security Administration is essentially now barred from looking at this issue anymore. They can't rethink it, there's no chance to amend it. The only opportunity to fix the problem depends on Congress."
In defense of Congress eliminating the rule, House Majority Leader Kevin McCarthy's, R-California, office argued that "being disabled and needing help managing finances certainly shouldn't limit a person's Second Amendment rights."
Congress also overturned a rule, that has not yet been signed by the president, that was issued by the U.S. Fish and Wildlife Service that was meant to protect bears, wolves and other carnivores on federal public lands from Alaska's aggressive "predator control" policy on federal refuges.
Another rule that has been nullified, that's awaiting Mr. Trump's signature, had been issued by the Federal Communications Commission (FCC) that would have prevented internet service providers from tracking their customers' online behavior without their permission.
House Minority Leader Nancy Pelosi, D-California, spoke about the GOP effort to reverse the rule under the CRA on the House floor Tuesday. She argued that Republicans who disagreed with it could have gone back and tweaked it or have had it sent back to the FCC to be revised instead of using the CRA to destroy it.
"This is about profit from America's most intimate, personal information without our knowledge or our consent," she said. "Republicans' use of the Congressional Review Act will do permanent damage to the FCC to keep America's personal information safe."
Carol Andress, director of legislative operations, climate and air at the Environmental Defense Fund, described the CRA as an "extraordinarily blunt instrument."
"The CRA has consequences far beyond that particular rule-making. It really does have a very dramatic effect," Andress said. "The CRA has more to do with Congress wanting to, in my opinion, use a meat ax or a sledgehammer, rather than a scalpel, and to try to accelerate and instead of doing it thoughtfully."
Some of the other rules nullified by the president and Congress include two issued by the Department of Education that were related to teacher preparation and student aid funding as well as accountability regulations. Another rule that was reversed had been issued by the Defense Department, NASA and the General Services Administration which was designed to increase efficiency and cost savings in federal contracting by improving contractor compliance with labor laws.
Surprisingly, Batkins, at the American Action Forum, noticed that Republicans have not used the CRA to target Environmental Protection Agency (EPA) rules.
"We haven't had a single EPA rule under the CRA yet," he said. "Obviously, there are different ways to address past regulations, but I think after Election Day when the CRA became alive again after its 16-year dormancy period, if you told most people two education rules will be struck down, but zero EPA rules will be examined, I think that would have surprised a lot of people."
One of the hurdles, however, to reversing EPA regulations might just be securing enough votes in the Senate. The one concerning gun limits for the severely mentally ill received some bipartisan support in the Senate, passing with 57 votes in favor of reversing it.
"Otherwise, it's been fairly partisan and I think that's sort of the big limiting factor to a lot of these CRA resolutions -- just getting 51 votes in the Senate," he said.
The administration has been using other tools to roll back EPA rules. On Tuesday, the president signed a sweeping executive order to initiate the process of dismantling environmental regulations implemented under Obama that were intended to aggressively combat climate change.
In an interview with conservative radio talk show host Hugh Hewitt, Speaker Paul Ryan, R-Wisconsin, was asked if he would ever been in favor of Health and Human Services Secretary Tom Price purposely issuing regulations that would normally be issued by a Democratic administration so that Congress could nullify them and prevent the department from ever revisiting them.
"Yeah, you know, no one's ever pitched that idea," Ryan said. "I've never thought about that. That's pretty clever."
Thanks for reading CBS NEWS.
Create your free account or log in
for more features.