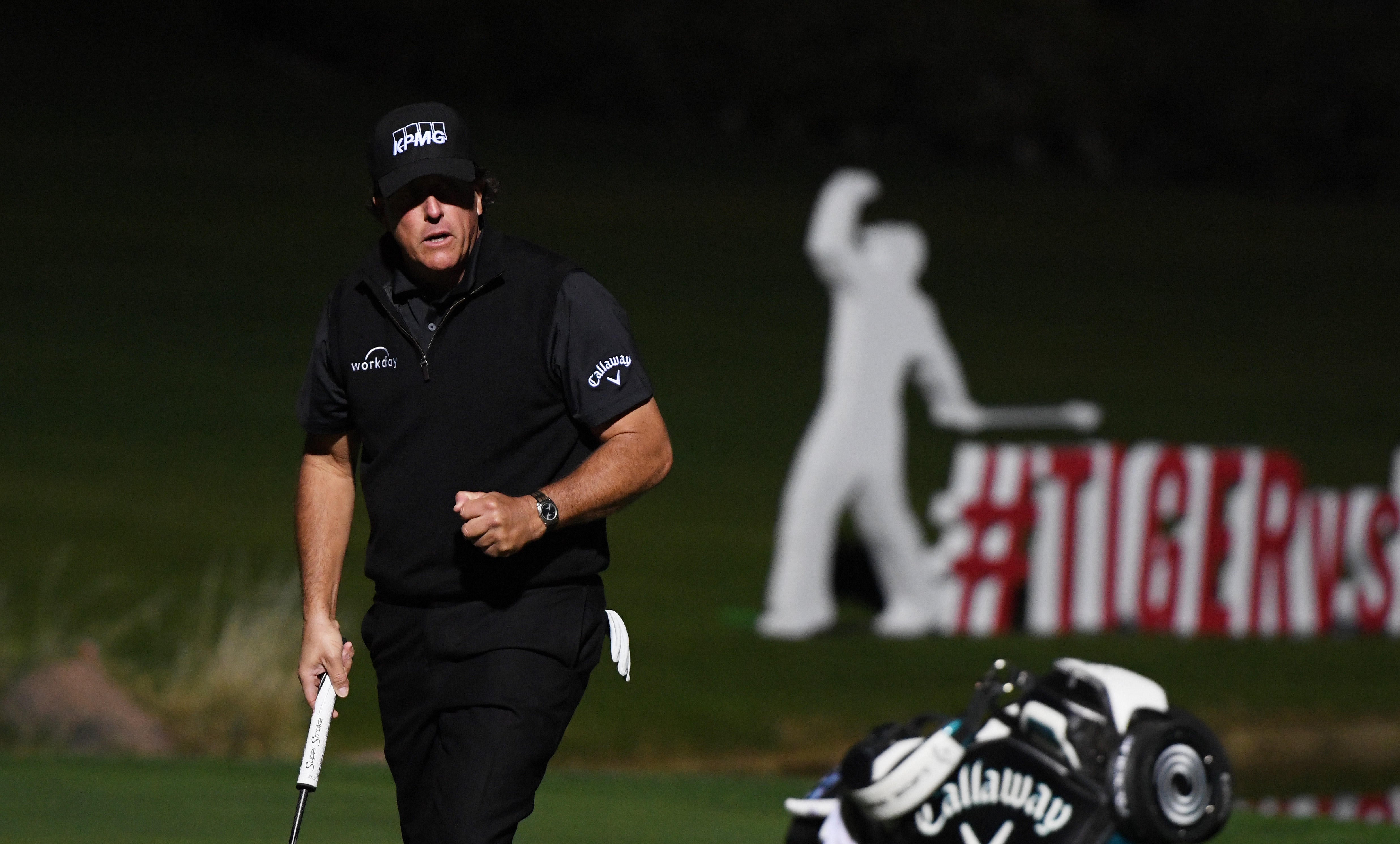 Phil Mickelson defeats Tiger Woods in 22 holes to win $9 million
Phil Mickelson defeated Tiger Woods in a head-to-head competition called "The Match" that went to a sudden-death, 22-hole ending in the dark. Mickelson won $9 million in golf's first pay-per-view events.
Mickelson shot a contrived 93-yard par 3 on 22nd hole that included a tee box set on the practice green so lights could be set up for the players, CBS Sports reports. The five-foot birdie followed three playoff pars from both legends (two on the 93-yard hole) after the pair was all square following 18 regulation holes in Las Vegas.
Mickelson and Woods had played those 18 holes of match play in back-and-forth fashion, though Mickelson did not trail until late in the day. They played the 18th again for good measure after being tied following regulation. Then it got dark and they hit the practice area for three laps.
The denouement of the entire match came on the 17th hole in regulation. Woods, 1 down at the time and facing elimination, chipped in from the back of the green to tie the match up and send it to the 18th. "I did not want to have that match end on that hole," said Woods.
Collectively, Woods and Mickelson have earned $204 million on the PGA Tour -- and much more than that in endorsements -- with 19 majors between them (Tiger's 14 nearly triples Lefty's five), CBS Sports reports.
Another feature of this match is the side bets. Both have already committed to $200,000 for the first shot. The money will go to the winner's chosen charity.
This is a breaking story and will be updates.
Thanks for reading CBS NEWS.
Create your free account or log in
for more features.