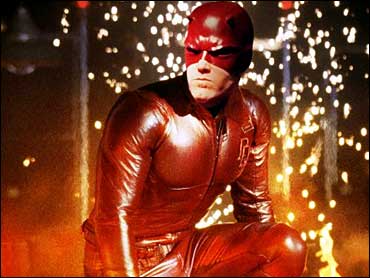 It may be every comic-book geek's dream — to become a superhero.
Ben Affleck is one of the few to make that dream come true, at least on film. He plays Marvel Comics' "man without fear" in the new movie "Daredevil."
Affleck tells The Early Show that he was a fan of the "Daredevil" comic books as a teenager. He says Daredevil is a character that is darker than his Marvel compatriot, "Spider Man," because he has deep physical and emotional pain and internal struggles.
"It seemed more real to me," says Affleck. "The hero was blind. He's more vulnerable. And more, kind of an everyday guy. And … he had these tragic love affairs all the time. I thought it was great."
"Daredevil" is based on a blind lawyer, Matt Murdock, with radar-like senses that leads him to fight crime.
"His incredibly good hearing almost became like a radar," says Affleck. "So he could sort of see and feel the sound waves of objects. And it kind of explained, in a way, how he was able to see the world."
Murdock (Affleck) was blinded in an accident at the age of 12, which caused his other senses to be heightened. Soon after his accident, his boxer dad was murdered for refusing to throw a fight.
Murdock grows into a criminal attorney that fights for the common citizen. When legal work doesn't goes his way, he prowls the night in a red leather costume and weapons that would make even Batman a little envious.
For the movie, Affleck requested opaque contact lenses to wear to give him the look of a blind man.
"I'm truly blind," says Affleck. "They could sort of stop me from thinking about acting blind and not looking with my eyes and everything. It made me really blind."
Originally, "Daredevil" was given a modest budget before filming. But the success of the "Spider-Man" movie in 2002 raised the stakes for the new superhero to grace the screen.
"Instead of just using special effects to kind of just be visually fun, they also told the story of this character," says Affleck.
The formula for the movie seems to have worked. "Daredevil" was the No. 1 earning film for the Presidents' Day weekend.
But Affleck has made headlines for more than his movie roles. He has been linked to other actresses before, but his engagement to singer/actress Jennifer Lopez has captured the imagination of fans.
Affleck says he would like to have children, but he has to be married first.
"I know I want to have kids. I don't necessarily want kids this week," explains Affleck. "I kind of would like not to be that old when I have kids … So that I can coach the little league baseball team and go out and play football with the kids … There's always one kid in the school who's dad would show up. And you'd be like, 'Is that your grandfather?'"
Affleck says one aspect of Lopez that attracted him to her was her huge heart.
"[Lopez] is full of love and kindness," says Affleck. "Basically, in that way, she reminds me of my mom. Like just very loving. You know, she'll be a good mother."
He says he believes maturing has given him different priorities in life.
"A lot of my friends are starting to have kids," says Affleck. "And seeing how totally transformed they are by it has really inspired me."
Some Facts About Ben Affleck

Benjamin Geza Affleck was born on August 15, 1972 in Berkeley, Calif.
He was raised in Cambridge, Mass.
Ben Affleck's brother Casey Affleck is also an actor
At 8 years old Ben was given his first steady acting job on the PBS mini-series "The Voyage of the Mimi" (1984)
Ben Affleck played little league and took drama classes with a young Matt Damon
Affleck made his big feature film debut in 1992 with "School Ties" followed by the 1993 "Dazed and Confused"
Affleck made numerous independent films with Kevin Smith, such as "Mallrats" (1995), "Chasing Amy" (1997), and "Dogma" (1999)
Affleck and Matt Damon wrote "Goodwill Hunting" (1997); The film was nominated for nine Academy Awards and won two, including Best Original Screenplay
Affleck was chosen as one of People Magazine's "50 Most Beautiful People in the World" in 1999 and 2000 and "Sexiest Man Alive" for 2002
Affleck is engaged to singer/actress Jennifer Lopez
Thanks for reading CBS NEWS.
Create your free account or log in
for more features.