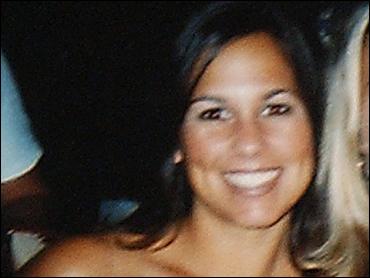 The Legacy Of Laci Peterson
Laci Peterson, the brown-eyed expectant mother with the 100-watt smile, was eagerly awaiting her new life as a parent when she vanished on Christmas Eve 2002.
Seven years after marrying her college boyfriend, Peterson was just a month away from giving birth to a son the couple had named Conner. She planned to raise the child in her hometown of Modesto, surrounded by family and friends.
But on what would have been her 28th birthday, Peterson's family and friends gathered for a memorial service, less than a month after her remains and those of her fetus had been found a few miles from where her husband, Scott, said he went fishing alone the day his wife vanished.
Scott Peterson was charged in the murders, accused of killing Laci and dumping her weighted body into San Francisco Bay. The defense contended someone else killed her.
At the May 4, 2003, service, Laci's brother, Brent Rocha, remembered the former substitute teacher as an ebullient woman who reveled in the company of loved ones.
Rocha said his sister would have wanted smiles, not tears at her service. He recalled a family funeral a few years earlier when Laci discussed how she hoped to be remembered.
"When I die I don't want people to be missing me," Rocha remembered his sister saying. "I want people to be happy."
Family members remembered Laci as a gregarious hometown girl with deep dimples, a broad white smile and dark brown eyes. She was a high school cheerleader and softball player who went off to college and returned with what appeared to be a storybook marriage, then took up a life as a homemaker, spending her time gardening and cooking.
"I miss listening to the excitement in her voice when she talks to me about her baby," Laci's mother, Sharon Rocha, said in January 2003 as authorities searched for her daughter.
The mother and daughter were close, talking on the phone nearly every day and meeting for movies, lunch and shopping at least once a week.
Her stepfather, Ron Grantski, sometimes called her "jabber jaws" as a child because of how much she talked.
Born May 4, 1975, Laci Denise Rocha grew up in California's Central Valley, the state's farm belt. Modesto was a quiet town where Laci thrived on close friendships and family gatherings.
In 1993, she went to college at California Polytechnic State University in San Luis Obispo, where she majored in horticulture and later met Scott. After a two-year courtship, the couple married in 1997, holding their wedding on the beach.
The newlyweds opened a small restaurant in their college town called The Shack, where Scott Peterson flipped burgers and Laci handled all the decorating. They were described as the perfect couple, despite the revelation during her husband's trial that Laci knew about an affair he had in San Luis Obispo.
The couple eventually moved back to Modesto to be close to Laci's family.

Thanks for reading CBS NEWS.
Create your free account or log in
for more features.