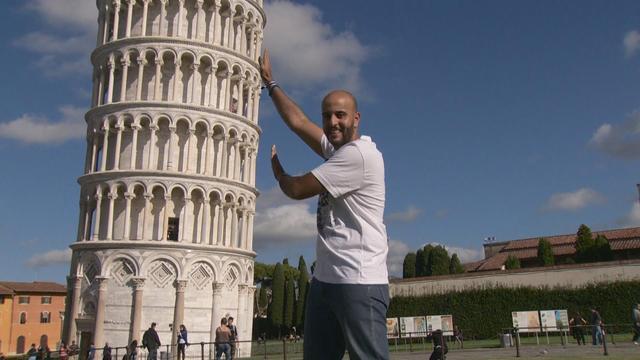 The Leaning Tower of Pisa is leaning less these days
The Leaning Tower of Pisa is one of the most distinctive buildings in the world, but it's losing part of what made it famous.
Engineers have been at work for about two decades to stop the famed Tuscan bell tower from leaning. Now, it's stabilizing and straightening – just a bit.
The 186-foot Leaning Tower of Pisa is tilting an inch-and-a-half less than it was two decades ago, reports CBS News' Seth Doane.
With less earth on the opposite side of the direction it's leaning, the tower has reacted by straightening itself out, the landmark's technical director Roberto Cela explained.

The marble bell tower, a tribute to the one-time strength of the Republic of Pisa, started tilting soon after construction began back in 1173. It was closed to the public in 1990. Eleven years later, it was reopened after an ambitious restoration project to attach braces and weights to the structure while removing soil from one side to allow it to straighten.
Civil engineering professor George Mylonakis is studying the tower to try and understand how it was able to withstand strong earthquakes.
"It is unusually tall by medieval standards," Mylonakis said. "The walls are particularly thick and so the whole structure is very stiff and the third characteristic is the particularly soft ground because the place used to be a river, a river that doesn't exist anymore."
In fact, the word "Pisa" is ancient Greek for "marshy land."
At this pace, it could still take thousands of years for it to completely straighten, so fear not. Those poses and photo-ops should be possible for many generations to come.
Thanks for reading CBS NEWS.
Create your free account or log in
for more features.