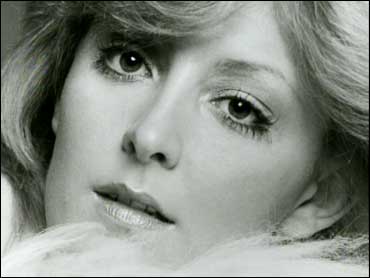 This story was first broadcast on April 26, 2008. It was updated on Oct. 3, 2008.
Christa Helm, an aspiring Hollywood actress, was murdered on Feb. 12, 1977, when she was stabbed and bludgeoned outside her agent's home in West Hollywood.
Christa enjoyed the Hollywood life and parties, and according to her daughter hung out with lots of famous people, like Joe Namath, Mick Jagger, Warren Beatty and even the Shah of Iran.
But as correspondent Maureen Maher reports, Christa also kept a "love diary," as well as tape recordings of her encounters with the rich and famous.
Did the diary and recordings play a role in her murder? Or was she just a victim of a random crime? Investigators are still trying to solve the mystery.
After more than 30 years, Christa's daughter hopes a fresh look by police will finally crack this case and bring the killer to justice.
---

"She had a charisma that was just overwhelming. She had warmth that made people drawn to her on a regular basis. She was powerful and strong and took no bull…she was a very complicated, beautiful human being," remembers Christa's daughter Nicole, who doesn't want 48 Hours to mention her last name or reveal where she lives because her mother's killer has never been caught.

And, says Nicole, her mother was born to be a star. "From the time she was a little girl, she would dance and sing and tell everyone she was gonna be a movie star when she grew up, and of course in little Milwaukee Wis., no one believed her."

Smart, sexy and stunningly beautiful, Christa was the classic small town girl with a big Hollywood dream. She was determined to become a star and she had the energy and unyielding ambition to make it happen.

"We had a saying between the two of us, 'All's fair in love and war' and she lived by those words. Nothing would really stop her from getting what she wanted," remembers Christa's longtime friend Darlene Thoresen.

Not even a shot-gun wedding would stop her, when Christa was just 17 years old. "She was a teenager. He owned a karate studio, they were married in Chicago, and the morning after their wedding she woke up in their honeymoon suite and my father was gone," Nicole says.

That was in 1967. Nicole was born a few months later, but within a couple of years, her young and ambitious mother grew restless and took off to follow her dream. The first stop was New York, where she found work as a model.

Taking the city by storm would be impossible with a toddler in tow, so Nicole was left behind in the care of a good friend. But Christa promised she and Nicole would one day be together. "I was supposed to be with her when I turned 10," Nicole says. Until then, Nicole was a visitor in her mother's life.

Her model good looks and splashy personality made Christa a natural for New York's party scene in the early 1970's. "If she walked into a room, if everyone in the room hadn't stopped to notice her walk in, then she would come back in again and get it right," remembers Christa's sister Marisa Rahm, who was also a some-time actress, and was often at Christa's side.

One of the first people Christa met in New York was a wealthy patron of the arts named Stuart Duncan. He took an interest in Christa's career, opening doors for her. "She was throwing parties for big names, the Rolling Stones. She actually got 'Bachelorette of the Month' with Cosmopolitan. There were definitely big figures in her life," Marisa says. "The Shah of Iran she dated and he sent her jewels."

Christa also picked up a fancy new "best friend for life," a flamboyant New York clothing designer named Lennie Barin.

And then in 1973, Christa got the break she'd been waiting for: Stuart Duncan gave her a starring role in a movie called "Let's Go For Broke."

The movie opened in Cincinnati in 1974 and promptly closed in just four days. Undeterred, a few months later, Christa headed straight for Hollywood, where she landed bit roles in "Wonder Woman" and "Starsky & Hutch."

Nicole remembers visiting her mother at a Beverly Hills mansion belonging to famous financier Bernie Cornfeld. "This was a spectacular mansion. It was absolutely enormous. I'd never seen anything like it, it was the first place I'd ever seen that had maid's quarters," Nicole remembers.

Christa was not only ambitious and adventurous, she also liked to keep score. Her friends say she kept a secret sex diary, complete with a rating system.

While Christa partied in Hollywood, Nicole prepared for that much talked about mother-daughter reunion. But it would never happen, as Christa was murdered when Nicole was just nine years old.

"I can still remember it. I couldn't tell if it was a screaming baby or a cat being killed. It was a horrendous, horrendous scream. It was terrifying," remembers actor Jon Gries, who was 19 then, and was staying at his mother's house just down the street from where Christa was attacked.

Gries ran into his yard but didn't hear anything more, or see anything, and went back inside. "The next day the sheriff came knocking on the door. They asked if any of use had heard anything unusual in the night," he remembers. "And they told me someone had been murdered. I remember the police officer saying, had I walked into the street I would have seen her, but I only looked down the sidewalk."

It turns out Gries had a connection with Christa. "There were a lot of girls like Christa-I met her a couple of times-beautiful girls who just kind of seemed to work their way through the various corners of Hollywood."

As the detectives started to investigate, they soon realized that the case would be very difficult. With Christa's complicated life, there were plenty of people who might want to kill her.

At first, detectives thought Christa's murder might be connected to another sensational killing, the stabbing of actor Sal Mineo, best known for co-starring with James Dean in "Rebel Without A Cause."

The papers had a field day with the similarities: Christa had been stabbed and bludgeoned to death in front of her agent's house in West Hollywood; Mineo was murdered one year earlier on the very same day, Feb. 12, in the very same neighborhood. There were no known witnesses in either case.

But the Mineo lead fizzled. The suspect in his murder was believed to be in jail when Christa was killed. So detectives started to look more closely at Christa's celebrity-studded love life and her infamous diary. Was it research perhaps for a tell-all book?

But Christa's scandalous diary had vanished. It may have been in her purse, which was missing from the crime scene. With that crucial piece of evidence gone, investigators hit a string of dead ends.

Nicole mourned the loss of her mother and the life they were supposed to have together. She raised her own family in the Northeast, but a few years ago felt compelled to find out what really happened.

After years of pressure from Nicole, a new generation of homicide detectives, Larry Brandenburg and Tom Harris of the L.A. County Sheriff's Department cold case unit, took the case.

Christa's written diary wasn't the only way she kept track of that long list of lovers: it turns out Christa was tape recording her sexcapades with all those celebrity boyfriends.

The investigators say the tapes are a "very significant" part of this case, because those tapes could have supplied a motive for someone to kill Christa. "We don't know if there may have been extortion or a thought of extortion," Det. Harris says.

Christa's friend Darlene warned her against making the tapes. "I thought it was dangerous," she says. "I thought she was playing with fire."

But just like Christa's diary, most of those tapes have disappeared too. The hunt for the missing tapes has led detectives to another new twist, an angle right out of "The Sopranos."

Tony Sirico is the actor best known as "Paulie Walnuts" of The Sopranos. But 30 years ago, Sirico was a Brooklyn tough guy trying to make it in Hollywood.

"Back in 1977 Tony Sirico was an up-and-coming actor. And he knew some of the same people that Christa knew," Harris says. "We know after Christa was killed, Tony Sirico was sent to her residence to check on the welfare and watch over her roommate for a few days and to make sure that she was ok…according to the roommate, Tony Sirico removed some tapes out of Christa's room and never to be seen again."

Christa's roommate, who to this day is too frightened to talk publicly, also told detectives that Sirico took some of Christa's furs and clothing. But at the time, police never questioned him.

The new investigators finally spoke to Sirico in 2006. Asked if he has been cooperative, they say, "not exactly."

"Mr. Sirico told us at first that he didn't even remember the victim, he didn't really know Christa and that he didn't even remember that she had been killed. And then his memory got a little bit better that, 'Yeah… I think I had heard about her being killed but I didn't really know her that well,'" Brandenburg says.

According to the detectives, Sirico denied going to Christa's apartment, and denied he even knew the roommate. "We started getting to the point of where he was on that day and asked him those type of questions…and the interview was abruptly stopped by his attorney," Brandenburg says. "We explained to Mr. Sirico that he was not a suspect in this investigation. He was considered a witness and someone that we were trying to glean information from."

Years later, most of Christa's missing things did turn up at the home of Christa's closest friend and confidant, Lennie Barin.

"All of the furniture, all the crystal, the Shah of Iran had given my mom a lot of crystal and jewels and beautiful things. She had fur coats, all of which were found in his home," Nicole says. But the tapes and diary were not there.

Police now think it was Lennie who sent Tony Sirico to clean out Christa's apartment to protect her. "We believe he didn't want her reputation soiled, didn't want the information out there about her surreptitiously recording people or even her sexual activities," Harris explains.

Asked if it's possible that Lennie may have had the audio tapes and the written diary, the investigators say, "It's possible."

Possible, but Lennie died about ten years ago, and Tony Sirico's manager says Tony didn't want to talk to 48 Hours.

But there's another new clue from Christa's friend Darlene, who never spoke with police until now. Right before she died, Christa sent Darlene a postcard with a mysterious message. "She said, 'Dar…I am in way over my head here. I'm into something I can't get out of,'" Darlene remembers.

Without Christa's sex diary to guide them, Detectives Harris and Brandenburg have had to dig deeper to find people who were involved with her.

They discovered that Christa may have been in well over her head. "She had a lifestyle that was provocative. She had a lot of upscale friends that were famous, some of them. And then she also had a lot of friends that were on the seedy side of life, if you will, street people," Harris says.

So job one has been tracking down all those people Christa socialized with in her two years in Hollywood.

"It's very interesting to go back and talk to these people. Because people can't remember what their lies were. They can remember what the truth is," Brandenburg says.

Brandenburg and Harris returned to the crime scene with the one witness who is happy to cooperate: 83-year-old retired Los Angeles detective Larry Gandsey, who was the lead detective in the case.

They hope to jog the original investigator's memory about the night Christa died. "We found that she was a party girl and that she had come from a party with a girlfriend. And she was headed over to see her agent, Sandy Smith," Gandsey recalls.

They also show Gandsey photos from the box of evidence he started 31 years ago. "She was bleeding quite profusely there. You could see that she had numerous stab wounds in the chest. We thought we had a rage killing, that somebody was really upset with this girl," Gandsey remembers.

Asked what strikes him as unusual in this case, Brandenburg says, "Well the way she was attacked really sticks out. It was violent. A lot of passion involved. She was stabbed 22 times."

There was a side to Christa that seemed to provoke people. Because while many thought she was a barely passable actress on-camera, off-camera she was an infamous drama queen.

One of her recurring dramas starred her beautiful and younger sister, Marisa, who learned the hard the way the lengths Christa would go to. "We'd party together. And go to this party and that party. I was excited that I was meeting this actor and dating that actor and they were calling me and she knew that and was really upset that it was me. When she started to see that I was attracting more attention than her that started to wear on her," Marisa says.

In an apparent jealous rage, Christa cut her sister off and threw her out of the apartment.

"Would she step over bodies to get what she wanted? Would she use people?" Maher asks.

"Yes, I would say so," Marisa says.

"Is that possible that has played into what happened to her?" Maher asks.

"I've always presumed that that was a part of what happened to her," Marisa says.

Harris and Brandenburg think so too, and wonder if Christa might finally have crossed the wrong man. As they dig deeper into the case, they find a startling confession, of sorts.

"This guy bragged about doing the killing," Harris explains.

His name is Rudy Mazella and he was known for his "anything goes" parties where Christa was a frequent guest. But Mazella was also a known drug dealer with a bad reputation. "He was a violent kinda guy known to carry guns and knives. We spoke to his ex-wife, deathly afraid of him. Said that he would threaten her," Brandenburg says.

Asked what Christa was doing with him, Brandenburg says, "He was in that other circle of friends, what we call the dark side of her life. The street people, the drug dealers that would come to these parties."

In an interview in July 1977, a woman who frequented Mazella's house told police what she had heard about him. "My boyfriend told me, that Rudy had told him that he had murdered Christa. He didn't give a reason but he said that he had murdered Christa," she said.

Asked if that was followed up on back then, Brandenburg says, "They did question Rudy. He denied any involvement in it. Rudy was the kind of guy that would brag about things that maybe he didn't do, just to get some notoriety, and to boost his standing with people."

With no other evidence tying Mazella to the crime, the original investigators left it at that. "So, was he serious? We don't know because the person he bragged to is deceased and so is Rudy. We can't talk to either of them anymore," Brandenburg says.

And now, three decades later, the cold case squad can only wonder: is there any other lead?

It does seem like something or someone had Christa spooked. Nicole now thinks her mother realized she was in some kind of danger. "I think the fight just got to be a little too difficult for her. It got ugly. There were a lot of dark people and dark lifestyles that she didn't really want to be a part of."

Thirty-one years into the Christa Helm case, Brandenburg and Harris have uncovered a long string of boyfriends and girlfriends that Christa left in her wake. They now suspect jealousy may have been a motive in her murder.

"We've identified people that she was involved with who had other girlfriends. And those girlfriends found out about Christa," Harris says. "There were a couple other females that we believe that she was involved with sexually that were upset because she would be with men."

The detectives are now focusing on Christa's final stab at fame-a recording session she set up in the winter of 1977.

They've gotten a first-hand account of the session from back-up singer Debbie Danilow. She and Christa became good friends.

The detectives now believe that the session exploded in a storm of jealousy and betrayal. It began when Christa apparently got involved with the record's producer, well-known disc jockey Frankie Crocker.

"I think that he was probably a boyfriend, or sleeping with him. And so he had a beautiful Beverly Hills mansion and part of the music scene. Part of the party crowd," Marisa says.

Debbie says Christa flaunted the relationship. "I remember that day telling Christa, I said, 'I don't think that it's gonna work out with Frankie, because I don't think he likes the way I'm handling the songs.' And she said, 'Don't worry about Frankie. I've got him by the b****.'"

Debbie also claims Christa was having an affair with the other backup singer, Patti Collins.

"Patti was very, very jealous of anyone being around Christa. Very jealous, you know, just watch your step kinda thing," Debbie says.

As if things weren't complicated enough, the session's keyboard player, Blair Aaronson, has told detectives he was casually involved with Debbie.

"We were told, originally, that they were boyfriend/girlfriend. Some come back and say maybe casual dating some come back and say, well, that, you know, they were a pretty heavy item," Harris says. "I believe that Debbie had a more serious commitment to Blair than Blair did to Debbie."

Then Blair dropped a bombshell, telling detectives that he slept with Christa the night before she died, and that Debbie caught him.

Debbie adamantly denies any involvement with Blair, or that she saw him in bed with Christa. And Blair declined to speak to 48 Hours. But detectives find the entire recording session suspicious, especially since Debbie and Patti were both abruptly pushed out. It seems Patti took the news especially hard.

"Apparently, she was very upset about it at that time," Harris says. "We don't know if she was removed by Frankie Crocker or by Christa herself."

When Debbie talked to the original investigators about Christa, she pointed the finger squarely at Patti.

"I told him that she had a female lover that was extremely jealous. That was my first thought, that maybe her female lover killed her because every time that I was around her she seemed so threatened and so dark," Debbie says.

Just days after Christa's murder, Debbie packed up her entire L.A. life, disguised herself in a wig, and made a mad dash out of town. "I didn't want anybody to know who I was. I was afraid somebody killed her because she knew something she wasn't supposed to know. What if they thought she told me? I had never been around anybody that had been murdered. And I just wanted to be away from it," she says.

Frankie Crocker is now dead. Still, the cold case squad is left to wonder: could Christa's killer have been a woman?

Investigators got a break when one of Christa's fingernails, preserved for three decades, yielded DNA. "It's obvious to us that she put up quite a fight. And a lot of times, in that situation, you're gonna find skin cells or blood or something from the other person under the fingernails," Brandenburg says.

Even more intriguing, that DNA is from another woman.

"Did you try to match the DNA to a specific person?" Maher asks.

"Well, we are requesting from people that we interview at times, we're requesting oral swabs," he says.

One of those people is Debbie Danilow. Asked if he considers Debbie a suspect, Harris says, "Everyone's still a suspect."

Debbie put Hollywood and Christa Helm behind her many years ago, but she never really got over the murder that struck so close to home. "It changed me. It changed the way I looked at everybody in the group. You start looking around going, 'Who did it? Who did this? Who could have done this?' And it's scary," she says.

And then recently, out of the blue, she got a letter from Christa's daughter, Nicole. "And it said, 'Hi. My name is Nicole. I think you knew my mother as Christa Helm. And I am trying to find out information about her, because I didn't know her,'" Debbie recalls.

Shortly afterwards, Debbie heard from the cold case squad. "Of course they had gotten my name from Nicole. And they said, 'Can we talk to you?'" she says.

But detectives Harris and Brandenburg didn't just want Debbie's memories, they wanted her DNA, and what they really wanted to know was if it matched the scrapings they had found under Christa's fingernails. "We did collect DNA from Debbie Danilow. And it was not her DNA that was under the fingernails," Brandenberg explains.

There is no other evidence tying Debbie to the murder, either. And she has told police she had nothing to do with it. "Tom and I are in agreement that Debbie Danilow is much farther down on the scale as a person of interest in this case, now, than she was," Brandenburg says.

With the help of an anonymous tip, the cold case squad finally tracked down the woman they believe was Christa's girlfriend, Patti Collins. "Patti and Christa had a relationship, according to more than one person. They had a close sexual relationship and a professional relationship. At some point, they had a falling out with one another, it looks like, according to these people. Was it serious enough for a murder? We don't know that, but we'd like to talk to Patti about that," Brandenburg says.

The detectives had no trouble getting their swab of DNA and an interview, but they were stunned by what Patti had to say: "No, I do not know Christa Helm, they showed me pictures and no one looks familiar in those photographs at all. I do not know any thing," Patti said.

Not only that, Patti claimed she was never in Southern California. "She was in Southern California we know that but for some reason she's denying ever being there in her life," Harris says.

"I have a feeling we'll be back to talk to her again. I really do," Brandenburg added.

But not until they get the results of the DNA test and confirm her identity. Meanwhile they'll go after other leads

The cold case squad's best lead might turn out to be the oldest lead of all, and it comes from the man who first worked the Christa Helm case, 83-year-old Larry Gandsey. "Sal Mineo's killer is the same killer that killed Christa Helm. In my own mind, I'm so sure of that, I bet the deed to my house that he is A-1, number one suspect," Gandsey says.

Remember, Sal Mineo was murdered a year before Christa on the same day, Feb. 12, and in the same way, a stabbing, and in the same neighborhood. "The method of operation, the area of operation was so similar to Sal Mineo's killing. It's almost identical," Gandsey said.

The man ultimately convicted of Mineo's killing was 21-year-old Lionel Williams, and he was thought to be in jail at the time of Christa's murder. But the cold case squad recently learned that Williams wasn't arrested until after Christa's death. Even more surprising, he wasn't even asked about Christa's death. "I don't even know what he looked like," Gandsey says. "I never got the chance to talk to him."

Shortly afterwards, Gandsey and his partner were reassigned, and then Gandsey left the Los Angeles Sheriff's Department for good. That's when the Christa Helm case went cold. "I think this case has affected me personally more than any I've worked. And you're not supposed to get involved. You're supposed to put everything behind you and you're neutral. You're just doing a job. But with me anyway, I couldn't put this one to bed," Gandsey says.

Meanwhile, Lionel Williams served 12 years for the murder of Sal Mineo. In 1990, he was released from prison. "He has been in and out of jail since this occurred. He's been arrested for other crimes. We believe we have an idea where he is living. We believe that he's not that far away. And, you know, we're going to go talk to him," Harris says.

So after sifting through all the drama of Christa Helm's life, the myriad of lovers, the diary and the sex tapes, the tales of jealousy and betrayal, could it really be that detectives will discover that Christa was simply the victim of a random, late-night street robbery at the hands of a career criminal?

Christa's daughter Nicole, now 40, hopes that discovering the truth about the murder will finally bring solace.

All Nicole has to remember her mother by are a scrapbook, a couple of B movies, and the stuff nightmares are made of. "The end of one of her films, "The Legacy of Satan," she's stabbed to death at the end of the film. And that was a little eerie as well, 'cause that was quite a few years beforehand," Nicole says. "All I know is that she had told several people that she was terrified of knives. And she believed that was the way she was going to die."

But Nicole still has a child's hope that justice will somehow be served, even after all this time. "I believe that the person is still out there. And I believe that we're gonna find closure one day for my mom. And we're going to find justice. And I believe that this person is…they know that they did it. Someone knows that they did it. And we're ready."
---

In the past year, Harris and Brandenburg have solved five other cold case murders in Los Angeles County.

If you have information on this case, please contact the homicide cold case unit at the Los Angeles County Sheriff'sDepartment at 323-890-5500.

Produced by Chuck Stevenson and Paul Ryan
Produced by Chuck Stevenson and Paul Ryan
Thanks for reading CBS NEWS.
Create your free account or log in
for more features.