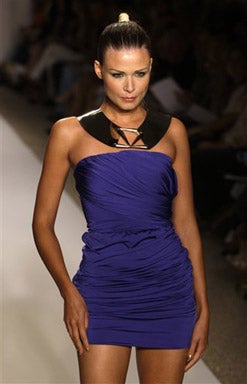 "The King's" Popularity Constant
A quarter of a century after the death of Elvis Presley, more than 4 in 10 Americans still describe themselves as fans of "The King." Despite years of rumors and alleged sightings, just 7% think he may still be alive.
Elvis' popularity has remained constant for the last 10 years since a CBS News Poll first asked about him in 1992.
ELVIS FANS
Now 42%
1997 43%
1992 42%
Back in the 1950s and 1960s, older Americans were appalled by Elvis' pelvis thrusting stage antics, while teenagers couldn't get enough of it. Now, Americans age 65 and over, many of who were beyond their teenage years during the 1950s and 1960s, are still one of the least likely groups to describe themselves as Elvis fans. Just 30% of those 65 and over say they are fans of Elvis, compared to 50% of those between the ages of 30 and 64. Also, young Americans, most of who were not around during Elvis Presley's lifetime are less likely to be fans.
ELVIS FANS BY AGE
Total Americans 42%
Age 30 31%
Age 30-64 50%
Age 65 and Over 30%
Elvis' popularity transcends many demographic groups. Similar numbers of men and women, Democrats and Republicans and city dwellers and rural Americans say they are fans of Elvis Presley.
There are some regional differences, however. Elvis' fans are more likely to come from the Midwest – 51% of those who live there describe themselves as fans. Those in the West are least likely to be fans of "The King" - just 34% of westerners say they are fans. Despite Elvis' Southern roots (Elvis was born in Tupelo, Mississippi), the number of Southerners who are Elvis fans has dropped since 1992. Now, 41% describe themselves as fans, compared to 51% of Southerners who were fans in the CBS News Poll one decade ago.
While just 8% of Americans have visited Graceland - Elvis' home in Memphis Tennessee – 13% of Elvis fans have visited the estate.
GOING TO GRACELAND
Americans Who Have Visited 8%
Elvis Fans Who Have Visited 13%
Americans Who Want To Visit 25%
Elvis Fans Who Want To Visit 42%
In addition to those fans who have already visited Graceland, 42% say they would like to visit his home. Overall, a quarter of Americans say they would like to go to Graceland.
Despite the rumors of Elvis sightings over the past 25 years, just 7% of the public believes Elvis is still alive - while 9% of his fans believe in a living Elvis. Throughout the 1990s similar numbers of Americans have thought it possible Elvis Presley was still alive. In 1997, 5% thought it was possible, and in 1992, 8% did.
POSSIBLE ELVIS IS STILL ALIVE
Americans Who Believe Elvis Is Alive 7%
Elvis Fans Who Believe Elvis Is Alive 9%
Interestingly, those under age 30, the group least likely to be Elvis fans, are more likely than any other age group to believe that Elvis Presley may not really be dead. 11% of these young Americans say it is possible that "The King" lives on.
---
This poll was conducted among a nationwide random sample of 832 adults, interviewed by telephone August 6-7, 2002. The error due to sampling for results based on the entire sample could be plus or minus three percentage points. Sampling error for subgroups may be higher.
For detailed information on how CBS News conducts public opinion surveys, click here.
Thanks for reading CBS NEWS.
Create your free account or log in
for more features.