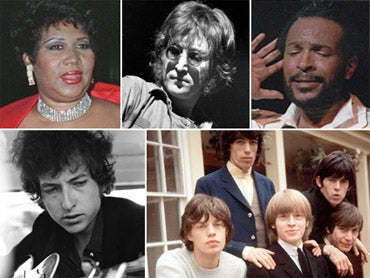 The Five Greatest Songs of All-Time
You may never get everyone to agree on the greatest songs ever, but Rolling Stone magazine is giving it a shot.
On Friday, it unveils a special collector's edition with its definitive list of the 500 greatest songs of all-time.
The list was compiled by Rolling Stone editors, based on the results of two extensive polls. In 2004, they asked a panel of 162 artists, producers, industry executives and journalists to pick the greatest songs of all time. Last year, they asked a similar group of 100 experts to pick the best songs of the 2000s.
On "The Early Show" Wednesday, Rolling Stone Contributing Editor Alan Light ran down the top five,
Here's how the magazine describes them (in reverse order):
No. 5: "Respect," by Aretha Franklin
Otis Redding wrote "Respect" and recorded it first, for the Volt label in 1965. But Aretha Franklin took possession of the song for all time with her definitive cover, made at Atlantic's New York studio on Valentine's Day in 1967. "Respect" was her first Number One hit and the single that established her as the Queen of Soul. In Redding's reading, a brawny march, he called for equal favor with volcanic force. Franklin wasn't asking for anything. She sang from higher ground: a women calling an end to the exhaustion and sacrifice of a raw deal with scorching sexual authority. In short, if you want some, you will earn it.
No. 4: "What's Going On," by Marvin Gaye
"What's Going On" is an exquisite plea for peace on Earth, sung by a man at the height of crisis. In 1970, Marvin Gaye was Motown's top male vocal star, yet he was frustrated by the assembly-line role he played on his own hits. Devastated by the loss of duet partner Tammi Terrell, who died that March after a three-year battle with a brain tumor, Gaye was also trapped in a turbulent marriage to Anna Gordy, Motown boss Berry Gordy's sister. Gaye was tormented, too, by his relationship with his puritanical father, Marvin Sr. "If I was arguing for peace," Gaye told biographer David Ritz, "I knew I'd have to find peace in my heart."
Not long after Terrell's passing, Renaldo Benson of the Four Tops presented Gaye with a song he had written with Motown staffer Mo Cleveland. But Gaye made the song his own, overseeing the arrangement and investing the topical references to war and racial strife with private anguish. Motown session crew the Funk Brothers cut the stunning, jazz-inflected rhythm track. Then Gaye invoked his own family in moving prayer: singing to his younger brother Frankie, a Vietnam veteran ("Brother, brother, brother/There's far too many of you dying"), and appealing for calm closer to home ("Father, father, father/We don't need to escalate").
Initially rejected as uncommercial, "What's Going On" was Gaye's finest studio achievement, a timeless gift of healing. But for Gaye, the peace he craved never came: On April 1st, 1984, he died in a family dispute - shot by his father.
No. 3: "Imagine," by John Lennon
John Lennon wrote "Imagine," his greatest musical gift to the world, one morning early in 1971 in his bedroom at Tittenhurst Park, his estate in Ascot, England. His wife, Yoko Ono, watched as Lennon sat at the white grand piano now known around the world from films and photographs of the sessions for his Imagine album and virtually completed the song: the serene melody; the pillowy chord progression; that beckoning, four-note figure; and nearly all of the lyrics, 22 lines of graceful, plain-spoken faith in the power of a world, united in purpose, to repair and change itself.
"It's not like he thought, 'Oh, this can be an anthem,'" Ono said, looking back at that morning 30 years later. "Imagine" was "just what John believed: that we are all one country, one world, one people; He wanted to get that idea out."
No. 2: "(I Can't Get No) Satisfaction," by The Rolling Stones
"It's the riff heard round the world," says Steve Van Zandt, guitarist for the E Street Band. "And it's one of the earliest examples of Dylan influencing the Stones and the Beatles - the degree of cynicism, and the idea of bringing more personal lyrics form the fold and blues tradition into popular music."
The riff came to Keith Richards in a dream one night in May 1965, in his motel room in Clearwater, Florida, on the Rolling Stones' third U.S. tour. He woke up and grabbed a guitar and a cassette machine. Richards played the run of notes once, then fell back to sleep. "On the tape," he said later, "you can hear me drop the pick, and the rest is snoring."
That spark in the night - the riff that opens and defines "(I Can't Get No) Satisfaction" - transformed the rickety jump and puppy love of early rock & roll into rock. The primal temper of Richards' creation, played through a Gibson Fuzz Box; the sneering dismissal in Mick Jagger's lyrics; the strut of rhythm guitarist Brian Jones, bassist Bill Wyman and drummer Charlie Watts: It was the sound of a generation impatient to inherit the Earth.
And - No. 1: "Like a Rolling Stone," by Bob Dylan
"I wrote it. I didn't fail. It was straight," Bob Dylan said of his greatest song shortly after he recorded it in June 1965. There is no better description of "Like a Rolling Stone" - of its revolutionary design and execution - or of the young man, just turned 24, who created it.
Al Kooper, who played organ on the session, remembers today, "There was no sheet music, it was totally by ear. And it was totally disorganized, totally punk. It just happened."
The most stunning thing about "Like a Rolling Stone" is how unprecedented it was: the impressionist voltage of Dylan's language, the intensely personal accusation in his voice, the apocalyptic charge of Kooper's garage-gospel organ and Mike Bloomfield's stiletto-sharp spirals of Telecaster guitar, the defiant six-minute length of the June 16th master take. No other pop song has thoroughly challenged and transformed the commercial laws and artistic conventions of its time, for all time.
Just a few weeks earlier, as he was finishing up the British tour immortalized in D.A. Pennebaker's documentary Don't Look Back, Dylan began writing an extended piece of verse - 20 pages long by one account, six in another - that was, he said, "just a rhythm thing on paper all about my steady hatred, directed at some point that was honest." Back home in Woodstock, New York, over three days in early June, Dylan sharpened the sprawl down to that confrontational chorus and four taut verses bursting with piercing metaphor and concise truth. "The first two lines, which rhymed "kiddin' you' and 'didn't you,' just about knocked me out," he confessed to "Rolling Stone" in 1988, "and when I got to the jugglers and the chrome horse and the princess on the steeple, it all just about got to be too much."
The beginnings of "Like a Rolling Stone" can be seen in a pair of offstage moments in Don't Look Back. In the first, sidekick Bob Neuwirth gets Dylan to sing a verse of Hank Williams' "Lost Highway," which begins, "I'm a rolling stone, I'm alone and lost/For a life of sin I've paid the cost." Later, Dylan sits at a piano, playing a set of chords that would become the melodic basis for "Like a Rolling Stone," connecting it to the fundamental architecture of rock & roll. Dylan later identified that progression as a chip off of Ritchie Valens' "La Bamba."
Just as Dylan bent folk music's roots and forms to his own will, he transformed popular song with the content and ambition of "Like a Rolling Stone." And in his electrifying vocal performance, his best on record, Dylan proved that everything he did was, first and always, rock & roll. "'Rolling Stone"s the best song I wrote," he said flatly at the end of 1965. It still is.
Thanks for reading CBS NEWS.
Create your free account or log in
for more features.