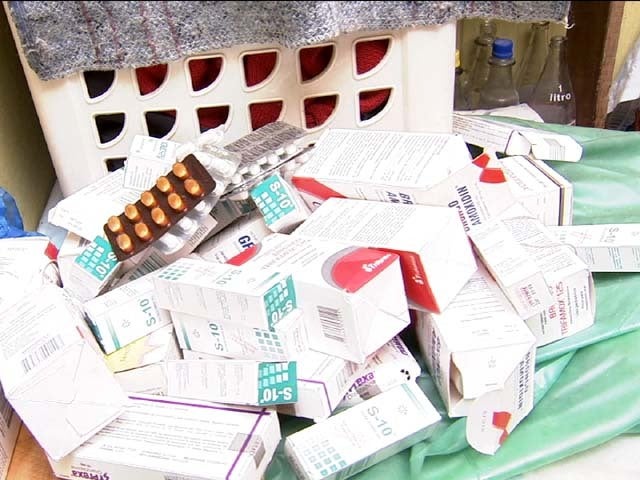 The difficult fight against counterfeit drugs
There is a new front in the war on drugs, and it's not the kind of drugs you might think. We're not talking about cocaine, heroin or methamphetamines. This is about drugs that could wind up in your medicine cabinet: counterfeit prescription drugs, made with cheaper - sometimes even dangerous - ingredients such as highway paint, floor wax, and boric acid.
Criminal counterfeiters will go to any length to evade detection. We found a shadowy network of criminals with made-up names, constantly changing locations and lots and lots of money: an estimated $75 billion a year.
"60 Minutes" and CNN's Dr. Sanjay Gupta got the chance to observe a surprise early morning raid in Lima, Peru. Some 200 police in riot gear stormed an indoor market. Their target: counterfeit prescription drugs. And they found them everywhere.
There were crude packaging machines and silk screens with imprints of actual name-brand drugs. Hundreds of thousands of counterfeit medicines collected from that raid were traced back to a house. Through a back door and down a narrow hallway we found a tiny, squalid patio that was actually a fake drug factory, turning out an astonishing number of counterfeit medications.
Segment: Counterfeit drugs
Extra: The global networks
Extra: Counterfeit drug shell game
Extra: Counterfeit drug labels
FDA: Buying Medicine Online

Peruvian police were led here by someone you wouldn't expect: John Clark, from the American drug company Pfizer.
"I'm looking at this pan with these pills in it. This stuff is going to get into people's medicine cabinets around the world?" Dr. Gupta asked.
"Unfortunately, yes," Clark said.
Clark heads up a global security team assembled by Pfizer. The team includes former FBI, Homeland Security and narcotics agents who work with local police to track down criminals around the world. Counterfeit operations like these are costing drug companies millions of dollars a year.
"This has 'Pfizer' written all over it," Gupta remarked, looking at some of the counterfeit drugs.
"And it's even got the newer Pfizer emblem with the little slant on it and stuff. I mean from the packaging, you'd never know," Clark said.
In the raid, they discovered about two dozen medicines including antibiotics, seizure, blood pressure and pain medications.
"We're in the middle of this very primitive courtyard. This doesn't look like any kind of facility that you'd expect at all. Does this surprise you?" Gupta asked.
"No. No, unfortunately. The quantity of counterfeits you're seeing is phenomenal. The conditions are just abysmal. And if the consumer ever realized that products that they're putting inside their bodies come from this, from dirty water, drying out in the open under a heat lamp, insects and everything else getting into it, contaminants being, you know, brought into the equation and stuff, I think they'd be horrified," Clark said.
According to Clark, counterfeit Pfizer drugs - many from disgusting conditions like the primitive courtyard in Lima - have made their way to pharmacies and hospitals in at least 46 different countries, including England, Canada, and the United States.
"So right now, there are people around the world taking medications to save their own lives who are simply taking the wrong thing, and they don't even know it?" Gupta asked.
"Yes, absolutely," Clark said. "If you have any concerns, you should go to your doctor, should go to your pharmacist. If the pill dissolves differently, if it tastes bitter or differently."
"John, you know, I'm a doctor. I looked at these medicines today. I wouldn't be able to tell if they were fake or not. And that I'm the person they're gonna ask," Gupta remarked. "I don't know the answer. How are other people gonna know the answer?"
"Next step is every pharmaceutical company will take it back, do the test and then find out if it's counterfeit, how it got there and then try to get it off the market immediately," Clark explained.
Produced by Kyra Darnton, Sam Hornblower and Michael RadutzkyThe pills from Peru were sent to Pfizer's testing facility in Groton, Conn. Sometimes counterfeits may have a percentage of the correct active ingredients, but not when it came to a seized antibiotic or an ulcer medicine.
Instead the ulcer medicine contained sugar and chalk. Imagine taking a medication to treat a serious illness with those ingredients.
"People can die. People can be seriously injured, but people can also die," Kumar Kibble, deputy director at Immigrations and Customs Enforcement (ICE), told Gupta.
Kibble is charged with protecting our borders from illicit trafficking. Over the past few years, his attention has increasingly focused on counterfeit drugs.
"In the scheme of things, how big a threat are fake drugs?" Gupta asked.
"Fake drugs are a big threat. And it is an exploding threat you actually have traditional criminal groups that may have engaged in traditional drug trafficking. And they realize, you know, 'I can make just as much money, making, you know, tens of dollars on a pill that I manufacture for pennies,' and have very little exposure in terms of in terms of prosecution," Kibble explained.
"So, you're talking about a very low risk, very high reward, potentially tons of money," Gupta remarked.
"Yeah. Absolutely," Kibble said. "When you think about that some of these pills can be manufactured you know, for 40 cents and sold for $18 or $20, I mean, just think of that profit potential. I mean, it's insane."
Kibble tracks counterfeits from their source in clandestine labs to the United States, where they're typically sold through rogue Internet sites, often posing as legitimate pharmacies.
Thirty six million Americans are estimated to have bought their medicines from these sites, many searching for quality drugs at a better price. Some sites pretend to be from Canada because Canada is known for safe, inexpensive medicines.
Kibble caught one Israeli counterfeiter on a hidden camera admitting that very scheme.
"These are all your Internet Web sites. Is that really from Canada?" an undercover agent asked.
"Noooo!" the counterfeiter replied, laughing.
That same counterfeiter also told undercover investigators of another, decidedly low-tech, way of smuggling hundreds of thousands of pills into the United States: he simply had them dropped in the mail.
At the postal service facility at New York's JFK Airport, the sheer volume of packages of counterfeit and suspicious drugs coming into the country is staggering.
"Our resources certainly haven't kept pace with the volume of products coming into the country or the increase in volume," David Elder of the Food and Drug Administration told Gupta.
Elder told us that when they do find a fake drug, they're often forced to ship it back to the sender. On the day "60 Minutes" was there, they found pills and vials from India posing as legitimate thyroid, fertility and hypertension medication. They had to send it all back.
"That sounds crazy. Why not go after this person?" Gupta asked.
"We don't have the authority to actually destroy this on site. This product could very well come back into the country through a different mail facility. Maybe it gets through. Maybe it gets stopped," Elder said.
"But they're banking on one of these times you're gonna miss," Gupta pointed out.
"Yeah, I think they are," Elder acknowledged.
And many of these fakes are so sophisticated, even investigators at an FDA lab in Cincinnati couldn't distinguish which bottle of Zyprexa was fake with the naked eye. Using a forensic light source, they can test the ink - the label that lights up is the real one.
A fake Lipitor pill looked so authentic they had to superimpose a diagram of an actual pill to see that the number "20" on the pill did not match up.
"With the naked eye, you could not see this," a lab technician pointed out.
Balbir Bhogal was recently arrested in Madison, Wis. for allegedly trafficking counterfeit drugs.
"As they say in India, you can manufacture anything. There's no limit," he told Gupta.
Bhogal is also accused of providing millions of anti-anxiety pills from India to a Web site operator for a site with a common, seemingly harmless name.
"He was running a Internet pharmacy, which is actually, I discovered recently that its Web site, 'Easy Meds for You,'" Bhogal said. "He had lots and lots of suppliers."
Bhogal told Gupta he never met the site's operator and that it's a totally virtual operation. "Never met him and I didn't even know believe his name was real or not," he said.
Bhogal maintains his innocence and claims he was only supplying anti-anxiety medicines with the proper formulation and thought it was for the Asian market. The government says he knew the pills were illegally coming into the United States.
"Were you worried at all about these medications? Where they were gonna end up?" Gupta asked.
"Never looked at that issue at all," he replied.
Asked if he wish he had, Bhogal said, "Yes."
What is even more alarming is these counterfeit medications are not just being sold on the Internet. They are also making their way into mainstream pharmacies and hospitals. FDA Commissioner Margaret Hamburg says that while the vast majority of our drug supply is safe, there's reason for concern.
"You know, we don't really know the full dimensions of the problem. But, we do know that in certain countries somewhere between 30 and 50 percent of really important drugs for health are, in fact, counterfeit," Commissioner Hamburg said.
"How does all this increase in counterfeit drugs around the world affect the United States?" Gupta asked.
"Just consider that 40 percent of drugs taken in this country come from other countries; 80 percent of the active pharmaceutical ingredients in drugs taken in this country actually come from other countries," Hamburg said.
Even if the prescription medications are manufactured in the United States, the raw ingredients often come from overseas, through a complicated web of suppliers and distributors - and are increasingly vulnerable to counterfeiting.
That is what happened in 2008 with the blood thinner heparin, which millions of Americans rely on to prevent blood clots. Little did the manufacturer, Baxter International, know that one of the raw ingredients from China was counterfeit.
"How many people were affected by this?" Gupta asked Hamburg.
"In this country a little over 80 people actually died from contaminated heparin,"
Baxter says the number of deaths is closer to four or five, but everyone agrees it's difficult to know the exact number.
Nurse Colleen Hubley says at her dialysis center in Toledo, Ohio, she saw one patient have cardiac arrest and others with strange symptoms after receiving heparin.
"Having hypotension, diarrhea, vomiting, not feeling well, getting off treatment early. I even had another patient that stated to me, you know, 'What is going on around here?'" Hubley said.
"Had you ever seen anything like this?" Gupta asked.
"No," she replied.
And then she says she saw the same symptoms in her own family: within a few weeks, she says her husband Randy and her mother-in-law, both regular users of heparin due to chronic kidney disease, had bad reactions to the drug and died within a few days.
Baxter, which is being sued by Coleen Hubley and others, disputes that and says the serious underlying medical conditions of her family and patient "much more likely caused their deaths."
"You lost one of your patients, your mother-in-law and your husband, Randy, within a month or so," Gupta remarked.
"Gone," Hubley said.
Hubley says she never imagined heparin could be counterfeit.
"You really counted on that heparin being perfectly fine," Gupta remarked.
"Yes. We did. And I don't know if, in my nursing career, I'll ever take anything for granted again," Hubley said.
Baxter's CEO told Congress that he deeply regretted what had happened. The company told "60 Minutes" in a letter that the counterfeit ingredient so closely mimicked heparin that "it was able to evade the quality control systems and regulatory oversight of more than a dozen companies and nearly a dozen countries."
Three years later, FDA Commissioner Hamburg told us they're still struggling to get to the bottom of it.
"Do you know who perpetrated this crime, with the heparin contamination, or exactly how they did it?" Gupta asked.
"We do not know the answer to that question," she replied.
Despite what happened with heparin, most of the ingredients in our medicines today still come from other countries, including China and India, which have notoriously weak regulatory systems. The FDA only inspects about 12 percent of overseas facilities a year.
"Everyone's concerned, it's hard to regulate. It's potentially problematic. Even deadly. Why does it continue to happen?" Gupta asked.
"I think that we live in a globalized world. And components of all kinds of products are gonna come from all over the world," Hamburg said.
"It's cheaper over there. It's economics," Gupta remarked.
"It is economics, for the companies. I do believe that we can do an enormous amount to strengthen the safety of the supply chain," Hamburg said.
Drug companies say they already have their own systems in place to protect their supply chains. But they also have to worry about those clandestine labs, like the one we saw in Peru, which are popping up all around the world, according to Pfizer's John Clark.
"If there are no consequences for those doing this, then there's no disincentive not to just go back and do it again once you're caught. I mean the profit on illegal medicines is just phenomenal," he explained.
And catching them isn't easy: at the lab in Peru, police arrested a messenger, but the kingpin of the counterfeit drug operation had slipped away.
"What do you think, John, they gonna find this guy?" Gupta asked.
"They'll be lucky if they do," Clark replied.
Thanks for reading CBS NEWS.
Create your free account or log in
for more features.