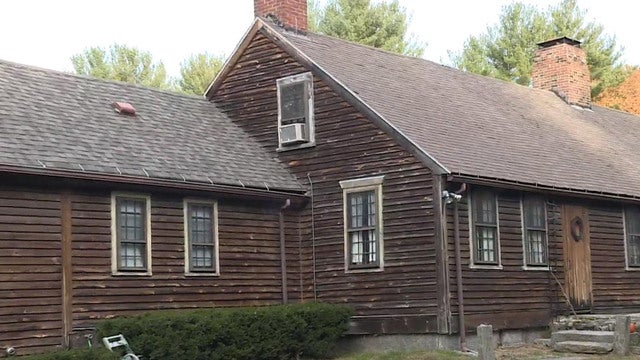 "The Conjuring" house owner to sue Warner Bros.
The owners of a Rhode Island farmhouse that inspired the 2013 horror movie "The Conjuring" said the film turned their lives into a real-life nightmare. For two years, the homeowners say they've been inundated by movie fans trespassing on their property.
Now they plan to sue Warner Bros.
"The Conjuring" was actually filmed in North Carolina, but it's based on the supposed haunting of a family living in Harrisville, Rhode Island, during the 1970s. Norma Sutcliff bought the Rhode Island house in 1987 and lived there in peace until two years ago, reports CBS News correspondent Michelle Miller.
When "The Conjuring" opened in theaters in 2013, it was a box office hit that raked in $137 million in the U.S. and terrified audiences worldwide.
The film, based on what it claims is a true story, follows two ghost hunters in the 1970s investigating the haunted Rhode Island home of the Perron family.
"They can come in from any direction," Sutcliffe said.
But it's not the supernatural that she is afraid of.
"The biggest fear is every day we live with the fact, we don't know what may happen," Sutcliffe said.
Since the film's release, the 68-year-old has been spooked by what court papers describe as a "'Conjuring'-instigated siege of their property" by movie fans desperate to see the real life house that inspired the film.
"The Internet was bombarded by people who were actually going around the property, filming. ... We had harassing phone calls in the middle of the night," Sutcliffe said. "They've had discussions of people destroying the house because 'it's so full of evil.'"
While Warner Bros. studios obtained the rights to the story from the Perron family, Sutcliff said she didn't know about the film until a friend mentioned it was in production.
Fan curiosity is not a new phenomenon. The owners of the Oregon house used in the classic '80s film "The Goonies" covered their home in tarp after growing tired of unwanted visitors. A pizza scene from the TV series "Breaking Bad" has attracted dozens of copycats and onlookers.
"It's a violation of our privacy, but they think they have the right to do it," Sutcliffe said.
Sutcliffe is now seeking unspecified monetary damages as well as a state-of-the-art security system from Warner Bros., the film's director and a litany of co-defendants.
"If anything comes out of this, is to get the industry to understand how they affect real people," Sutcliffe said.
Sutcliffe insists the house isn't haunted and she doesn't believe in ghosts.
Warner Bros. told CBS News it hasn't been served with a lawsuit yet. Sutcliffe's attorneys said they plan to serve the studio in the next couple of weeks.
Thanks for reading CBS NEWS.
Create your free account or log in
for more features.