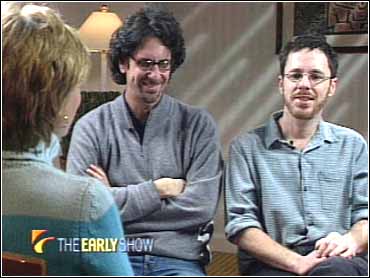 The Coen Brothers' Wacky Odyssey
The Oscar-winning Coen brothers have made a career out of quirky movies like Fargo and Raising Arizona.
So it should come as no surprise that their latest endeavor - O Brother, Where Art Thou? - is a Depression-era Mississippi version of Homer's classic Greek tale of Odysseus.
The hero is Everett Ulysses McGill, a fast-talking charmer played by George Clooney, who breaks out of a prison chain gang with two sad-sack colleagues and tries to get home in time to stop his wife from marrying another.
The film's credits say Joel directs, Ethan produces, and they both write. But as Early Show co-anchor Jane Clayson reports, they both do it all.
"We're both on the set the whole time," says Joel, who at 46 is the older of the two. "It's really as simple as whoever is closest to the question answers the question. So we both talk to the technicians. We don't split the work up, if that's sort of - I know some people work that way, but it's not the way we work."
Together, Joel and Ethan, 43, have produced, written and directed eight films, starting with the film noir Blood Simple in 1984.
They edited that film under the pseudonym Roderick Jaynes, the same name that is listed under editing in the O Brother credits.
"We thought it would be poor taste to have our names in the credit that many times," says Ethan, the shorter of two who studied philosophy at Princeton before taking up filmmaking.
The two gained popularity with the screwball comedy Raising Arizona in 1987 and critical acclaim in 1991 with Barton Fink a surreal look at writer's block. That movie won three prizes at the Cannes Film Festival: a Golden Palm for best film, best director award for Joel and a best actor award for the show's star, John Turturro, who also costars as one of Clooney's fellow travelers in O Brother.
A loopy frolic that showcases the brother's signature style, O Brother makes use of period music and choreography like that of the 1930s musicals.
"We didn't start with the premise of updating the Odyssey," says NYU-educated Joel. The setting came first. The situation, these three fugitives in the chain gang, given the Clooney character is trying to get back home, it just suggested the Odyssey to us."
Both admit they have never read Homer's epic poem, although they did read the classic comic version of it.
Ethan says it's "much easier that way. "It's very freeing, man. We're thinking of doing an adaptation of Dickens' Martin Chuzzlewit. We figure nobody knows the original and we don't have to read that. We can make up whatever we want."
Referring to George Clooney's oft-quoted comment that he signed to do the film without ever seeing the script, the brothers joke that "we sent him a script" and "maybe he lost it."
"What's interesting about George," says Joel,
Neither brother will commit to having a favorite film.
"Usually we're happy enough to forget about them once they're done," Ethan says. Joel adds his favorite film is the one he is working on at the time.
"It's the one you're in the middle of you're most excited about," he says. "The ones that are done are done. And you want to forget about them."
For the Coens, the current film is a murder mystery set in the '40s with James Gandolfini from The Sopranos in a starring role.
A Filmography


Blood Simple (1984)
Spies Like Us (1985)

Crimewave (1985)
Raising Arizona (1987)
Miller's Crossing (1990)
Darkman (1990)
Barton Fink (1991)
The Hudsucker Proxy (1994)
Fargo (1996)
The Naked Man (1998)
The Big Lebowski (1998)
O Brother Where Art Thou? (2000)
Thanks for reading CBS NEWS.
Create your free account or log in
for more features.