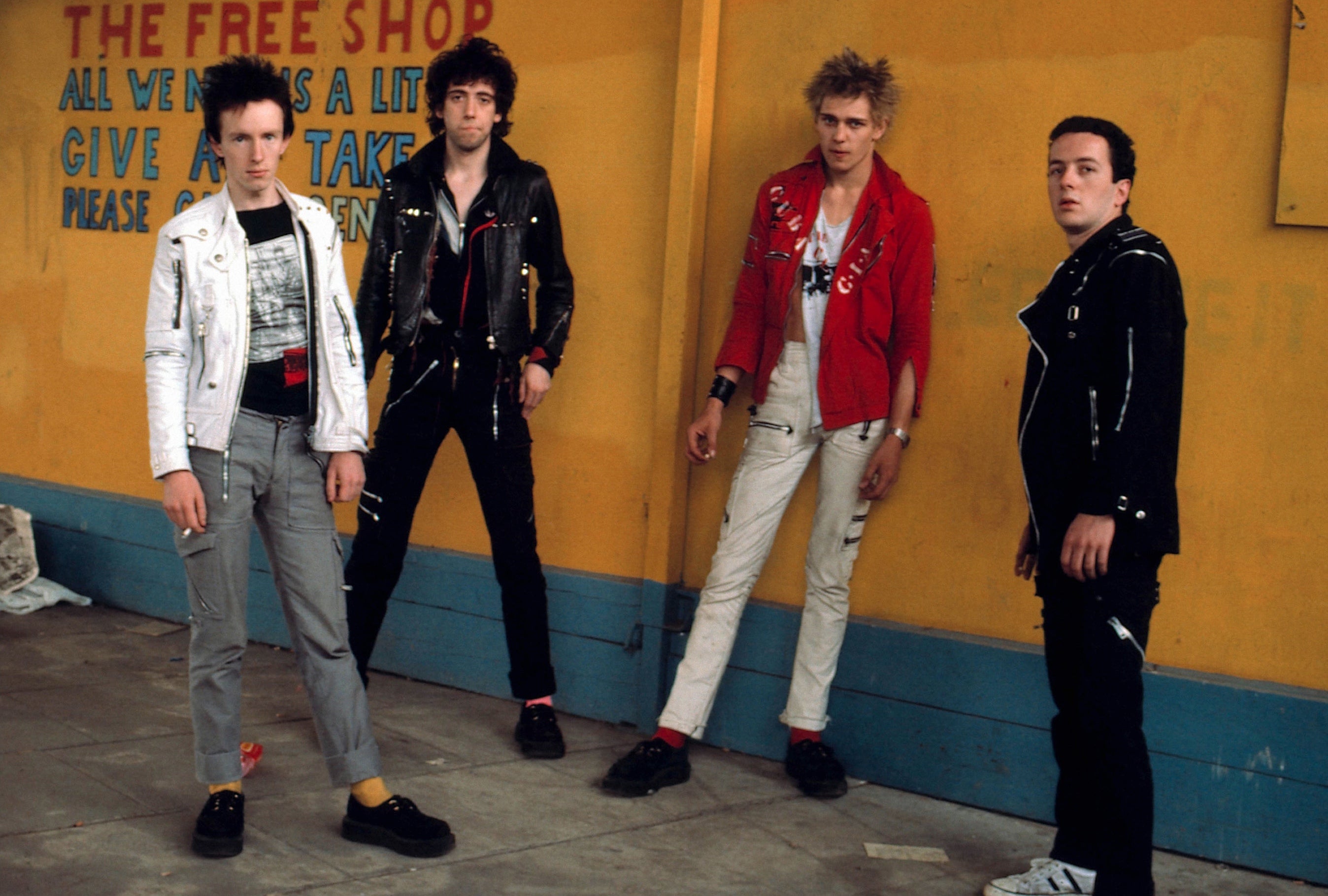 The Clash rocks out career-spanning "Sound System"
In hindsight, it may have seemed an unlikely match -- a young aspiring musician with a jazz background joining a still-emerging British punk rock group in 1977. But that's just part of the unconventional life-story of drummer Nicky "Topper" Headon. In the early part of his career, he played jazz at the local pub in his hometown of Dover where the music can vary between Miles Davis, Thelonious Monk and Blood Sweat and Tears. But when he moved to London, Headon auditioned for a punk band called the Clash.
"I loved the way the band looked," Headon told CBSNews.com. "I loved the energy and power of the group. I loved the way they were like a gang and rebellious. It was very charismatic. But I did think that the music could be improved somewhat. It wasn't me in particular, but gradually over time, the four of us just gelled. The music became better and better. I felt like I was in the greatest band in the world."
Many others would agree with that assessment about the Clash -- Headon, Mick Jones, Paul Simonon and the late Joe Strummer -- who more than 25 years since its disbandment is still regarded as one of the greatest bands in rock. Often dubbed as "the only band that matters," the Clash tackled musical genres beyond punk rock while always maintaining a populist sensibility and social conscience. As Rolling Stone writer Mikal Gilmore wrote in 2011: "Along the way, they asserted the boldest political worldview of any artists in popular music's history, moving from the narrow obsessions of U.K. punk sedition to the fiery reality of the world outside."
Now in celebration of the band's storied legacy is a brand new 12-disc boxed set called "Sound System," due out Sept. 10. It collects not only the band's first five albums -- "The Clash," "Give 'Em Enough Rope," "London Calling," "Sandinista!" and "Combat Rock" -- but the set also contains non-album singles, B-sides and previously unreleased live material dating back to the Clash's first-ever recording sessions in 1976. "Sound System" also includes a DVD of rare early performance footage of the band from directors Julien Temple and Don Letts as well as promotional music videos.
Headon says that Sony, the Clash's record company, proposed the idea of an anthology a couple of years ago. The project drew the direct involvement of the surviving band members, with Jones handling the album remastering. "It just sounds totally different now," Headon said. "The feel is still there, it's still the original music, and sounds so much crisper and brighter, and you can hear a lot more."
With Simonon handling the artwork, the set is packaged to resemble the classic early '80s boombox and contains band-related memorabilia: fanzines, dog tags, badges, stickers and a poster. "It was very important to us when we were together how our albums were packaged," said Headon. "We got involved with the artwork. If you look at the Clash albums, there's a lot of involvement from the band and this is exactly the same now. It's something the three of us are very proud of."
The arrival of "Sound System" coincides with the release of "The Clash Hits Back," a 2-disc compilation of popular Clash songs whose running order is based on a set list from a 1982 concert. "Joe used to write the set lists out," Headon recalled. "I used to have one on my bass drum, and the others would have them on the tops of their guitars. Before the gig, Joe would like sit down and he wonder about where we were playing. It was different every single night. We would have a different opening number and maybe a few extra different numbers in the encore."
A run-through of the music on the first two albums, "The Clash" and "Give 'Em Enough Rope," reveals some of the most dynamic music that defined the punk era -- "White Riot," "Clash City Rockers," "Safe European Home," "London's Burning" and "I'm So Bored with the USA" are just few of the examples. While Headon is generally associated with the Clash's classic lineup, he wasn't the band's original drummer -- Terry Chimes was the first behind the kit. So when he joined the Clash in 1977, Headon had to make an adjustment in the way he played. "I had to relearn my whole style," he said. "Dare I say it myself, I was a good drummer when I met the Clash. It was only when I joined the Clash that I went up another level and became possibly a great drummer."
"London Calling" the band's third record from 1979, is generally considered the band's best work -- Rolling Stone once named it #1 on "The 100 Greatest Albums of the '80s" issue. That record yielded such memorable band songs such as the title cut, "Train in Vain," "Clampdown" and "The Guns of Brixton." Headon credits its success to the band's sense of unity at the time. "It was the last album we did that was written, rehearsed, and recorded," he said. "We rehearsed it hard and we spent a lot of time recording it and working various arrangements. I think that comes across [as] a very polished album."
In contrast, 1980's "Sandinista!," an ambitious 36-song triple-record set, was at the time misunderstood. Still, Headon gives that record its props. "It was like a very free-form cooperative way of making music," he said of that album. "Mick would have an idea or Joe would have an idea or Paul would have an idea, and we worked on it. By the end of the day, we'd have something down. I think you can pick that up from the album, it's very loose. I loved recording 'Sandinista!' It's debatable whether there was enough material for a triple album. But I think we got carried with ourselves a little bit, which is lovely. That's another thing that was great about the band was we didn't conform to convention."
In addition to his distinctive and dynamic drumming, Headon also contributed to the band creatively; he sang the lead vocal on a track he wrote, "Ivan Meets G.I. Joe," from the "Sandinista!" album. More importantly, he helped create one of the band's biggest hits, "Rock the Casbah," for 1982's "Combat Rock" album. "One day I turned up at the studio and waited for a while and there wasn't anyone there, so I thought I'd put a drum track down to this song I had in my head," he recalled. "So I put the drums down. Then I got on the piano and played it. And I thought when the others turn up, I'll show them how it goes, and no one turned up. So I put the bass on it and then I put percussion on it. By the time they turned up, it was all recorded. Joe wrote the lyrics to the tune in 15 minutes. I had no idea it was going to be a big hit but very grateful it was."
But as the Clash achieved popular success with "Rock the Casbah" and "Should I Stay or Should I Go," Headon was let go from the band in 1982 because of his drug problems; a year later, Jones was fired; he later formed his own group, Big Audio Dynamite. Meanwhile Strummer and Simonon carried on the Clash name with newer players for the 1985 critically-derided "Cut the Crap," the band's final studio record. "I don't think it was the fact that I went," Headon said about the Clash's demise. "If any single one of us had gone, it would have imploded. Joe said many a time it was the chemistry of the four of us that actually worked. If Paul had gone, or if Mick had gone first, the same would have had happened. For some reason the four of us together managed to produce a lot of music and bounce ideas off each other and it just worked."
Since leaving the Clash, Headon went through a difficult period in his personal life during the rest of the '80s -- marked by drugs, imprisonment and hepatitis C. "I'm nine years clean and sober now," he said. "It's great to be working with Mick and Paul again. I was very lucky. I went to prison. I had a lot of hard times, I was made bankrupt. But It's kind of like coming to full circle now."
When the news came that the Clash was going to be inducted into the Rock and Roll Hall of Fame in 2003, there was some hope that the ex-band members would possibly reunite and perform at the ceremony. But it never happened. A few months before the event, Strummer died of a heart condition at the age of 50. Headon said he has lots of memories of Strummer as both a bandmate and a friend.
"Joe was very loyal to me for a long time," he said. "Joe and I spent a weekend in a police cell together. That was a lovely experience because we just talked. We both admit we were a bit scared, we thought we might go to prison. A couple of weeks ago, Mick, Paul and I did some interviews in London on a radio station, and it was really strange not having Joe with us. On the tenth anniversary of his death, they had a festival in Somerset called Strummer of Love. I went down there and I realized how much he had changed and touched many people's lives."
Nowadays, Headon is still involved in music and does local charity work. He hopes to come to the States to promote the new boxed set once he is able to obtain a visa. In summing up the legacy of the Clash, he credits the fact that the band members pushed and brought out the best from each other. "It's been fantastic to have been involved with all this," he says. " At the same time I was doing what I loved. It's very bizarre that 30 years later we're doing interviews on the radio and TV. We had no idea this was going to happen. We got the Ivor Novello Award for outstanding contribution to music, we're in the Rock and Roll Hall of Fame. It's very surreal."
"I was talking to Mick last week," he says later, "when I was in London and we were talking about when we watched the videos or DVDs of ourselves on stage, we think, 'How did we do that?' It's taking things to extreme. It's like breathtaking. I look at videos of myself now and I get out of breath just watching them. There's so much commitment and energy and drive. It amazes us now, when we look back on it, we think, 'Was that us?' It's a lovely feeling."
Thanks for reading CBS NEWS.
Create your free account or log in
for more features.