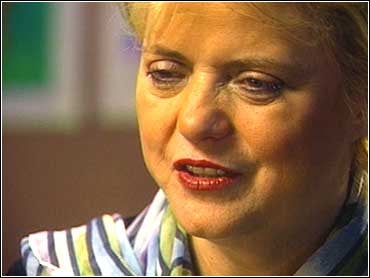 The Children Under The Streets
In Mongolia, the transition from Soviet socialism to capitalism is not going smoothly. Among its victims are thousands of children, homeless and fending for themselves. A veteran of Dublin's slums named Christina Noble has arrived to help them.
Correspondent Vicky Mabrey reports for 60 Minutes II.
---

Two Mongolian boys are singing at the main entrance to their home - a sewer pipe that supplies steam heat to one of the coldest cities in the world. This is Ulan Batar, the capital of Mongolia.

Homeless children arrive here from all over the country, foraging for food in the markets and then going underground in a desperate attempt to escape the bitter cold.

Beyond the blanket of warm steam, it is 30 degrees below zero. One 11-year-old says he has been living underground for three years, after being thrown out of his home.

In this country of just 2.5 million people, 4,000 children are said to be runaways or abandoned.

Sinda is typical of Mongolia's homeless population: He is 17 but looks much younger. He has lived in a steam tunnel for half of his life, he says. His tunnel is across the street from a row of high-rise apartment buildings and just yards away from a hospital.

CBS News followed Sinda into the tunnel where each night as many as 20 boys and girls eat and sleep on heating pipes. The smell is overwhelming, and, in contrast to the freezing cold outside, it's unbearably hot.

Sinda shows the money he plans to use to buy bread, butter and sugar. He spends his days in the cinema keeping warm, he says. He also searches for food, sometimes finding leftovers from the bakeries.

One night, a stripped-down Sinda ran back and forth between the warm steam in the tunnel and the extreme cold outside to search for food. But he still values freedom over the likely alternative: confinement in the children's detention building.

Last fall, amid a rising crime rate among Ulan Batar's street children - and after several homeless kids died in the steam tunnels - Mongolian police rounded up more than 300 and locked them away in a former Soviet army barracks.

In many ways, this center is only marginally better than life on the streets. It's chilly inside, and grim. The children don't have enough beds or enough food.

Christina Noble, an Irish woman who has come to check conditions at the center and try to help the children here, describes the scene at breakfast as reminiscent of the orphanage in the novel Oliver Twist.

"It's basically bread and water," she says. "Who can believe that coming into the year 2000 that we are still looking at Dickens?"

"Who can believe that Oliver Twist is still around?" Noble asks.

At the center, older boys are kept busy with military training. Younger children - some only 4 years old - spend their days wrapped around radiators or huddled together for warmth. Several of he older girls are pregnant; they say they were raped while living on the streets. The makeshift infirmary is short of supplies.

"There's no treatment here; there's nothing," says Noble. "They have no equipment, no medicine. I love the children, you know. I find it heartbreaking to see them. It's very hard to watch a child give up."

"A child understands love," says Noble, who is also known as Mama Tina. "A child understands you having the courage to fight for them,...having the courage to speak open(ly) the truth,...having the sensitivity to come down and look at them at their level, to hold them. A child understands all that. And that's what it's about."

The Christina Noble Children's Foundation arrived two years ago to work with the street kids. With a staff of 25 Mongolians, the foundation distributes warm clothing and food to the children in the tunnels.

Mongolia, which was propped up by the Soviet Union until 10 years ago, now suffers from a 40 percent unemployment rate. The United Nations is funneling millions of dollars into this economy. Douglas Gardner, the U.N. representative there for the last three years, says that's still not enough.

How did this happen? How did the country go from socialism to democracy, and suddenly there's poverty and children living on the streets?

"People have lost their jobs," Gardner explains. "Kids have unemployed parents. You see alcoholism; you see problems in the home. And with the limited resources of a new system and a new economy, they're not able to provide that kind of support that all of the people need, including the street kids."

Noble gets things done because she triggers an emotional response from bureaucrats, according to Gardner. She works by going straight to the top. In Ulan Batar, she enlisted the aid of Mongolia's first lady. She wants the government to let her foundation take control of the children's detention center.

"I don't know more than anyone else but we learn from each other," Noble says. The two Mongolian government agencies assigned to help children have little funding and have been largely ineffective. Of the 15 foreign charities there, the Mongolians say they prefer working with Noble because she has no religious or political affiliation.

"People want to work," says Noble. "They don't want charity. But if you look at it overall, you have to start at the beginning: First get the kids out of crisis."

Nobe is not treated as an outsider. For all that she worries about the conditions inside the detention center, some of the children appreciate that it's better there than living in the steam tunnels.

But Altanbagne, a 13-year-old boy who looks half his age, says the teen-agers at the shelter beat him with belts. He shows CBS News the bed where he slept for three months after being separated from his mother. Throgh a translator, the boy explains he should have better food and a warm place.

Altanbagne says he wants Noble to take him away from the center. After a lengthy discussion, she persuades the authorities to let her sign the boy out to move him into housing run by her foundation. They warn her that he is a chronic runaway and extract a promise that he will stay in Noble's care.

The new home of Altanbagne is a village of seven traditional Mongolian huts built last year by the Christina Noble Foundation. It is a few miles from the detention center. But for Altanbagne, some two days after his arrival, it's a world away.

"Our village has love in it, has color, creativity," Noble says. "This belongs to the children, you know. This is not our village, not my village; this is the children's village."

"I am one of them," declares Noble, in explaining how her services are different from those of other agencies. "I live their life. And you cannot know unless you have experienced it what it really is about."

Noble knows about hard times. She grew up in the Dublin slum known as the Liberties, in the shadow of the Guiness Brewery.

At age 11, she lost her mother to tuberculosis. Her father was a hopeless alcoholic. Christina tried to keep her brothers and sisters together, but they were split up nonetheless and sent to different orphanages.

She ran away continuously. Over a five-year period, she alternated between foster care and homelessness, spending many nights sleeping in a Dublin park.

"I said, 'If you let me live, God,...if you let me grow up, and you let me, I will fight for children,'" Noble recalls.

She has kept that vow. Spurred by the now-famous photograph of children fleeing napalm bombings during the Vietnam War, Noble arrived in Ho Chi Minh City 20 years ago with a vague plan to help street children.

Ten years later, using a combination of street smarts and stubborn resolve, she built a hospital, schools and a shelter, helping more than 100,000 homeless Vietnamese children.

She's on her way to repeating that same success in Mongolia. She recently opened a clinic. Her children's village now houses 30 kids.

Incidentally, that number does not include Altanbange. As the Mongolian authorities predicted, he ran away from the Christina Noble village. He's locked up again in the detention building.

It's been a long miserable winter, so Noble threw a party. She was celebrating big news for the foundation: After months of gentle wrangling, she convinced the government to let her take control of the center.

"You come back next time, you will see a very different detention center," she promises. Her goal, she explains, is to "give the children back their basic human rights, their dignity."

Noble has her work cut out for her and it's only just beginning. She plans to renovate the building, provie schooling, hot food and warm clothing. The foundation brought in a doctor who found several of the children extremely malnourished. A new cook has been hired. The foundation staff is now monitoring the detention center 24 hours a day.

©2000 CBS Worldwide Inc. All Rights Reserved
Thanks for reading CBS NEWS.
Create your free account or log in
for more features.