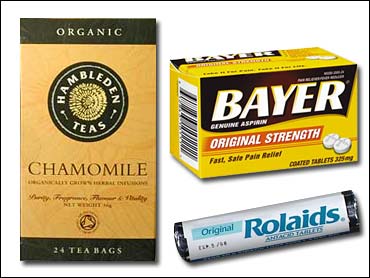 Things you need in your medical cabinet: aspirin, Band-Aids, antacids, and ... chamomile tea?
For thousands of years, the herbal tea has been heralded as a natural cure for many conditions. The fragrant tea has been used as a sedative to calm nerves and has been touted to have anti-inflammatory properties.
Now new research adds credence to the theory that this herbal tea has medicinal benefits. A study published in the Jan. 26 issue of the Journal of Agricultural and Food Chemistry has found that chamomile tea contains compounds that may help fight infections due to colds and relieve menstrual cramps.
"This is one of a growing number of studies that provide evidence that commonly used natural products really do contain chemicals that may be of medicinal value," study author Elaine Holmes, PhD, a chemist with the Imperial College of London, says in a news release.
For the small study, 14 volunteers drank five cups of tea made from the German chamomile (Matricaria recutita) plant daily for two weeks. Daily urine samples were collected from each participant at the start of the study, during the tea-drinking phase, and then for two weeks after the tea-drinking phase ended.
Drinking chamomile tea resulted in significantly higher levels of two compounds in the urine, hippurate and glycine.
Hippurate, a breakdown product of tea flavonoids, has been linked to antibacterial activity. Researchers say elevated hippurate levels after tea drinking may explain tea's infection-fighting ability.
Glycine is a chemical that relieves muscle spasms and can act as a nerve relaxant. Holmes and colleagues say higher glycine levels may relax the uterus, explaining why the tea appears to relieve menstrual cramps.
Hippurate and glycine levels remained elevated for up to two weeks after the volunteers stopped drinking the tea, suggesting that drinking chamomile tea leads to prolonged medicinal effects.
Oxford Natural Products help fund the study.
SOURCES: News release, American Chemical Society. Wang, Y. Journal of Agricultural and Food Chemistry, January 26, 2004.
By Kelli Miller Stacy, WebMD Medical News
Reviewed by Brunilda Nazario, MD
© 2005, WebMD Inc. All rights reserved
Thanks for reading CBS NEWS.
Create your free account or log in
for more features.