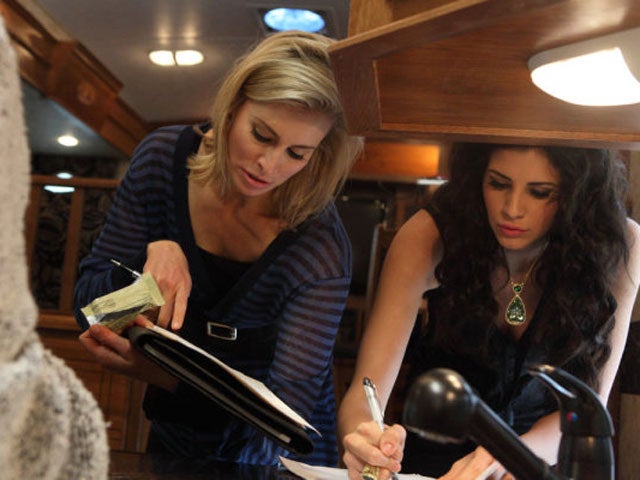 "The Celebrity Apprentice" sends teams to Camping World
(CBS) Laid-back leadership won the day Sunday when the two "Celebrity Apprentice" teams, managed by actor Gary Busey and model Niki Taylor, tried to create an RV-camping experience in the middle of Manhattan. (SPOILER ALERT)
Pictures: "The Celebrity Apprentice"
One team - the women - aggressively tackled the challenge; the other - the men - had trouble following an unfocused leader with the more ambitious of the group - Lil Jon, Mark McGrath and Rich - convinced that they were working on a lost cause
The women clearly focused their efforts on interior decorating and won that part of the contest hands down. But they neglected the exterior, with no landscaping and banners too far away from the campers.
On the men's team, Busey dithered over choices, Joe Canseco relaxed in front of the fire and John Rich wrote a theme song. Busey's shortcomings actually may have helped in one instance when he promised both Mark McGrath and Richard Hatch money for landscaping (neither knew the other was doing it).
When there was no money to pay McGrath's supplier, he got on the phone and found that the supplier was willing to provide the greenery gratis.
The Camping World exec, who judged the task, arrived as Canseco and Busey were playing a game of catch and was treated to a campfire song by Rich.
No matter how elegantly the women had decorated their two campers, there was no way they could compete with this.
The highlight of the two-hour episode may have come at the end when Taylor, who led the losing team, exhibited extraordinary grace and class, refusing to call out any member of her team for lack or effort or poor decisions.
She told host Donald Trump that she had let her team down and he fired her, but not before commenting on the class her exit showed.
It was interesting that members of the men's team, watching it all in the suite, spoke of Taylor as "quitting."
Thanks for reading CBS NEWS.
Create your free account or log in
for more features.