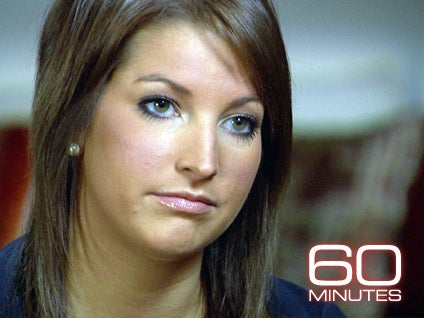 The case of Beckett Brennan
Editor's Note:
Comments on this story have been disabled due to offensive messages being posted in the feedback forum.
With all that is going on in the world, there hasn't been much attention paid to a social issue the Obama administration has decided to take on: sexual assault on college campuses. It is a problem according the Justice Department that has proliferated across this country.
And earlier this month, the government sent out guidelines to help colleges deal with it.
But it won't be easy. Adjudicating a case of sexual assault on a college campus can be difficult for both the victim and the school, which we found out in the case of Beckett Brennan, who was a student at the University of the Pacific when she reported that she had been raped.
Brennan was a high school all-American basketball player, renowned for her three-point shooting, and recruited by dozens of top colleges. Her father, Barry, had played in the NCAA finals in 1974, and passed his love of the game on to his daughter.
"We built an unbelievable relationship through basketball and on the court," Brennan told Katie Couric.
"Tell me a little bit about what made you fall in love with basketball," Couric asked.
"I enjoyed kind of having it define my ability, and it was nice to kind of be recognized by something that you worked so hard for," she replied.
She accepted a full scholarship at the University of the Pacific, a picturesque school in Stockton, Calif. with 3,000 undergraduates and a successful Division I men's basketball program and a growing women's program.
"And so you had a good year, your freshman year, right?" Couric asked.
"Yes. Great year," Brennan said. "Actually played and made an impact, I'd like to think."
But everything changed for Brennan one Saturday night in May 2008. She went to a party with her teammates at a student housing complex known as the "Townhouses," where she says she drank six shots of vodka. She says later, she found herself stranded at an off-campus party looking for a ride.
"I was offered a ride by two of the men on the men's basketball team. And assuming that we were going back to the Townhouses," Brennan told Couric.
Asked if she felt completely comfortable taking a ride with them, Brennan said, "Yeah. Absolutely. There were no red flags that came up. No reason not to trust them."
When they got back to the Townhouses, she went into one of the basketball player's apartments thinking the party was continuing there. Instead, she claims they led her upstairs into an empty bedroom and raped her. Then, she says, a third basketball player came into the room, pushed her into a closet, and raped her again.
"I remember them saying 'Don't tell anybody, and this is our little secret,'" Brennan told Couric.
"What were you saying to them?" Couric asked.
"Why are you doing this to me? Over and over and over again," she replied.
When it was over, she called friends for help. Back at her dorm, and without her knowledge, one of them recorded her on his cell phone. "And they were like taking off my clothes. I was inside the closet in the corner, trying to like, trying to get away. I don't want anyone to find out. No, I don't. I don't want anybody to find out," she could be heard saying on the recording.
According to a study funded by the Justice Department, 95 percent of victims of sexual assault on college campuses don't report it. And neither did Brennan: not to Stockton Police and not to the university.
The next day, she got through her last final exam and flew home to Colorado. But her friends were worried and upset, and gave that recording to the school. Her assistant coach called her at home.
Produced by Graham Messick and Ashley VelieBrennan told Couric it was then that she told her mom and dad what had happened.
Asked what they said, Brennan said, "That was definitely the hardest conversation I've ever had."
"It's nightmarish. You have rage. You don't know how to act or react, you're just trying to hold things together and process," Barry Brennan said.
Four days after the alleged assault, university police questioned the three basketball players Beckett had identified on the tape as her assailants: Michael Nunnally, Steffan Johnson and Michael Kirby. School officials urged Brennan to report the assault to Stockton Police.
A few weeks later she talked to a detective there, and after that conversation, she decided not to file criminal charges.
"He explained to me the system with cases that involve rape and kinda laid out the facts about it's a 'he said, she said' and kinda scared me," she said. "He used an example of a girl who was, like 16 or 17 who was on the stand for, like 16 hours. I can't even imagine."
The school suggested another option: testify before the university's judicial review board, an internal school disciplinary panel that would guarantee Brennan's identity wouldn't be revealed.
Her parents, Jane and Barry, believed this would be the best course of action. "We were fearful for her safety at that point, just her own mental health," Jane Brennan explained.
But before the hearing, the university gave the Brennans a startling piece of information: another University of the Pacific student was claiming that she had also been raped at the Townhouses just a month before Beckett Brennan.
The school suspected a link and put Brennan in touch with the earlier victim, a former classmate named Krystina Tonetti.
"I just was really shocked that something like that would happen twice in a month," Tonetti said.
Tonetti says she was also drinking at a party at the Townhouses when she was led upstairs, where one man raped her while two others stood by watching. "I just kept saying no. And I kept trying to push him off, because he was really big and he was kind of overpowering," she recalled.
Tonetti says she managed to escape and went to a hospital, where she was interviewed by Stockton Police and administered a DNA rape kit. She decided not to press charges.
While she couldn't identify the men in the room with certainty, Tonetti believed they were University of the Pacific students and agreed to tell her story at Brennan's judicial review board hearing. But when the day came, she was a no show.
"It was starting to get too close to home and too close to my parents finding out, so I didn't go through with it," Tonetti said.
So five weeks after her assault, Brennan and the three players each testified in a campus building before a judicial board made up of three students, a teacher and an administrator. The board heard no details about the other alleged assault at the Townhouses.
Brennan said the board's questions made her feel like the case had suddenly become less about the basketball players, and more about her behavior that night. "So much of what they focused on was not the actual assault - tons of questions about how much I was drinking, a focus on flirting," she told Couric.
"Two of the players told the school that this was consensual," Couric remarked.
"In no way was it ever consensual, and they know that," Brennan said.
And one of the players said he wasn't even there.
After a week of deliberations, the judicial review board ruled that all three basketball players were guilty of violating the school's policy against sexual assault.
But they received different punishments: Steffan Johnson, who claimed he wasn't there, was expelled. Michael Nunnally, who admitted having sex with Brennan but said he believed it was consensual, was suspended for a year. And Michael Kirby, who said he and Beckett had consensual sex after she had been flirting with him at the party, was suspended for a semester.
All three chose not to comment for this story.
"I didn't understand how you can find somebody guilty of sexual assault and not expel them," Brennan said.
"Expelling one student, suspending one for one semester. Suspending the other for a full academic year - those are all serious sanctions," Janine Simerly, an attorney representing the University of the Pacific, told Couric.
Simerly says the case was always complicated and after the decision was announced, it became contentious. "I understand that she believes that the university did not do right in this situation. I'm suggesting to you that the university tried to get it right. The university did the best that it could do," she told Couric.
"Do you believe that Beckett Brennan was raped that night, or was the victim of sexual assault?" Couric asked.
"I know that she believes that. And I know that the three male students who were accused deny that there was any non-consensual sex," Simerly replied.
"You believe that this judicial review panel has the proper experience and expertise to adjudicate a case of sexual assault or multiple sexual assaults?" Couric asked.
"Absolutely," Simerly said. "And it happens across the country on a regular basis. And it should happen. That's the appropriate panel to review these kinds of issues."
"All three should have been expelled. A sexual assault, a rape, is a rape," Joelle Gomez, who runs the San Joaquin Women's Center in Stockton, told Couric.
Gomez started counseling Brennan shortly after the board's decision. She doesn't believe college judicial review boards are equipped to handle such serious crimes.
"There's little to no transparency. There's little to no accountability. Certainly it does, in my opinion, favor the alleged perpetrator as opposed to the victim, again, who's really risking it all in making the report in the first place," Gomez said.
"You can almost hear the reaction of some people listening to this story. They might say, 'This girl had too much to drink. She went upstairs with these three young men willingly.' How do you respond to that?" Couric asked.
"None of us know how we're gonna react in a sexual assault. Yet it's pretty simple. Doesn't matter what time of day it was, who they were with, what they were wearing, how much they had to drink. But there is never an invitation for rape," Gomez said.
In June 2008, Beckett Brennan decided that the best way for her to move forward was to return to the university for the summer session. "I wanted my life back. I wanted to play basketball again. I wanted my friends," she explained.
But when she went back, she said it was completely different.
For one thing, the athletic director had banned the men's and women's teams from socializing. She was told the new rules were for her own protection, but says as a result, she was blamed and ostracized.
"It was kind of one of those situations where you felt like everyone on campus knew," Brennan said.
In October 2008, Brennan left the University of the Pacific for good. Three months later, Michael Kirby returned to the university and the Tigers starting line-up; the team's missing center, Michael Nunnally returned the following fall.
As for Steffan Johnson, three months after he was expelled from the university for sexual assault, he was given a full scholarship to the University of Idaho.
Head coach Don Verlin told a local newspaper he recruited Johnson after talking to the associate head coach from the University of the Pacific, Ron Verlin, who just happens to be his twin brother.
"Unbelievable to sit there and say 'Oh, wow, okay, well, we can use a guy like that.' 'Oh, he has a sexual assault and has been found guilty?' How in the hell do you end up at another university within three months?" Beckett Brennan's father Barry asked.
Beckett Brennan and her family are not giving up. They sued the school for violating her civil rights. Last fall, a judge ruled against them, and the Brennans are now appealing that ruling.
Thanks for reading CBS NEWS.
Create your free account or log in
for more features.